Almonds are one of the world's most nutritious and versatile nuts, perfect for snacking as well as in tasty recipes, renowned for their many health benefits and culinary uses. Here are just a few:
Reduce Blood Sugar Levels: Eating almonds may be a great option for diabetics looking to maintain healthy blood glucose levels. Findings from a 2007 study published in the journal Metabolism found that consuming almonds alongside white bread regulates spikes in blood sugar and significantly lowers the glycemic index of the meal.
Heart-Loving Antioxidant Powers: Almonds are one of the richest food sources of alpha-tocopherol, the form of vitamin E that is most easily absorbed by the body. Vitamin E is a potent antioxidant that protects cells against the damaging effects of free radicals, boosts the immune system, supports cardiovascular health, and helps your body create new red blood cells.
A 2005 study published in the Journal of the American Dietetic Association found that almond consumption helped meet the Recommended Dietary Allowance of 15 mg/day alpha-tocopherol and improved red blood cell concentration. Another study published in the European Journal of Clinical Nutrition found that almonds can reduce C-reactive protein, an indication of inflammation that affects the arteries.
Weight Control: As part of a calorie-conscious eating regime, almonds, which are high in monounsaturated fats, can help obese adults lose weight easier than a diet high in complex carbohydrates, according to a study in the International Journal of Obesity and Related Metabolic Disorders. Contrary to many worries of healthy eaters, consuming almonds actually lowers the risk of weight gain. A 28-month long study showed that individuals who ate almonds at least twice per week were 31% less likely to gain weight than nut-avoiding participants. So go ahead and go nuts!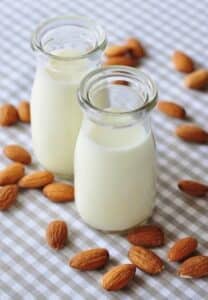 Lower Cholesterol: Almonds are the leading source of monounsaturated fat among commonly eaten nuts: over 60% of the total fat in almonds is monounsaturated. Numerous studies have demonstrated the cholesterol-lowering effects of consuming foods rich in monounsaturated fat. A 2005 study in the American Journal of Clinical Nutrition found that consuming almonds as part of a heart-healthy diet can be just as effective at lowering LDL "bad" cholesterol levels as first generation statin drugs.
A good source of calcium and other nutrients: We've already heard that almonds are a good source of Vitamin E, but they offer a modest but significant and absorbable form of calcium, which is good for the bones. Likewise, they're a good source of phosphorous for strong bones and teeth. Almonds are a good source of magnesium and folic acid, as well.
Excellent source of plant-based protein: Just one ounce of almonds contains about 12 percent of average daily protein needs. Enough said!
Adapted from Nuts.com, with permission.
Discover your favorite almond products at nuts.com from premium supreme-sized raw almonds to finely blanched almond flour and all natural almond butters for your snacking and recipe needs.