Enchiladas are one of the ultimate comfort foods. A handful of delicious ingredients are safely tucked inside a wrap and then covered in sauce. What more could you ask for, right? However, if you think because you are vegan you can't enjoy this dish, we have good news. Here are seven vegan recipes for the classic enchilada that you'll love.

This ultimate veggie enchilada skips the tortillas altogether and wraps all the good stuff in large collard leaves. Don't be too quick to judge, though. The collard leaves soften up in the oven and develop a delicious, subtle essence that drips into the stuffing, making it a totally healthy dish bursting with flavor.
This is quite possibly the best vegan enchilada recipe out there, and maybe the easiest to make, too! The butternut squash and black bean combo gives you the heavy feeling most people associate with eating enchiladas, yet it's all plant based and full of fiber. The flavor is really what makes it a fan favorite, though. Vegans and meat eaters alike love this combo, and of course, you will too.
Nothing says authentic Mexican quite like a dish made with tomatillos. This green veggie shines in this recipe and gives the enchiladas a smokey flavor that isn't usually appreciated in the red-sauced enchiladas that you usually find on the internet. Plus, these are super simple and don't send you to the grocery store in search for a page-long list of new ingredients.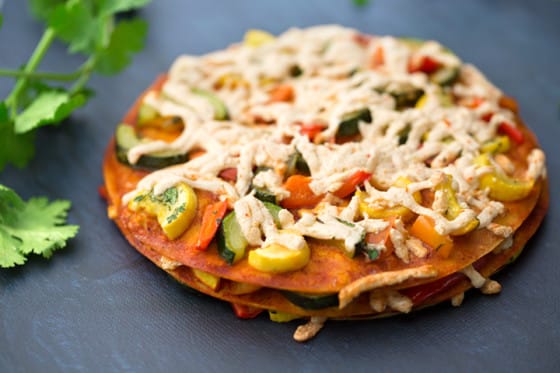 This creative recipe chucks the wrap to the curb and instead layers all of the delicious ingredients in an easy-to-eat stack. The ingredient list is made mostly of vegetables, which are combined with a delicious sauce which is then layered between crispy corn tortillas. This recipe is easy, straight-forward, and ready to feed the masses.
White beans and tomatillos make this a truly creative enchilada dish. This combination makes it surprisingly refreshing and light, which is pretty hard to find when it comes to enchiladas. The tomatillos really shine through and you hardly notice that you're eating handfuls of veggies with each serving.
This wouldn't be a list of vegan recipes if kale didn't somehow sneak its way in! This recipe takes on all the traditional flavors of enchiladas and uses mushgrooms and kale as meat replacements. Carly at Fit Living Eats takes the classic enchilada and makes it healthy (but still delicious).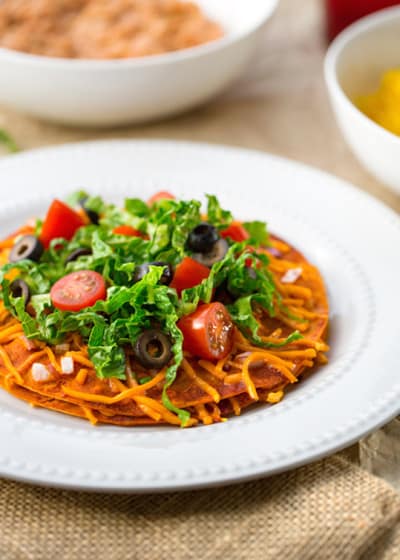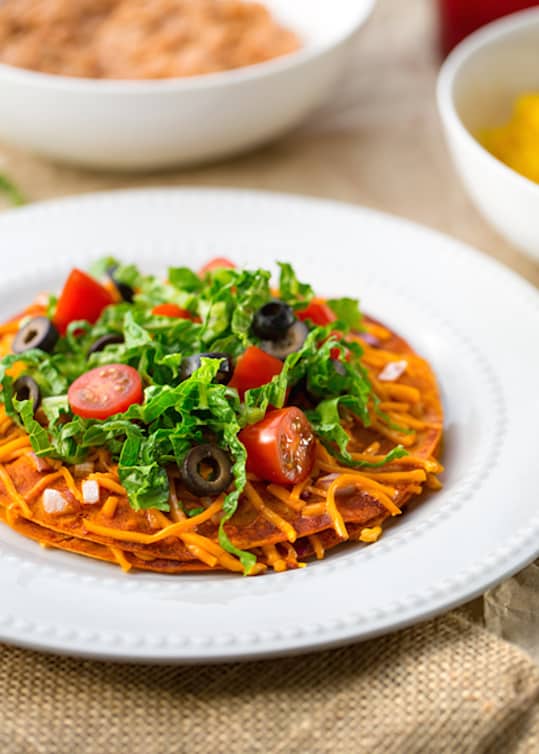 Here we have another stacked variation of the enchilada, but this one is for chefs with little time. You will be shocked by the short ingredient list here, though impressed by the flavor. If you love enchiladas, but don't love the meat or the amount of time they usually take to prepare, then this is for you.
This list of vegan enchiladas has a little something for everyone. There are no sacrifices made in these recipes so you and your loved ones will surely enjoy them! Pick the one that sounds best and give it a go. We'd love to hear what you think in the comments below.