Rooibos tea has gained popularity in America in recent years, as many want to take advantage of its many proven health benefits.
The tea comes from the shrub Aspalathus Linearis, which is only found on the slopes of Cape of Good Hope in South Africa. While locals have been drinking this tea for hundreds of years, it only began being commercially traded in 1904. (source)
Rooibos has a mild and aromatic taste. However, most drink it for its plethora of health benefits.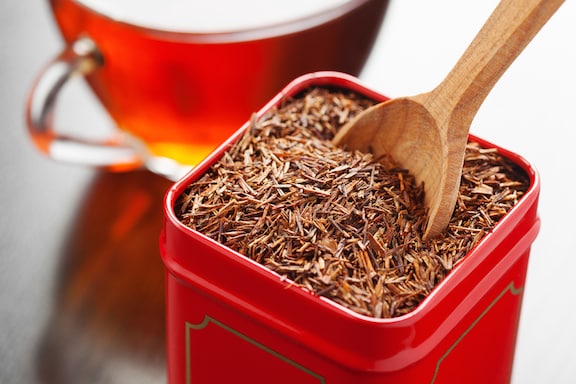 It's quite popular in Japan, Germany, Holland and England. According to WebMD, the tea has 50 times more antioxidants than green tea.
These antioxidants are known to thwart free radicals in the body that can damage cells and cause cancer. It's also rich in Vitamin C, low in tannins and may ease digestive problems.
Other studies have shown the tea may help strengthen the bones and teeth preventing osteoporosis, fractures and other related illnesses.
Many women in Japan drink this tea for its positive effect on the skin and hair. It has been known to clear skin of acne and prevent wrinkles.
Because it's caffeine free, it may be drunk without limit and won't affect sleep cycles or cause insomnia as with some other popular teas. Finally, locals have even used it as a substitute for milk in colicky babies.
Give the Body a Boost
Anyone who has ever suffered from asthma, skin issues, eczema, insomnia, bone weakness or hypertension may want to consider drinking rooibos tea.
The has confirmed many of the health benefits of drinking rooibos tea including its ability to reduce the risk of various types of cancer, heart disease and premature aging.
It's also a great tea to drink when suffering from stomach cramps or other digestive problems.
Furthermore, the tea is rich in minerals that may help boost the immune system and keep the body healthy. It contains calcium, iron, potassium, copper, fluoride, manganese, magnesium, zinc and alpha hydroxy acid.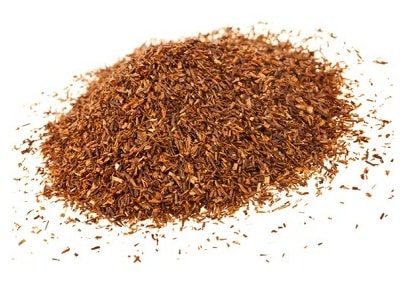 Anti-inflammatory
Roobios tea is rich in polyphenols including aspalathin and nothofagin, which are two polyphenol antioxidants. These antioxidants help protect the body by fighting free radicals or unstable cells that attack healthy cells to stabilize themselves.
The polyphenols in rooibos tea have anti-inflammatory properties, which assists in preventing heart related illnesses.
Finally, the antiviral properties of polyphenols provide an added boost to the immune system, which helps protect the body from common colds, viruses and the flu.
Relieves Hypertension
Rooibos tea is a natural remedy to help relieve and prevent hypertension. It works by lowering the blood pressure. Hypertension, commonly known as high blood pressure, occurs when too much blood is forced against the artery walls within the body.
This may lead to health issues including heart disease, which is the leading cause of death in the United States. According to the Centers for Disease Control, about one-third of Americans suffer from hypertension.
As a result, many people may benefit from drinking rooibos tea to assist with their hypertension.
Aids the Respiratory System
Rooibos tea is a bronchodilator. A bronchodilator is a substance that dilates the bronchi and bronchioles, and in doing so, it increases airflow to the lungs making breathing easier.
With the decrease of resistance in the respiratory airway, drinkers of rooibos tea will get the added boost of preventing common cardiovascular diseases including atheroschelorsis and heart attacks. It may also help combat the symptoms of asthma.
Good for the Bones and Teeth
Rooibos tea is rich in several minerals including manganese, calcium and fluoride. These minerals promote healthy bones and teeth.
As a result, drinking rooibos tea may help prevent common health conditions including joint pain, osteoporosis and arthritis.
Manganese works by stimulating enzymes in the body used to help build more bone mass and repair damage.
Fluoride is important when maintaining healthy teeth and is even found in most toothpastes and mouthwashes.
Finally, calcium is important for healthy, strong bones and teeth.
Boosts the Digestive Tract
Rooibos tea is also rich in antispasmodic agents that activate potassium ions in the body. These agents help ease stomach cramps, abdominal pain and aid digestion. The tea may also be used as a natural remedy to irritable bowel syndrome.
The antispasmodic agents help the digestive tract by smoothing out muscles in the gut. To get the most out of this effect, sufferers should drink a cup of this tea about 30 minutes prior to a meal they believe may trigger digestive problems.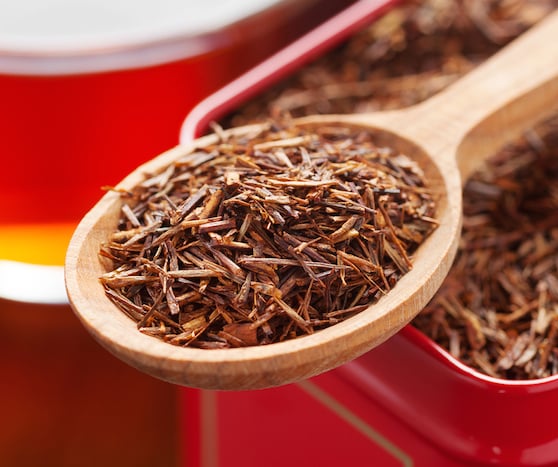 Helps Prevent Type II Diabetes
Rooibos tea contains aspalathin, which has a hypoglycemic effect on the body. Aspalathin is a rare type of antioxidant that helps balance blood sugar and improves insulin resistance in the body.
It may also promote glucose absorption in the muscles. These effects may help prevent drinkers from developing type II Diabetes.
This is because the nutrient prevents the spikes in blood sugar that may cause type II Diabetes. Those with a family history of diabetes may especially benefit from drinking this type of tea.
Promotes Healthy Hair
Rooibos tea is rich in several important minerals required for hair growth. This includes zin, calcium, copper and potassium. Regularly consuming rooibos tea may help increase hair growth and strengthen hair fibers, so hair grows healthy and strong.
The tea may also help prevent hair loss, as its active ingredients help remove dead skin cells that may block hair follicles and prevent hair from growing.
Furthermore, the anti-inflammatory effects of the tea may help relieve the symptoms of dandruff by soothing the scalp. The tea is rich in polyphenols, and these ingredients promote shiny, soft hair and protect against sun damage.
Improves Blood Circulation
Many Americans suffer from poor blood circulation, which may lead to serious health issues including a heart attack. Roobios tea contains chrysoeriols, which is a flavonoid with antioxidant and anti-inflammatory properties.
This compound aids blood circulation and has been linked to reducing cholesterol. It does this by preventing the activity of certain enzymes that are known to trigger cardiovascular diseases.
This article was contributed to Veg Kitchen by Aimable Johnson, from Dieting Well. Reprinted by permission.