Switchel: it's the insanely easy to make, inexpensive and delicious detox tonic your health can't afford to miss out on. Not only can drinking switchel improve your digestion, reduce inflammation and clear up your skin, but this ACV tonic – and other apple cider drinks – is full of vitamins, minerals, enzymes and electrolytes that instantly invigorate your entire body. Contributed by Yuri Elkaim, author of The All-Day Fat-Burning Diet.
Now, the benefits of switchel don't just end at improving your health: it's also hassle-free to make. Unlike other popular wellness drinks such as kombucha and water kefir, switchel only requires a few basic ingredients that can be found at any grocery store, and doesn't require a slimy bacterial culture or 30 day fermentation process.
The reason this Ginger Maple Switchel recipe, in particular, is beneficial to your health is because it contains apple cider vinegar and fresh ginger – two ingredients I consider to be superfoods. Plus, this version calls for just a splash of maple syrup, much less than what you'll normally find in other recipes. And I would be remiss if I didn't mention that maple syrup also happens to be a natural, lower glycemic, mineral-rich sweetener.
I'll give you the Maple Ginger Switchel recipe in just a moment. But first, let's take a look at the health benefits these ingredients provide.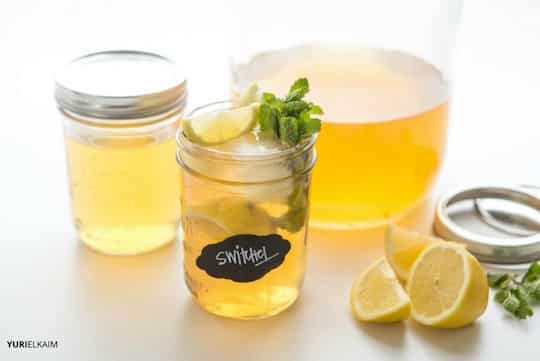 Health Benefits of Switchel

Improves Digestion
As a fermented food, apple cider vinegar contains strains of friendly bacteria or probiotics, which can help improve digestion and relieve symptoms such as bloating, gas and constipation (1).
You have a natural supply of probiotics in your colon, but they can become depleted from low fiber diets, frequent sugar or alcohol consumption, chronic stress and antibiotic use. This is why it's always beneficial to receive probiotics from dietary sources, such as apple cider vinegar.
Promotes Detoxification
Since the probiotics found in apple cider vinegar support the health of your entire digestive system, they can also help improve liver detoxification.
It's also suggested that apple cider vinegar supports the health of your lymphatic system, which is responsible for removing waste from your body.
Clears Up Your Skin
From a holistic perspective, acne breakouts can result from sluggish digestion and a buildup of toxicity in your digestive tract.
You see, when your digestive function is slow and your liver is overburdened, acne-causing toxins get "stuck" in your GI tract and may get eliminated through your skin if your other detoxification pathways are overloaded, which causes breakouts.
Therefore, you can begin to improve the overall appearance of your skin by including foods that support digestion such as apple cider vinegar.

Reduces Inflammation
Ginger is a powerful natural anti-inflammatory that's been shown to be just as effective for reducing inflammation as certain pharmaceutical drugs (2).
It's important to add anti-inflammatory foods to your diet each day, especially since the standard Western diet is rich in pro-inflammatory foods— such as refined carbohydrates and trans fats.
As I always say, inflammation is the root cause of all illness and disease. Therefore, adding ginger to your diet each day can help reduce inflammation which will support your health on many different levels.
Replenishes Electrolytes
A traditional switchel recipe calls for an unprocessed, natural sweetener such as pure maple syrup. As mentioned above, you can also substitute the maple syrup for coconut nectar.
Both coconut nectar and pure maple syrup are rich in essential vitamins, minerals and electrolytes, such as potassium. For this reason, using a switchel recipe in place of a sugary sports drink is more effective to replenish essential nutrients lost through sweat during an intense workout, or a day spent in the summer heat.

Alkalizes Blood
Drinking switchel is an excellent way to balance your body's pH, since apple cider vinegar has an alkaline effect on the body. When your pH is balanced, you feel energized, your immune system is strong, and you reduce your risk for future illness and diseases, such as cancer.
So— with all of these health benefits, are you ready to get your switchel on? Here's my favorite Maple Ginger Switchel Recipe.
Maple Ginger Switchel
Prep Time: 5 min Total Time: 2 hrs, 25 min Makes: 3 to 4 servings

3 ½ cups water

2 freshly squeezed lemons

3 tablespoons raw unpasteurized apple cider vinegar

1-inch piece of fresh peeled, grated ginger

Splash of pure maple syrup (may be substituted with coconut nectar)

Your favorite fresh herbs, such as mint or basil, optional
Place all ingredients (except herbs) in a 1 quart mason jar. Cover and refrigerate for at least 2 hours. Shake before drinking (you may also want to strain the mixture through a fine-mesh strain to remove the ginger).
If desired, serve over ice or mix with soda water. Garnish with fresh herbs, extra citrus or seasonal fresh fruit such as berries.
A Few Last Notes..
Sweetener Substitutions
As suggested above, one of the main reasons why this Maple Ginger Switchel recipe is such an amazing health drink is because it contains no processed sugar. So if you don't have maple syrup or coconut nectar on hand, it's best to choose an unprocessed sweetener such as green leaf stevia.
Apple Cider Vinegar
When choosing apple cider vinegar, always opt for a raw, unpasteurized version (Bragg is a popular brand that most grocery and natural foods stores carry).
When apple cider vinegar is pasteurized, the beneficial bacteria and enzymes get killed off which reduces its overall health benefits.
Contributed by Yuri Elkaim. Yuri Elkaim is a nutrition, fitness, and fat loss expert and the NYT bestselling author of The All-Day Energy Diet and The All-Day Fat Burning Diet. A former professional soccer player turned health crusader, he's most famous for helping people who've tried everything to have more energy and lose weight little success finally achieve breakthrough results. For more great health insights and to discover whether you're "silently sick" get your health score at https://www.yurielkaim.com.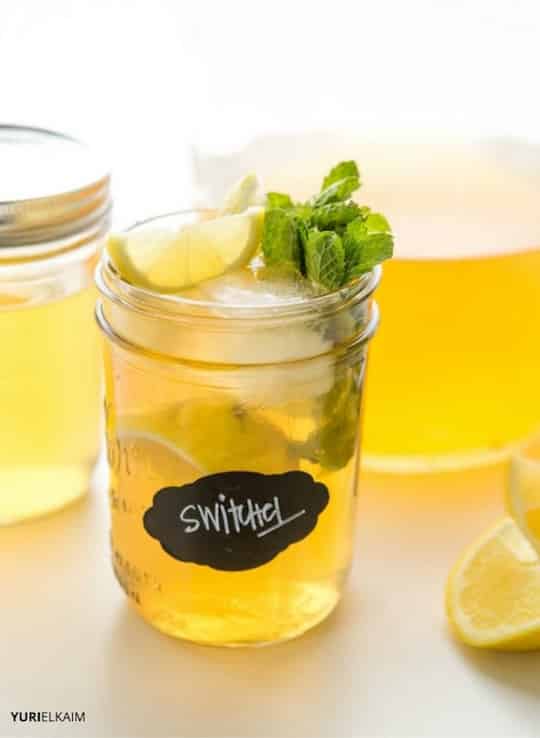 *This post contains affiliate links. If the product is purchased by linking through this review, VegKitchen receives a modest commission, which helps maintain our site and helps it to continue growing!