Contributed by Cristina West, of An Organic Wife. Is your cinnamon fake? There's a good chance that yes, it is. Go check the label on your cinnamon right now. If it says Cinnamomum cassia, just cinnamon (with no explanation), or has a country of origin anywhere other than Sri Lanka, your cinnamon is not real.
Real cinnamon is called Ceylon Cinnamon (cinnamomum zeylanicum or cinnamomum verum). It is native to Sri Lanka. It was first popularized by the Egyptians who valued cinnamon for its medicinal qualities. Due to limited supply and high demand, cinnamon became expensive to import. In the early 1900s, America began importing Cinnamomum cassia, a cousin of Ceylon, because it was much cheaper. Cinnamomum cassia is easily obtainable because of its ability to grow in a wider range of areas, but most of it comes from China, Vietnam, and Indonesia.
The reason why it matters whether or not your cinnamon is fake or not is because of its valuable medicinal qualities. Both types of cinnamon have antibacterial and antimicrobial properties. They are also antifungal and can halt yeast growth, which makes cinnamon useful in treating allergies. The difference is that real cinnamon is higher in all these properties. Cinnamon also contains coumarin, which is toxic to the liver and kidneys. It also counteracts with blood-thinning medications. Cassia Cinnamon has 1,000 times the amount of coumarin than Ceylon Cinnamon. One teaspoon of Cassia Cinnamon contains about 5.8 to 12.1 mg of coumarin, which is above the Tolerable Daily Intake of 6.0 mg for a person weighing about 130 pounds (source).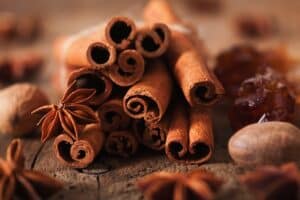 Real Ceylon Cinnamon is sweeter than Cassia Cinnamon, which tends to be spicy or hot. I also notice a difference in smell. Ceylon Cinnamon smells like cinnamon as we know it combined with cardamom. Real cinnamon sticks look rough, and are soft so you can actually chew on them like candy. They are also lighter in color. Fake cinnamon sticks have a deep red-brown color and one single neat curl that meets and closes in the middle.
Most cinnamon sold in the United States is the fake Cassia variety. To ensure you get real Ceylon Cinnamon, make sure you buy it from a trusted source. The links below are for reputable brands.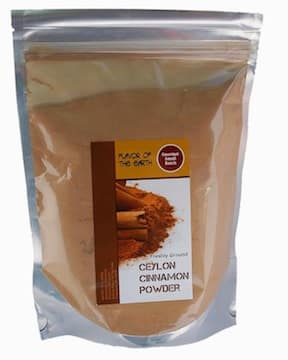 Flavor of the Earth*  is a company that provides Ceylon cinnamon exclusively through Amazon.com. They bring in fresh Ceylon cinnamon bark from Sri Lanka and grind it in small batches into powder. Their Ceylon cinnamon has 1,250 times less coumarin than Cassia cinnamon, which makes it the safest cinnamon for consumption. Furthermore, no chemicals, pesticides, fertilizers, additives, or preservatives are used in growing or harvesting it. Flavor of the Earth Ceylon cinnamon is a good source of manganese, fiber, calcium, and iron.
I tried Flavor of the Earth* Ceylon cinnamon, and it's wonderful! Cinnamon is one of my very favorite spices, so I enjoy using it in both sweet and savory dishes. Even though Ceylon cinnamon is sweet, it still works in savory applications. Try adding it to a mix of spices on grass-fed short ribs - yum! I've also been using it to make my own Pumpkin Pie Spice, and it's been a hit there as well. Sprinkle in some Ceylon cinnamon in your morning coffee or evening hot chocolate; it adds something really special!
For more information on the differences between true cinnamon and its impostor, here are more sources:
*This post contains affiliate links. If the product is purchased by linking through this review, VegKitchen receives a modest commission, which helps maintain our site and helps it to continue growing!