One of the annoying things we've noticed about bowl recipes in cookbooks and around the web is how complicated they've become. Something that started out as a super-simple way to enjoy variety in a meal has gone kind of crazy — sometimes 3 to 4 sauces have to be made with a plethora of spices, along with a myriad of ingredients that have to be prepped just so.
It's almost a minimalist bowl recipe these days that has "only" 15 ingredients, and we counted up a bunch that have in the neighbor hood of 30 ingredients! And the concept behind this is supposed to be simple, one-bowl meals? We don't think so. And we're here to prove that it doesn't have to be that way.
Take this gorgeous BBQ-flavored tofu and chickpea bowl. It's got shortcuts; it's got options: DIY can go readymade and vice-versa. We've taken the bowl concept back to its roots as a simple one-dish dinner. If you like this one, we've got more for you — try our Colorful Quinoa Protein Bowl.
Serves: 3 to 4
Time to table: 20 minutes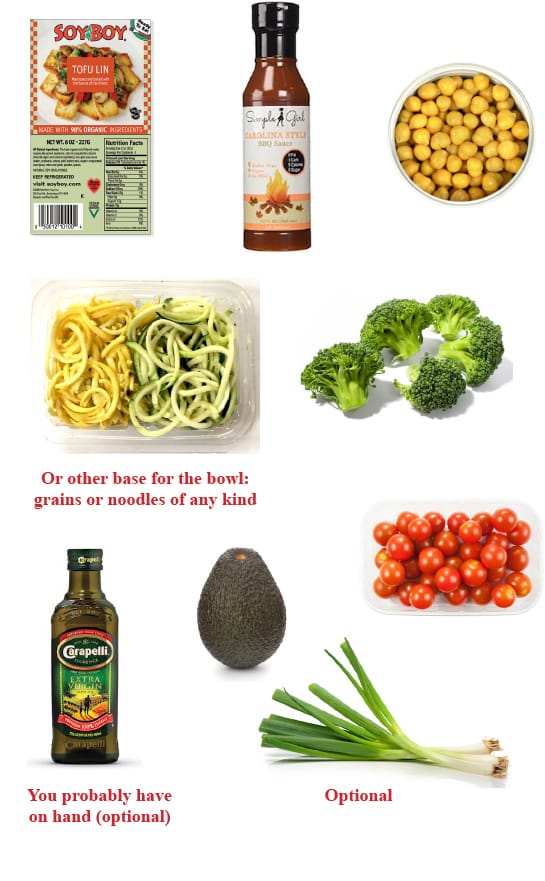 What you need
Any base you choose for the bowl — grains or noodles (see Note)

One 8-ounce package baked tofu or two 5-ounce packages (any variety)

15- to 16-ounce can chickpeas, drained

Bottle BBQ sauce, your favorite variety

Broccoli (1 crown, or pre-cut, or frozen, thawed)

1 medium avocado

1 pint cherry tomatoes

1 bunch scallions, optional
Note: You can use anything you'd like for the base of the bowl — any kind of cooked grain or noodles. This time, we used pre-spiralized zucchini; you can consider a quick-cooking grain like quinoa, couscous, parboiled farro … it's totally up to you and your taste! A hearty grain like the latter will result in the heartiest kind of bowl; spiralized zucchini will result in the lightest (perfect for summer!)
What to do
1  Prepare the base you choose for the bowl. In the case of pre-spiralized zucchini you need not do any thing, just remove from its container.
2  Cut the tofu into ½ inch dice. The nice thing about baked tofu is that it doesn't need to be drained and blotted; just use as is.
3  Combine the baked tofu and drained chickpeas in a medium skillet with about ¾ cup of BBQ sauce and bring to a simmer. Cook for about 10 minutes, or until the chickpeas and tofu start to get touched here and there with golden brown spots. Remove from the heat and set aside.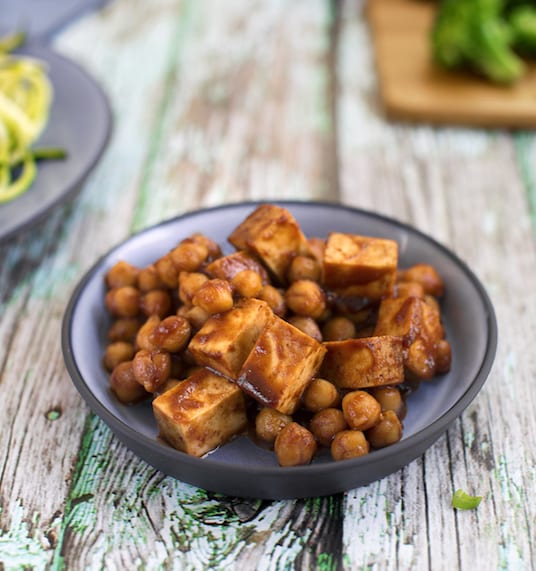 4  If you got a broccoli crown, cut into bite-sized florets. Whichever form of broccoli you have, steam just until bright green and tender crisp. Drizzle with a little olive oil and season with salt and pepper, if you'd like.
5 For the avocado, cut in half, remove the pit and peel. Cut into thin slices as shown here, or, you don't have to get this fancy, you can just cut it into dice.
6  To set up the bowls, for each serving, start with a base of grains, noodles, or spiralized zucchini. No special amount, just use what you'd like!
7  Arrange some of the BBQ tofu and chickpeas in the center, then surround with some steamed broccoli, avocado, and cherry or grape tomatoes (we cut them in half since they were large; you can keep them whole if you'd like). If you'd like, garnish with thinly sliced scallion.
8 Serve, passing around some extra BBQ sauce for the base and broccoli if you'd like.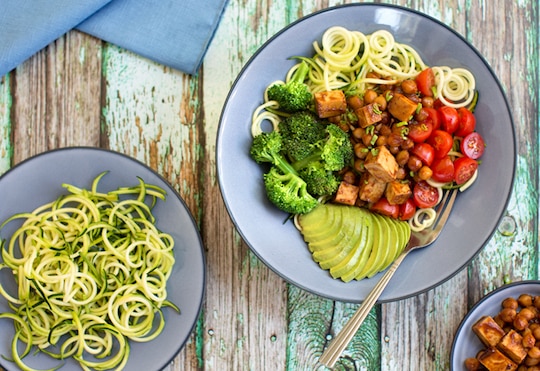 Photos: Hannah Kaminsky