This quinoa bowl recipe is quick, colorful, and an easy way to get your plant-powered protein in a one-dish meal. And while it looks like there's a bit of prep involved, that's not the case at all! The only cutting involved is the bell pepper. If you're really slothful, well-stocked supermarkets sell cut bell pepper. But really, you can do this.
Grating carrots isn't much fun, though, so we'll use pre-grated, which are easy to find. The edamame and cashews add even more heft to quinoa's already impressive protein profile. The only task you've got is to arrange the toppings artfully over cooked quinoa, then pass around the flavorful dressing.
The amounts given here are approximate; no need to obsess over measurements. Double the recipe for more than two bowls, or cut it in half for just one. But go ahead and make two bowls, even if you're a solo eater; arrange, cover, and put in the fridge — you'll be glad it's there for the next day's lunch for work, or for dinner the next day.
If you follow a soy-free diet, you can replace the edamame with any kind of bean you like — chickpeas, black beans, or red beans would work well with this, too
Serves: 2
Time to table: 25 minutes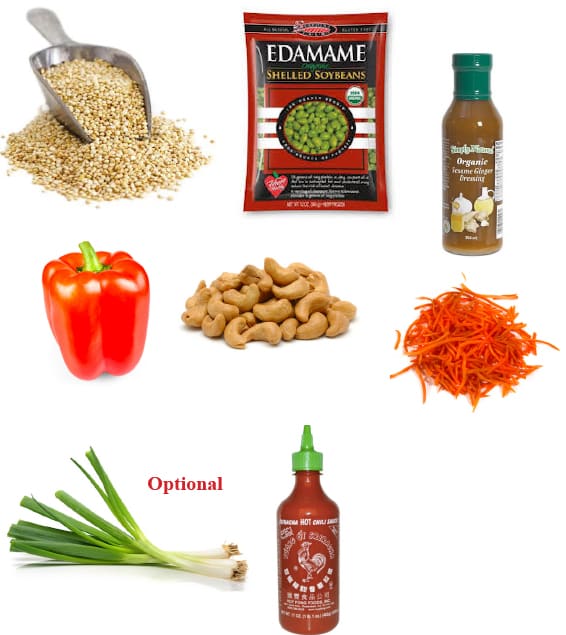 What you need
1 cup uncooked quinoa

8-ounce bag frozen edamame (fresh green soybeans)

1 red bell pepper

8-ounce bag grated carrots

Small quantity toasted cashews

Sesame-ginger dressing
Optional
Scallions for topping

Sriracha
What to do
1  Rinse the quinoa in a fine sieve and combine in a small saucepan with 2 cups water. Bring to a slow boil, then lower the heat, cover (leave the cover ajar), and simmer until the water is absorbed, about 15 minutes.
2  While the quinoa is cooking, combine about 1 cup edamame with just a little water in a microwavable dish; cover and microwave until just done and nicely warmed through. This will take 4 minutes, give or take; start with 3 minutes and add a minute at a time until done. Save the rest of the edamame in the freezer for another use.
3  Cut about half of the bell pepper into long strips. Save the rest for another use.
4  When the quinoa is done, divide between two roomy shallow bowls. Arrange half of the edamame on each, followed by the bell pepper strips. Use about ½ cup of grated carrots for each bowl, and about ⅓ cup cashews.
5  Serve at once. Pass around sesame-ginger dressing, which will give this bowl plenty of flavor. But if you want more, top with the optional scallion and/or sriracha.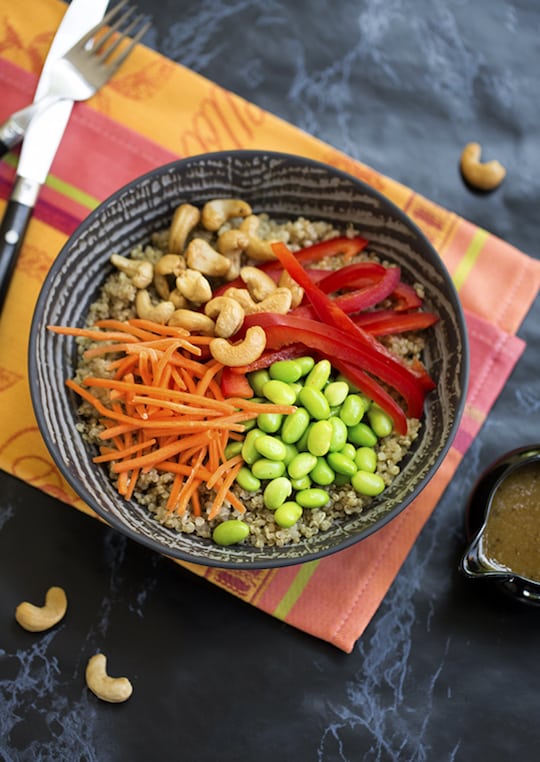 Photo at top and just above: Hannah Kaminsky