These not-too-sweet little no-bake shortcut vegan strawberry shortcakes are made simple, by using rounds of prepared polenta in place of baked biscuits. It makes a lovely spring dessert that's easy enough to make for an everyday treat or for holidays like Easter. For these, we used So Delicious Coco Whip, which is surprisingly low in fat considering that it's made from coconut, and since it's naturally sweet, very low in sugar, too. Photos by Hannah Kaminsky.
Makes 6 shortcakes
1 pint strawberries

¼ cup all-fruit strawberry preserves

18-ounce tube polenta

Vegan buttery spread (such as Earth Balance)

1 container vegan whipped cream (see note)

Mint leaves for garnish, optional
1  Remove hulls from the strawberries and slice very thinly. Cut up any large slices into smaller pieces. Reserve 6 small halves for topping, if desired.
2  Combine the strawberries and ¼ cup preserves, more or less to coat, in a small bowl and set aside.
3  Remove the polenta from the plastic wrapping. Cut a little of the puckered ends off from the polenta tube, then cut the rest into 12 equal slices. These will be about ½ inch thick.
4  Heat enough buttery spread on a wide skillet or griddle. Cook the polenta slices in a single layer, about 5 to 7 minutes on each side, or until golden and starting to get crusty.
5  Remove from the skillet to a platter and allow to cool to room temperature, or until ready to serve. If you're impatient and apply the whipped cream to warm polenta, you'll get a runny mess!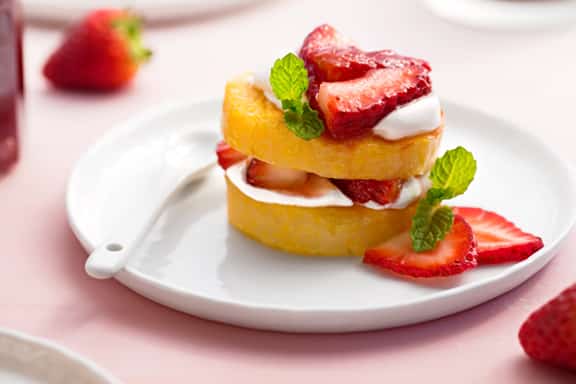 6  When ready to serve, layer as follows: A slice of polenta, a small dollop of whipped cream, a few slices of strawberry, another slice of polenta, more whipped cream, a half strawberry (or a few more slices if you didn't reserve halves).
7  Garnish with mint if desired; pass around any unused strawberries and more whipped cream to spoon onto individual shortcakes.
Notes
Some brands of vegan whipped cream include So Delicious Coco Whip or Soyatoo Soy Whip or Rice Whip. See package directions for best results. Coco Whip, for instance, needs to thaw for a few hours in the fridge before use to be at its optimal texture.
More time / less lazy: Make your own coconut-based Vegan Whipped Cream or Chickpea Whipped Cream (an aquafaba-based recipe).