Take Taco Tuesday up a notch with this easy vegan walnut taco meat - made from a hearty combination of cremini mushrooms and walnuts, plus your favorite Tex-Mex seasonings!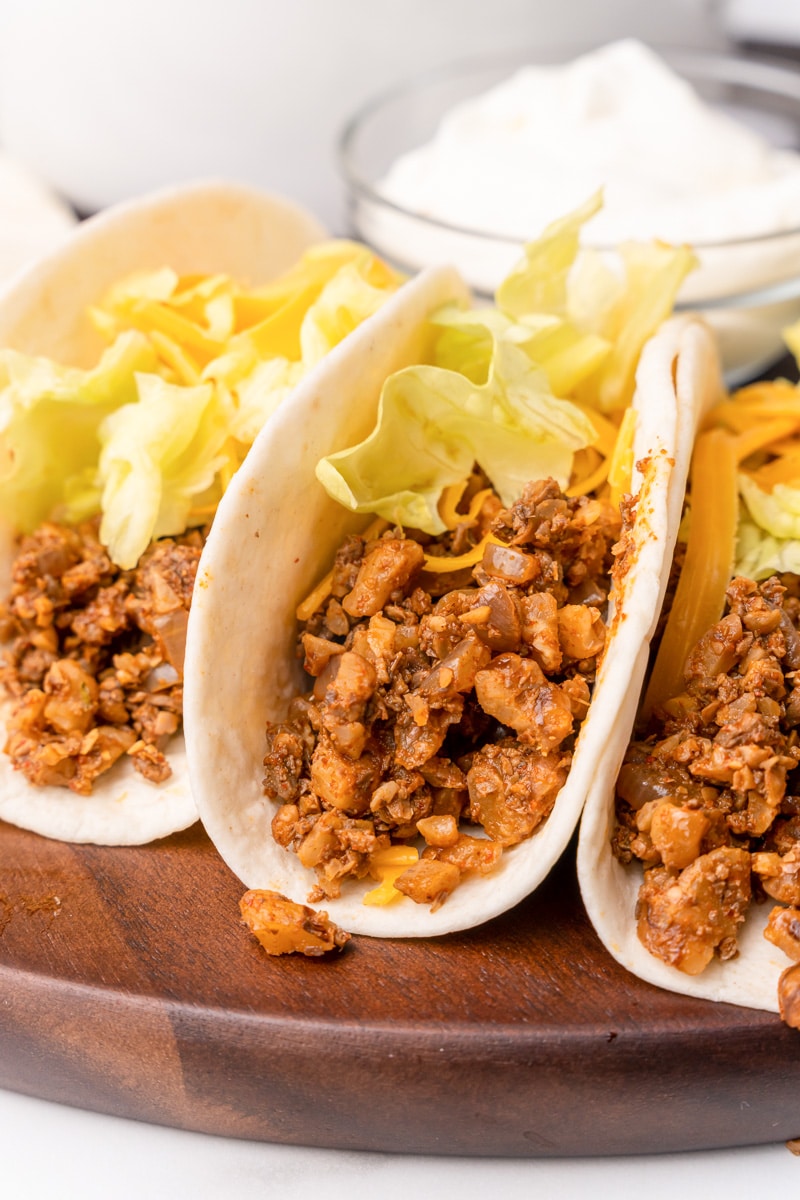 Jump to:
Tacos are one of my all time favorite easy weeknight dinners. They're just so simple and quick to throw together with whatever veggies and beans I have in the pantry.
But for a really hearty vegan taco, you can't beat this walnut taco meat. Use the vegan taco meat for topping salads, filling tortillas, or even serving over top of a baked potato.
This Vegan Walnut Taco Meat Is..
Meatless.
Plant Based.
Seasoned Perfectly with Mexican flavors. 
Versatile.
Great for a Family Friendly Vegan Dinner.
How to Make Vegan Walnut Taco Meat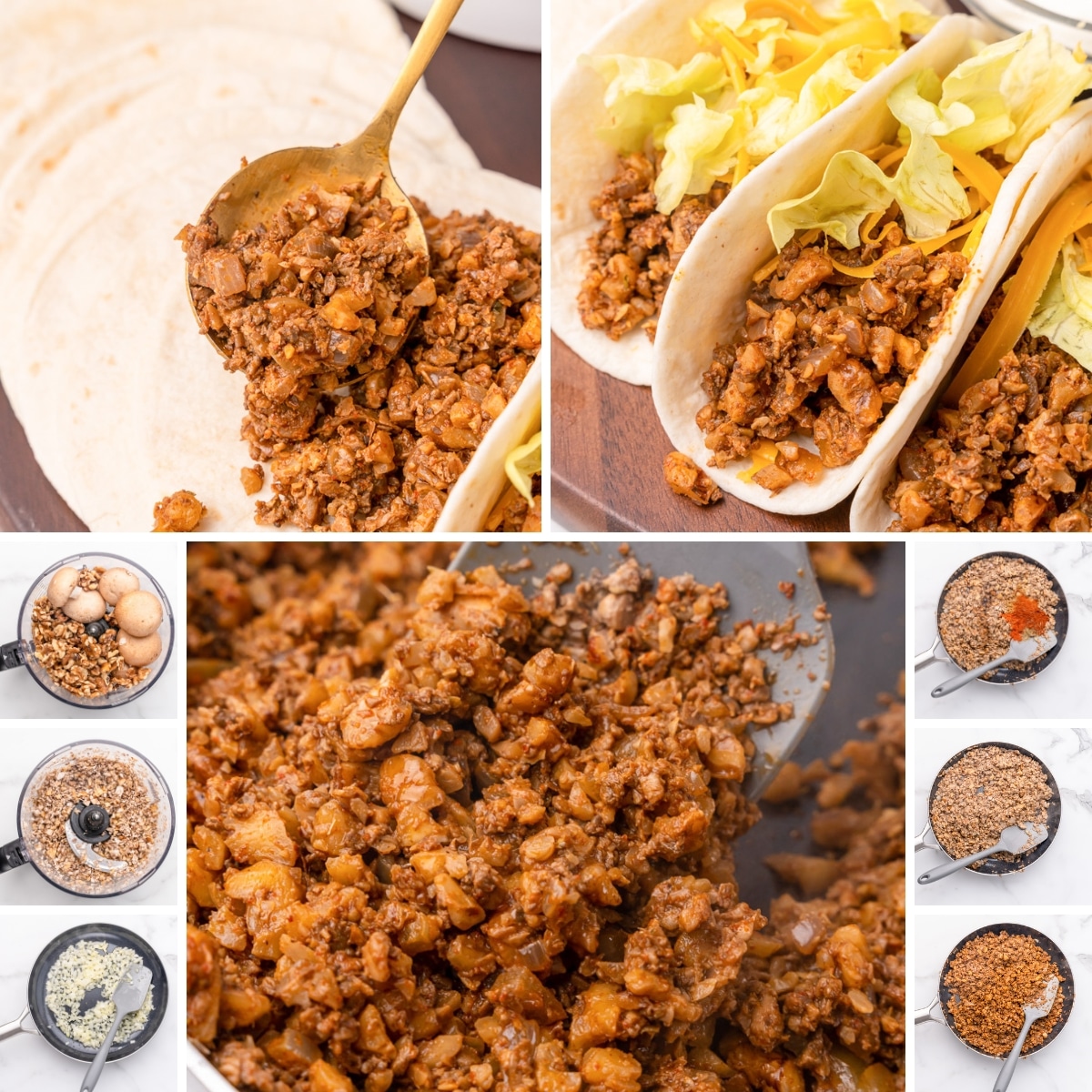 Full steps on how to make this vegan walnut taco meat is in the printable recipe card. This is a quick walk through.
In a food processor, combine the nuts and mushrooms and pulse. 
Then in a skillet, sauté the onion and garlic. 
Toss in the nuts and mushrooms and cook for 4-5 minutes. 
Add in the soy sauce and spices and cook until thickened.
Serve as a taco filler!
Tools You'll Need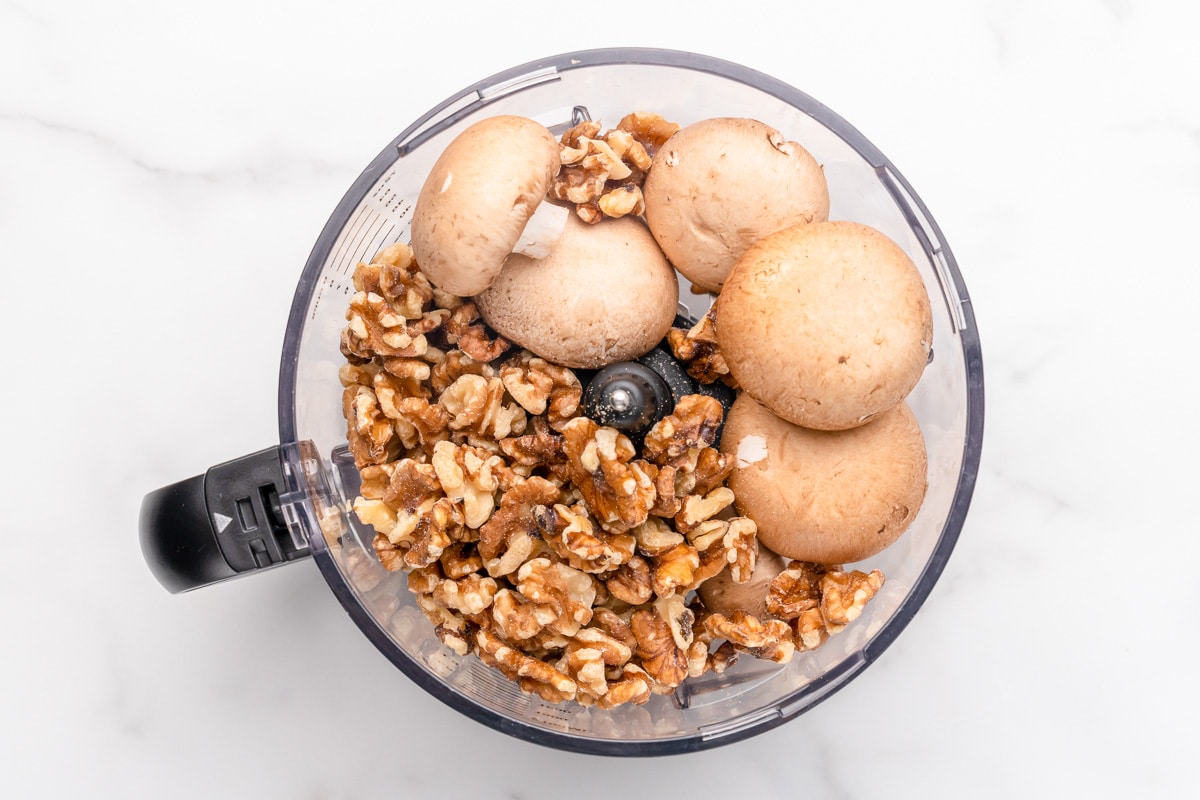 Food Processor 
Make sure to use a food processor for this recipe. If you don't have a food processor a high speed blender will work also. Just pulse the ingredients to combine. Don't mix too much or you will end up with a paste!
Heavy Skillet 
Reach for a nice, large skillet for cooking up the taco meat. This is going to let you spread out the walnut-mushroom mixture in a single layer, and ensure an even cook on all the ingredients.
Tips for Success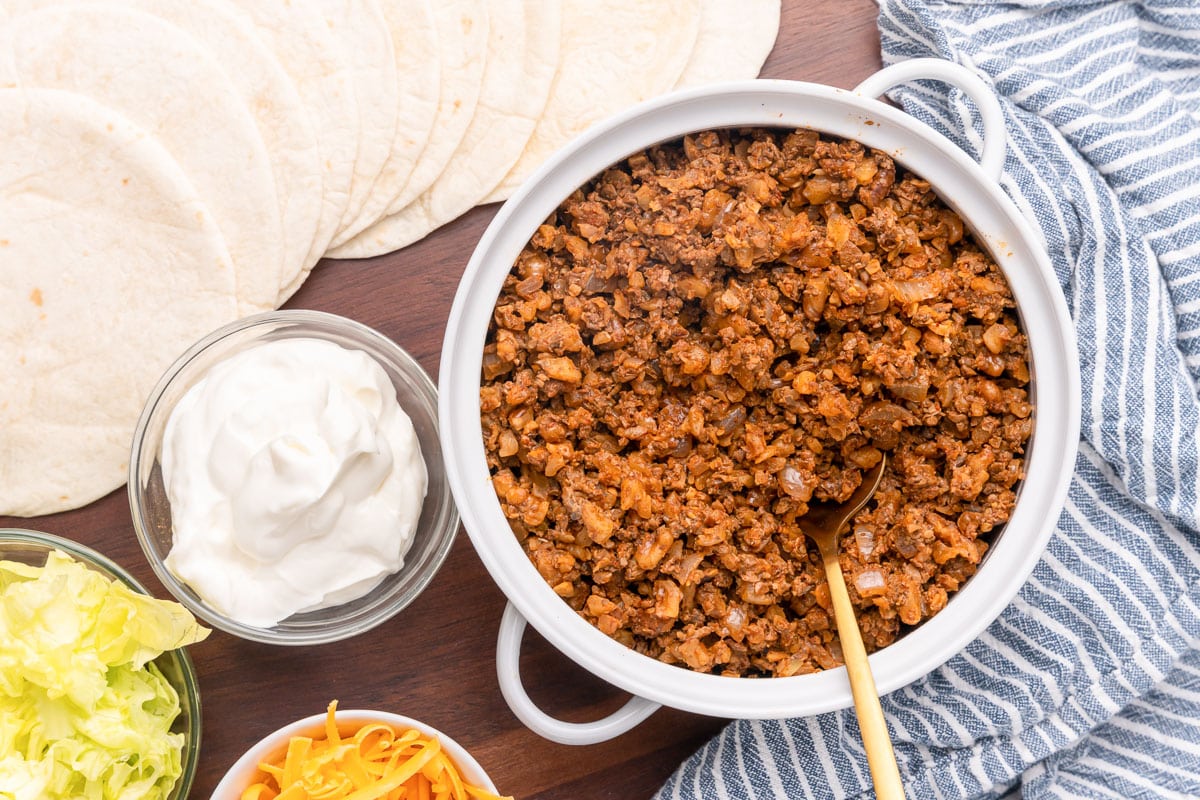 Don't Overmix the Walnuts and Nuts
It is important that your nuts and the mushrooms are chopped up finely in a food processor, but not overprocessed into a paste. You want a rough, crumbly texture - like traditional taco meat.
Allow Mixture to Thicken
It is important to cook the mushrooms and nuts down with the spices as directed. Let it all break down and thicken together with the liquids. You don't want walnut soup - you want a cohesive mixture.
Variations to this Vegan Taco Meat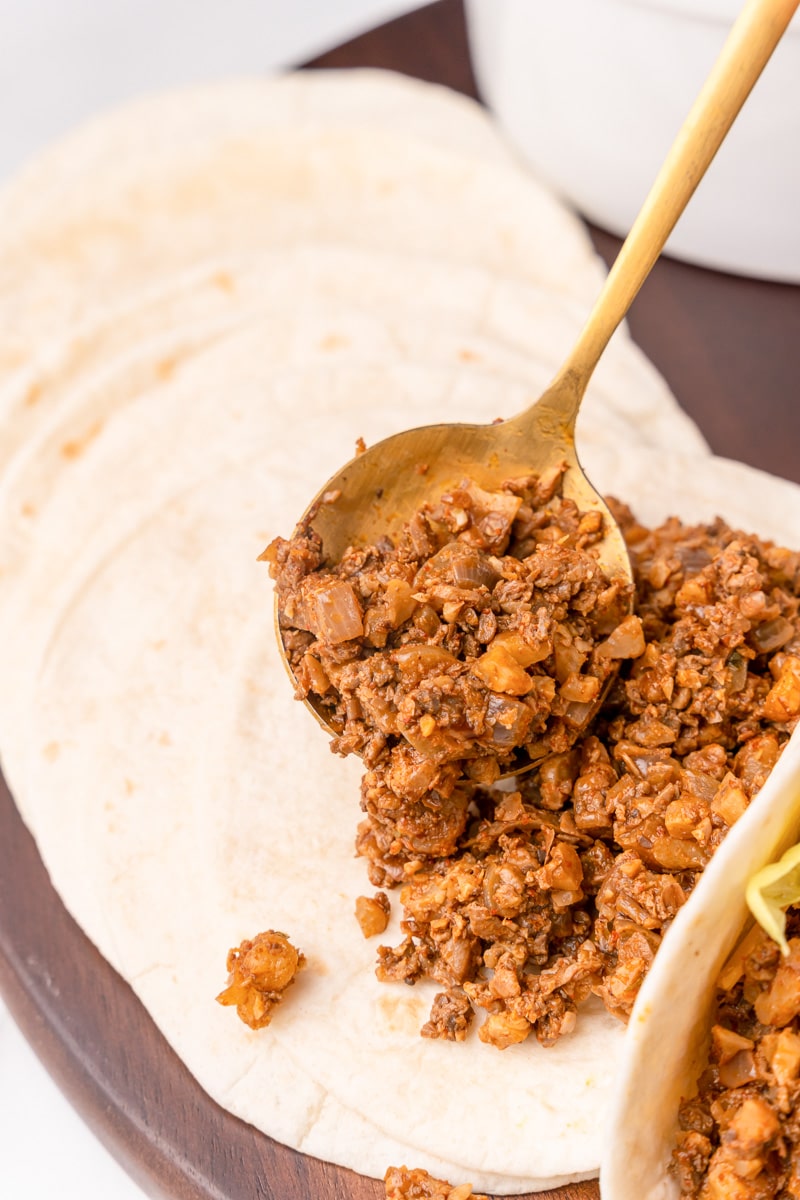 Mix up the Seasonings 
You can change up the spices in this recipe to suit your own taste. Or you can use your favorite store bought taco seasoning packet that you know and love.
Mushroom Varieties
I find that cremini mushrooms work best for this walnut-mushroom taco meat, but you can swap with your own favorite mushrooms as well. Shiitake mushrooms are also a good option!
Coconut Aminos 
Feel free to use coconut aminos instead of soy sauce in the recipe if you wish. It will give you a similar flavor, but is gluten free. 
FAQs for this Vegan Walnut Taco Meat Recipe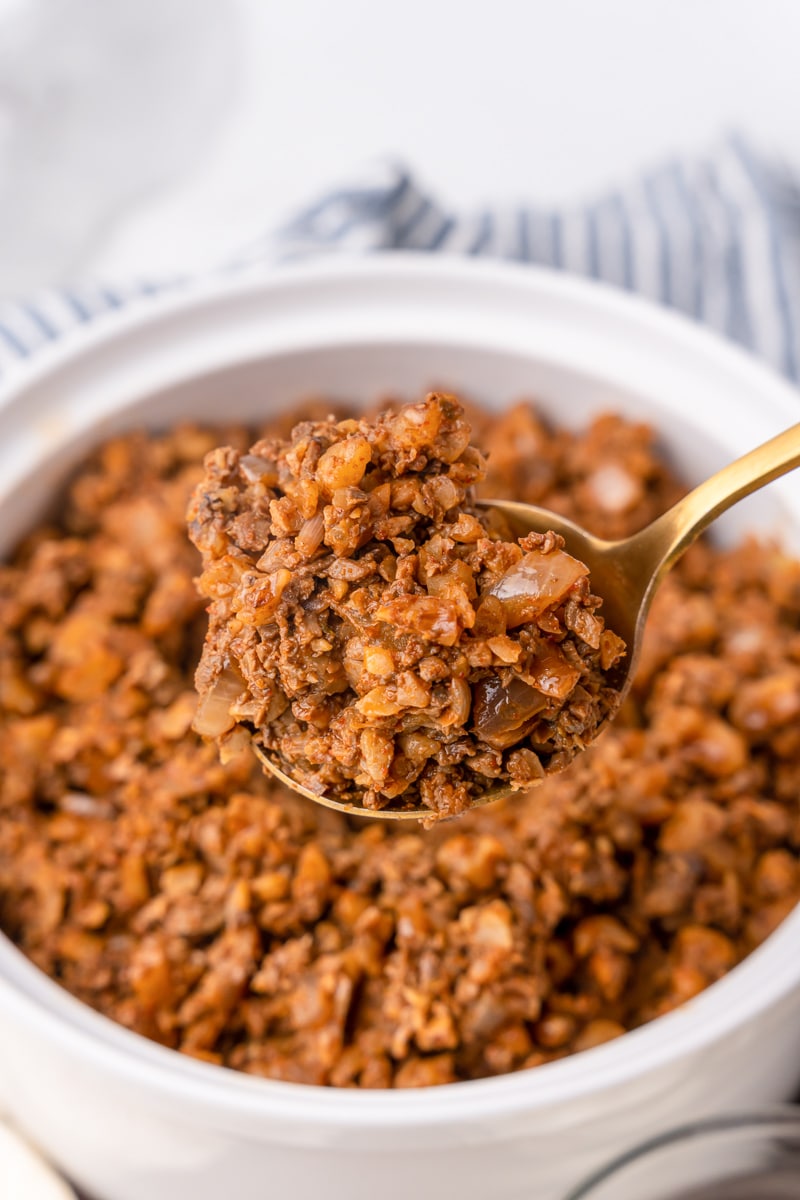 What does walnut meat taste like?
Walnut meat has a rich, nutty flavor and a firm, crunchy texture. Some people describe the taste of walnuts as earthy, while others find them slightly sweet.
Raw walnuts may have a more mild and sweet flavor, while roasted or toasted walnuts can have a more pronounced nutty taste. Overall, walnuts are a versatile and delicious ingredient that can be used in a variety of dishes, from salads and baked goods to savory sauces and spreads.
What nuts taste like meat?
Well, no nuts really taste like meat. (And I don't know why you would really want them to.) But walnuts are often used in meat replacements because they can give a similar texture and umami flavor in many recipes.
Can I meal prep this walnut taco meat for dinners and lunches for the week? 
Yes, you can definitely meal prep this vegan taco meat. Cook up the walnut taco meat and store it in an air tight container in the fridge. Add a splash of water when you reheat to prevent the mixture from drying out too much, then reheat in the microwave or on the stovetop.
More Tasty Vegan Recipes
If you love this vegan walnut taco meat, be sure to check out these other delicious plant based ideas:
Recipe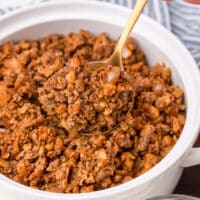 Vegan Walnut Taco Meat
This easy vegan walnut taco meat is made from a hearty combination of cremini mushrooms and walnuts, plus your favorite Tex-Mex seasonings! 
Print
Pin
Rate
Email
Instructions
In a large food processor, add the walnuts and mushrooms and pulse until finely diced, set aside

In a large skillet over medium heat, add the olive oil and saute the onion and garlic until translucent, about 3-4 minutes

Add the walnuts and mushrooms and continue cooking until the mushrooms have softened, an additional 4-5 minutes

Add the soy sauce, chili powder, cumin, paprika, oregano and salt and cook, stirring frequently.

Continue to cook until most of the moisture evaporates and a thicker sauce is left

Serve with your favorite taco toppings
Nutrition
Calories:
453
kcal
|
Carbohydrates:
16
g
|
Protein:
12
g
|
Fat:
42
g
|
Saturated Fat:
4
g
|
Polyunsaturated Fat:
28
g
|
Monounsaturated Fat:
8
g
|
Sodium:
583
mg
|
Potassium:
634
mg
|
Fiber:
6
g
|
Sugar:
4
g
|
Vitamin A:
665
IU
|
Vitamin C:
5
mg
|
Calcium:
102
mg
|
Iron:
3
mg
Vegan-ize any recipe!
Grab our free vegan cheat sheet, packed with my favorite easy substitutions to make any recipe vegan.