High-protein quinoa makes a great filling for tacos. It's a fun, festive, and filling meal! You can use crisp taco shells, or good-quality corn tortillas if you prefer soft tacos. Serve with fresh corn on the cob or a baked potatoes or sweet potatoes, and a colorful tossed salad for an easy meal. Photos by Hannah Kaminsky.
Serves: 6 (2 tacos per serving)
¾ cup quinoa (any variety, though this looks nice with red quinoa), rinsed
1 tablespoon olive oil
1 medium onion, finely chopped
1 small red or green bell pepper, finely diced
2 cloves garlic, minced
1 or 2 fresh hot chile peppers, seeded and minced, or 4-ounce can mild green chilies
¾ cup canned or fresh tomato puree
2 teaspoons good-quality chili powder
1 teaspoon ground cumin
Salt and freshly ground pepper to taste
12 taco shells or good-quality corn tortillas
Garnishes (use any or all):
Shredded lettuce, about 3 loosely packed cups
2 medium tomatoes, diced
½ cup sliced black olives
Bottled salsa or picante sauce, mild to hot, as desired,
or bottled tomatillo sauce (salsa verde)
Combine the quinoa with 1 ½ cups of water in a small saucepan. Bring to a boil, then cover and simmer gently for 15 minutes, or until the water is absorbed.
Meanwhile, heat the oil in a large skillet. Sauté the onion over medium heat until translucent. Add the diced bell pepper, garlic, and optional fresh chile pepper, and sauté until all are golden, about 5 minutes.
When the quinoa is done, transfer it to the skillet and add the tomato puree, and chili powder, and cumin. Cook, stirring, until the mixture is well blended. Season with salt and pepper, remove from the heat, and cover, or transfer to a serving container.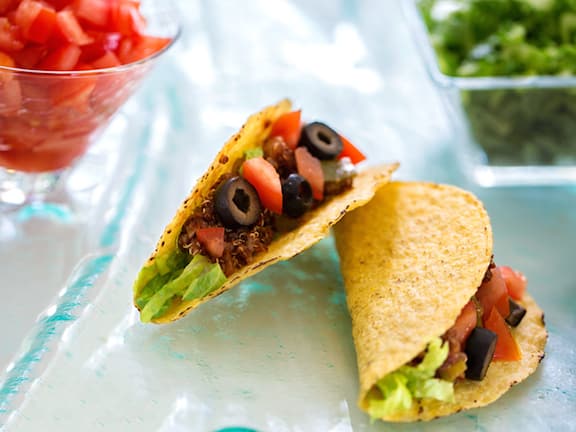 Place the taco shells on a platter. Prepare the garnishes and place each in separate bowls.
Transfer the quinoa mixture to a covered serving container, or if it's an informal family meal, leave it in the skillet.
Have everyone assemble their own tacos as follows: Line each taco shell with a  handful of shredded lettuce, followed by a scoop of the quinoa mixture. Garnish the top with diced tomatoes, black olives, and salsa or picante sauce.
Place 2 tacos on each plate. Eat out of hand with plenty of napkins, and enjoy!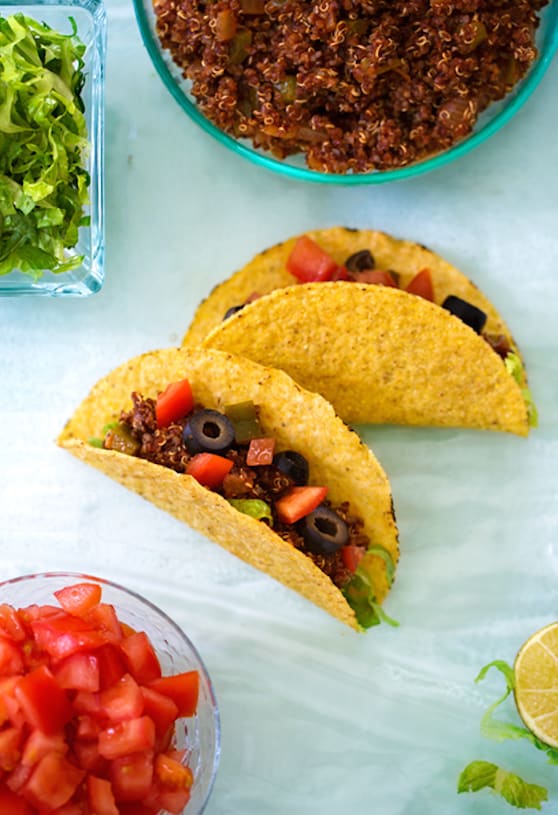 Nutrition Information
Per Serving (without garnishes): 207.4 calories; 9g fat; 29.1g carbs; 4.6g fiber;  4.2g protein; 116.7mg sodium