Tube polenta is a great natural product that lends a rustic charm to many types of dishes. Here are my favorite ways to use it - from fancy recipes to simple meal ideas.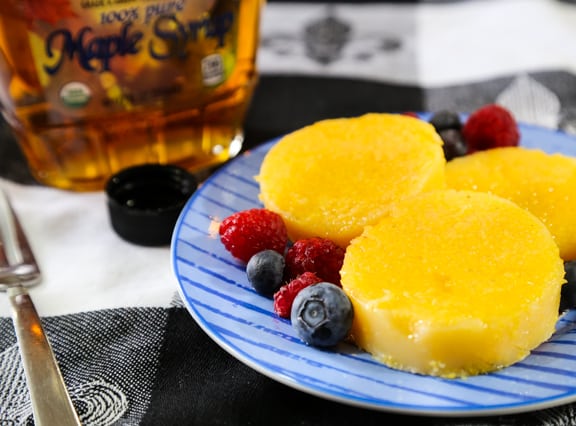 Are you looking for a great polenta recipe? The kind where that coarse cornmeal is cooked into a smooth porridge, then cooled and cut and baked and… If so, you've come to the wrong place.
Here we're talking recipes for polenta that comes in a tube, a great natural product that lends instant character to all kinds of dishes.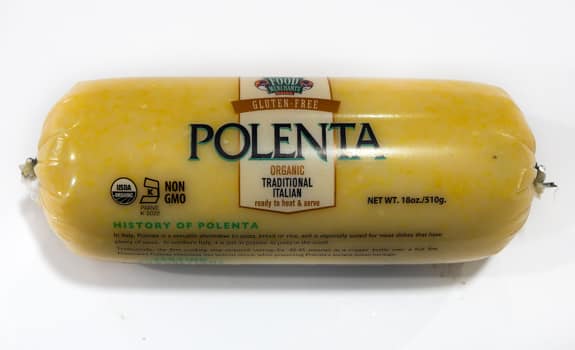 There are a number of brands that offer tube polenta. You might find it in the Italian foods section of well-stocked supermarkets, near the flour products or gluten-free section of natural foods stores, and some Italian specialty markets. I particularly like this one from Amazon.
The product itself is gluten-free, but if you're very sensitive, make sure it's not from a facility that uses wheat. The package information should let you know.
Tube polenta will dress up even the simplest dishes, and even on its own with little or no embellishment (I'm looking at you, Baked Polenta Fries), can be surprisingly yummy. 
And best of all - it's crazy easy to work with!
As for tube polenta nutrition, well it's not a powerhouse. But not at all bad, either! You'll get zero fat, a little protein and iron, and a surprisingly good amount of vitamin C.
So without further ado, here are 8 ways to use tube polenta - recipes for some, simple ideas for others. Let's get cooking!
Baked Polenta Fries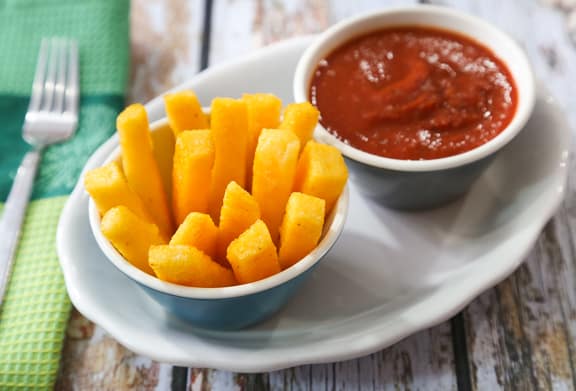 Here in our Vegan Food Hacks' kitchen, where our motto is "why bother?" we recommend making Fuss-Free Baked Polenta Fries with tube polenta. Your 2 to 3 hours of prep and wait time is cut down to 2 to 3 minutes.
Swiss Chard with Polenta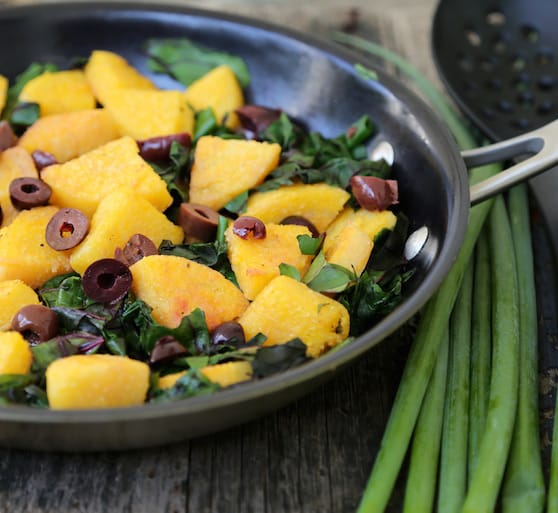 If you're trying to eat more greens, or getting your family to do so, little wedges of tube polenta add immense charm to this simple Chard with Polenta Wedges.
The flavor and texture of polenta is so compatible with leafy greens; you can use kale or collards in this in place of chard, if you'd like.
Sautéed Polenta and Green Veggies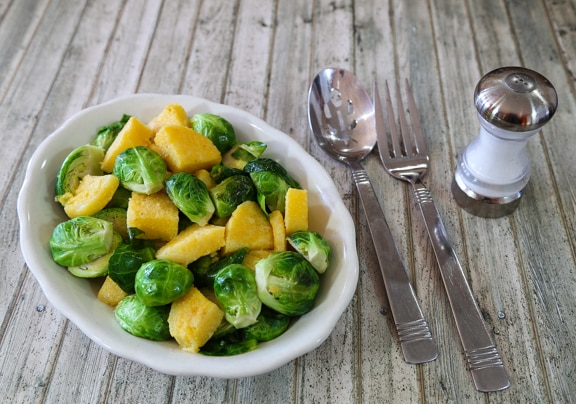 Same idea, even simpler, and no recipe required — combine wedges of sautéed polenta with any steamed green vegetable — brussels sprouts, as shown above, broccoli, zucchini, etc. to make them more substantial and more appealing to picky eaters.
Polenta Croutons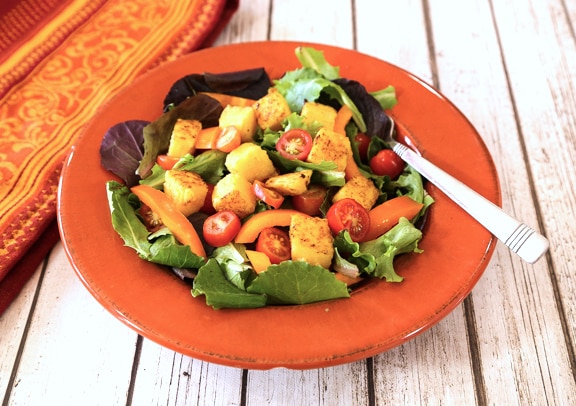 Use tube polenta as gluten-free croutons for salads. They make most any kind of standard salad tastier and more substantial!
Just pan fry the bite-sized polenta pieces in a bit of oil, and season with salt and pepper. Yum!
Sweet Polenta with Fruit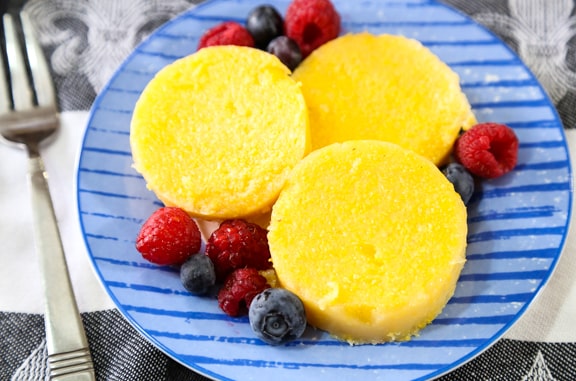 When my son was young, he loved this kind of polenta sliced, sautéed in a little vegan butter on both sides, then served with syrup and fruit.
No recipe needed - maximum breakfast or brunch enjoyment.
Seitan and Polenta Skillet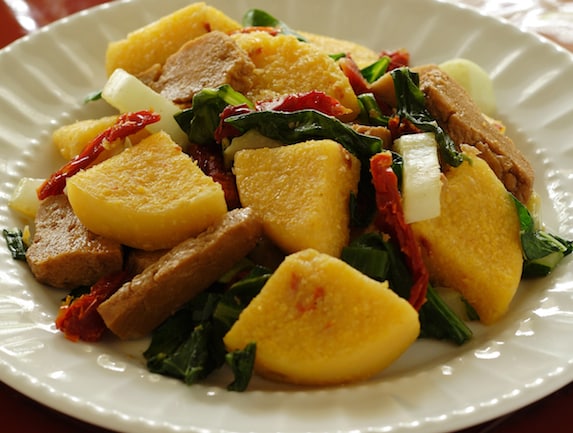 Use tube polenta to boost easy vegan main dishes. Seitan and Polenta Skillet with Fresh Greens is one of our all-time favorites.
There's something enticing about the seitan/polenta synergy, and with the addition of greens, results in a great-looking, hearty dish.
Beans and Polenta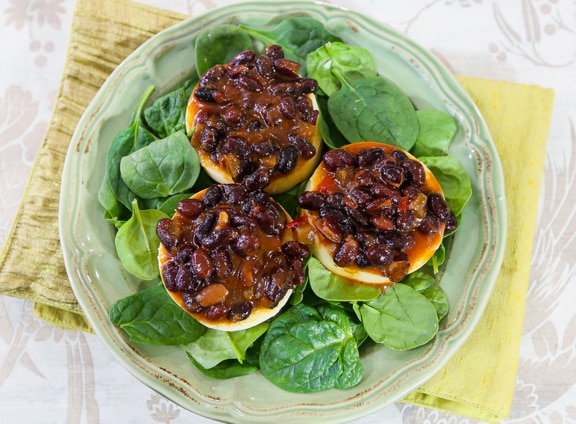 Use tube polenta as a bed for bean dishes, like this white bean and kale skillet or this veggie chili. Their flavors are so compatible!
Sauté slices of polenta on both sides in a little olive oil until golden and slightly crispy, and top with your favorite chili.
For an instant meal, use Amy's Black Bean Chili, as shown in the photo.
Polenta and Mushroom Stuffing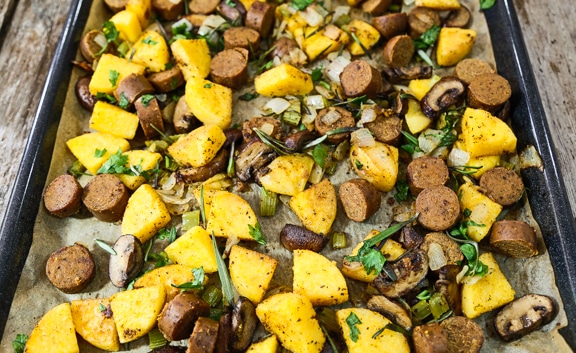 This one is a little more involved, but then, it's a holiday recipe, and not at all difficult. In Polenta, Vegan Sausage, and Mushroom Stuffing, the polenta stands in for bread, and it works spectacularly well. Try it for your next vegan holiday menu!
I hope these creative ideas have given you a new reason to try this often overlooked ingredient.
For more delicious ideas - keep exploring our polenta recipes here!