Using prepared polenta and vegan sausage makes for a nice change-of-pace stuffing for fall and winter meals, and it's great for the Thanksgiving table, too. Adapted from Vegan Holiday Kitchen by Nava Atlas. Photos by Evan Atlas.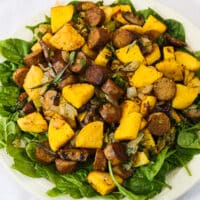 Ingredients
One 18-ounce tube polenta

One 14-ounce package Tofurky or Field Roast vegan sausages

sliced ½-inch thick

6

ounces

cremini or baby bella mushrooms

sliced

3

tablespoons

olive oil

1

medium red onion

chopped

1

cup

diced celery

1

large onion

preferably red, quartered and thinly sliced

2

sprigs rosemary leaves

¼

cup

minced fresh parsley

½

teaspoon

dried thyme

¼ to ½

cup

vegetable broth

2

teaspoons

all-purpose seasoning blend

like Mrs. Dash or Frontier

Salt and freshly ground pepper to taste
Instructions
Preheat the oven to 400º F.

Cut the polenta into ½-inch-thick slices, then cut each slice into 8 little wedges.

Combine with the sliced sausages in a large mixing bowl.

Drizzle in half of the oil and toss to coat. Spread evenly in a lightly oiled or parchment-lined roasting pan. Bake for 20 minutes, stirring after 10 minutes.

Meanwhile, heat the remain oil in a medium skillet. Add the onion and sauté over medium heat until translucent. Add the celery and continue to sauté until both it and the onion are golden.

One the polenta and sausage mixture has roasted for 20 minutes, stir in the onion and celery mixture; then stir in the rosemary leaves, parsley, thyme, seasoning blend, and optional sage leaves.

Drizzle in a bit of broth, just enough to moisten the mixture but not drench it. Bake for 10 minutes longer.

Remove from the oven, and transfer to a serving container. Cover and keep the stuffing warm or serve at once.
Vegan-ize any recipe!
Grab our free vegan cheat sheet, packed with my favorite easy substitutions to make any recipe vegan.
 -