This recipe was inspired by veggie-filled burritos I've had at Mexican or Southwestern-style eateries. Serve with garlicky greens, chips and salsa, and a big salad for a truly hearty meal. Refried beans help hold everything together so that it doesn't fall apart. They also make these burritos more filling and substantial. Feel free to substitute vegetables other than the ones suggested here. Photos by Hannah Kaminsky.
Yield: 4 servings of 2 burritos (or 8 lighter single servings)
8 burrito-sized (10-inch) flour tortillas or 10-inch wraps
1 ½ tablespoons olive oil
1 large onion, quartered and thinly sliced
2 cups small broccoli florets
1 medium red bell pepper, cut into 2-inch strips
1 medium-small zucchini, diced
1 large tomato, finely diced
1 fresh hot chili, seeded and minced, or one
4-ounce can chopped mild or hot green chilies
15- to 16-ounce can fat-free refried beans
1 teaspoon each: chili powder, ground cumin
1 cup grated Jack or cheddar-style non-dairy cheese, optional
Salsa or picante sauce
Bring the tortillas or wraps to room temperature. If you don't have time to do this, wrap them in foil and place in the 200-degree F. oven until needed — or for a really quick fix, zap them in the microwave for a few seconds.
Heat the oil in a large skillet. Add the onion and sauté over medium heat until translucent. Layer the broccoli florets and red pepper strips over the onion and without stirring, cover and cook for 5 minutes more.
Add the zucchini, optional mushrooms, tomato, and chilies, and stir well. Cover and cook 5 to 8 minutes longer, or until the vegetables are just tender. Drain off any liquid that has formed.
Meanwhile, spoon the refried beans into a small saucepan. Loosen the consistency with ¼ cup water and stir in the chili powder and cumin. Cook over medium-low heat until just heated through.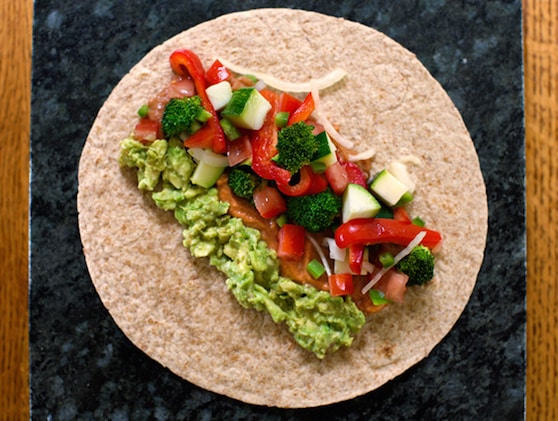 To assemble, spoon a small amount of the refried beans down the center of each warmed tortilla, followed by some of the vegetable mixture and a bit of cheese, if desired. Fold one end over, then roll up snugly and place one or two on individual serving plates.
Serve at once, passing around salsa to be used as desired. These moist burritos are can be eaten with knife and fork, or eat them out of hand with plenty of napkins.