Chinese-Style Cauliflower Fried Rice served with Simple Sweet and Savory Sautéed Tofu makes a tasty vegan dinner menu, filled with healthy shortcuts.Those of you who follow Vegan Food Hacks know that we're big fans of cauliflower "rice." So many of you liked the cauliflower fried rice recipe we shared recently that we decided to build a meal around it.
What this meal needs is a tasty protein dish, and for that we suggest a simple sweet and savory sautéed tofu preparation. You can substitute tempeh or seitan for this as well. Our dishes are nothing if not flexible.
We also added some grape tomatoes to the meal, but you can serve a simple salad or slaw, or sliced bell peppers if you prefer. If you prefer actual rice (brown rice, preferably) or another grain instead of cauliflower rice, go for it! Of course, you'll have to add more cooking time unless you already have cooked grain on hand.
This meal is easy, fast, colorful, and satisfying. So put down that take-out menu and give it a try! 
Serves: 3
Time to table: 30 minutes (or less if you overlap the prep of these two main dishes)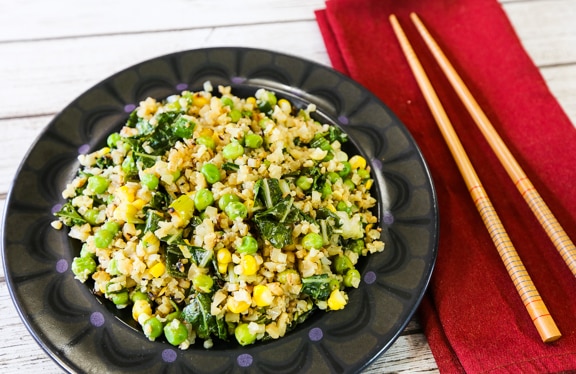 Chinese-Style Cauliflower Fried Rice
What you need
2 tablespoons neutral vegetable oil (or 1 tablespoon each
neutral oil & 1 tablespoon toasted sesame oil
16-ounce bag thawed frozen cauliflower rice

1 cup thawed frozen corn kernels

2 cups thawed frozen green peas

1 tablespoon grated fresh ginger, or ginger from a squeeze bottle

3 to 4 scallions, white and green parts, thinly sliced

1 baby bok choy, sliced, or a couple of handfuls of baby spinach, optional

2 tablespoons reduced-sodium soy sauce or tamari, or to taste

Freshly ground pepper to taste
What to do
1  Heat the oil in a stir-fry pan or large skillet. Add the cauliflower rice and stir-fry over high heat for 5 minutes.
2  Stir in the corn, peas, and ginger and continue to stir-fry for 5 minutes longer.
3  Add the scallions and optional bok choy or spinach. Drizzle in the soy sauce. Stir-fry over medium-high heat for 5 minutes longer, or until the cauliflower rice is touched with golden spots.
4  Season with freshly ground pepper. Transfer to a serving container, or cover the pan until needed while preparing the tofu dish, following.
Sweet and Savory Sautéed Tofu



To make optimal use of your time, you can prepare this in between the steps of the cauliflower fried rice. Or if you have a cooking partner, go splitsies — each of these dishes takes about 15 minutes to prepare.
What you need
14- to 16-ounce tub extra-firm tofu

Neutral vegetable oil, maple syrup or agave, and soy sauce — you'll need between 1 to 2 tablespoons of each
Optional
A few veggies — we like to toss in some grated carrots and scallion

Hot stuff — sriracha or other hot sauce
What to do
1  Cut the tofu into ½-inch-thick slices. Blot well between clean tea-towels or several layers of paper towel, and cut into ½-inch dice.
2  Slowly heat about a tablespoon each of oil, syrup, and soy sauce together in a skillet or stir-fry pan, stirring together as they heat up
3  Add the tofu and stir quickly to coat. Sauté over medium-high heat until golden-brown and crisp on most sides, about 10 minutes. Taste and add more syrup and/or soy sauce if you'd like.
4  Serve the cauliflower fried rice, sautéed tofu, and any raw vegetables you'd like to serve, all at the same time.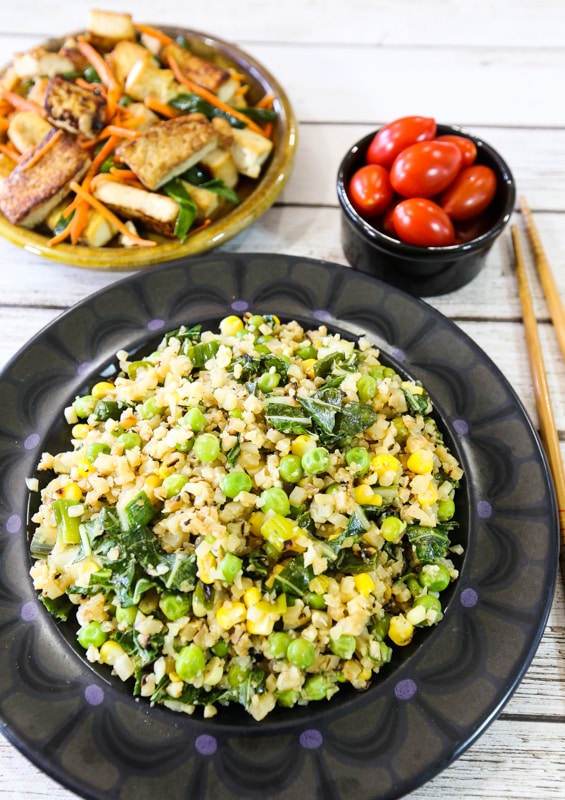 Photos: Evan Atlas