I'm all for rice, especially brown rice, but lately, I've fallen for cauliflower rice. Or, to be more precise, cauliflower "rice." If you haven't discovered it yet, it's nothing more than cauliflower chopped down into rice-like pieces. Much as I like brown rice, it can feel heavy; cauliflower rice becomes a lighter substitute. Chinese-style cauliflower fried rice shows how well it works; and it makes the dish even quicker to prepare — no need to take the 30 to 40 minutes to cook brown rice.
Cauliflower rice makes any classic rice dish lighter, and is a fun and tasty way to get an additional serving of vegetable into your daily fare. For slothful food hackers like myself, the availability of frozen cauliflower rice is a huge bonus! If you like this as much as I do, explore our other cauliflower "rice" and "couscous" recipes.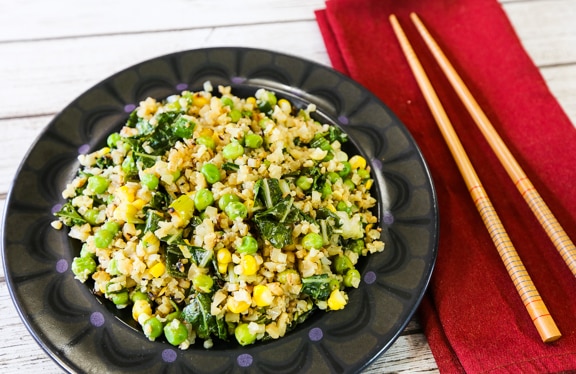 1 tablespoon safflower or other neutral vegetable oil

1 tablespoon dark sesame oil

16-ounce bag thawed frozen cauliflower rice

1 cup thawed frozen corn kernels

2 cups thawed frozen green peas

1 tablespoon grated fresh ginger, or ginger from a squeeze bottle

3 to 4 scallions, white and green parts, thinly sliced

1 baby bok choy, sliced, or 2 stalks regular bok choy, optional

2 tablespoons reduced-sodium soy sauce or tamari, or to taste

Freshly ground pepper to taste
Heat the oils in a stir-fry pan or large skillet. Add the cauliflower and stir-fry over high heat for 5 minutes.
Stir in the corn, peas, and ginger, and continue to sauté for 5 minutes longer.
Add the scallions and optional bok choy. Drizzle in the soy sauce. Stir-fry over medium-high heat for 5 minutes longer, or until the cauliflower rice is touched with golden spots.
Season with freshly ground pepper. Transfer to a serving container, or serve straight from the pan. Pass around additional soy sauce for individual servings.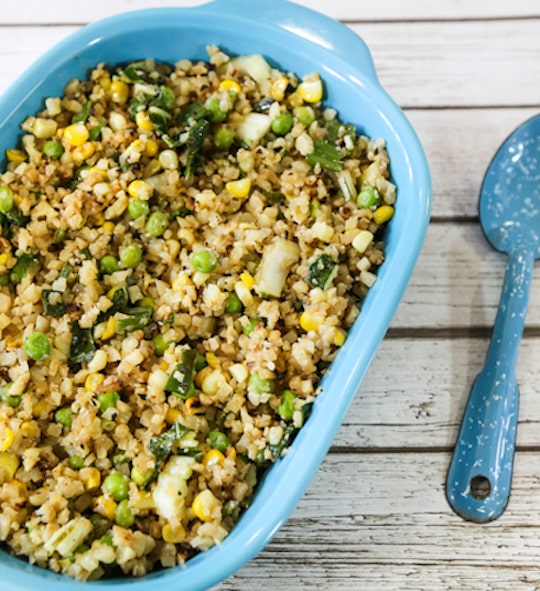 Photos: Evan Atlas