Here's a selection of cauliflower "rice" recipes (and a few cauliflower "couscous" recipes as well) that are easy, tasty, and just happen to be vegan. Cauliflower "rice" and "couscous" are clever ways to get a nutritious vegetable into your regimen, and good for anyone who avoids grain foods for any reason. It's also a good way to disguise vegetables for your picky eaters!
Some people simply have trouble digesting grains; others argue that cauliflower rice is more Paleo-friendly than real rice, possibly forgetting that cauliflower is a cultivated crop and wasn't available when our distant ancestors were doing cave painting and hunting with spears. They didn't have food processors back then, either.
Cauliflower rice dishes make nice light side dishes; combined with or used as a "bed" with legumes, they're nearly as substantial as their grain counterparts.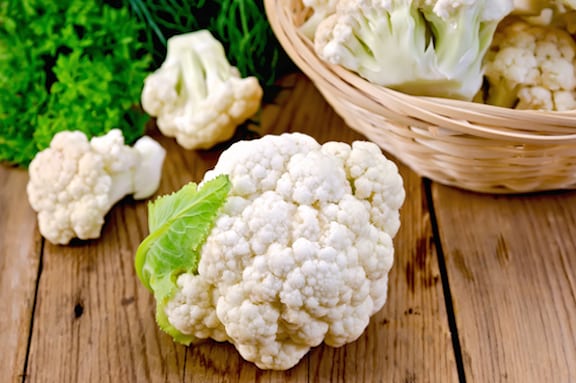 Cauliflower rice vs. brown rice: Calories and Carbs
The appeal of cauliflower rice to calorie-watchers is undeniable: Only 25 calories per cup as compared to 218 for a cup of cooked brown rice. As far as carbohydrates, cauliflower has only 5g per cup, as compared to 46g in a cup of cooked brown rice. (how about white?)
Still, cauliflower rice isn't better or more nutritious than brown rice, just different. It's light and mild-flavored, and you can use it in dishes that normally call for rice as well as couscous or bulgur. For those on gluten-free diets, there's an especially good argument for replacing the latter two with cauliflower.
How to make cauliflower rice from fresh cauliflower
OhMyVeggies offers a concise post on that won't put you into a stupor like many other posts I've explored that have dozens of photos of riced cauliflower from every possible angle, guaranteed to put you into a stupor. Go to How to Make Cauliflower Rice to get the steps in a concise way.
To make cauliflower couscous, simply process the cauliflower to slightly smaller bits.
One more caveat: turning cauliflower into "rice" or "couscous" is a messy business. You might find cauliflower bits all over your kitchen from this endeavor.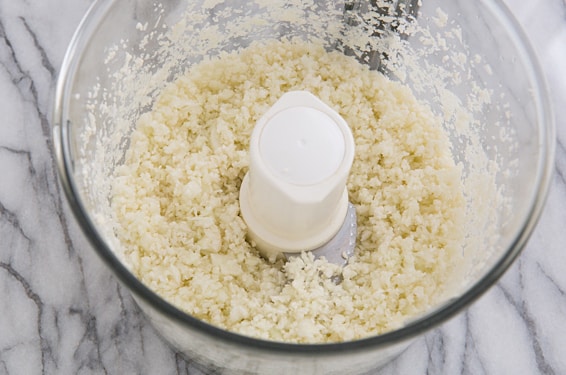 What if you don't have a food processor?
… Or are merely lazy, like me? Fortunately, you can find cauliflower rice (sometimes labeled "riced cauliflower" in the freezer section of well-stocked supermarkets, completely ready to use. If your store doesn't have it, ask the kind manager to order it.
Enjoy these creative cauliflower rice and cauliflower couscous recipes from VegKitchen, OhMyVeggies, and around the web.
Vegan Food Hacks offers up Cauliflower Spanish Rice that's super simple to make, thanks to a great new shortcut —frozen riced cauliflower.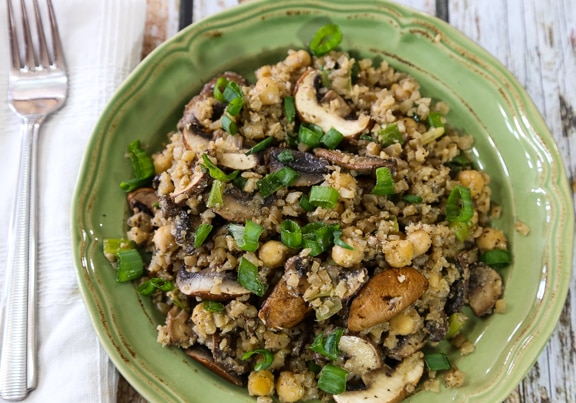 The same shortcut — a bag of riced cauliflower that you will find in your supermarket's frozen foods section — is used for Cauliflower Fried Rice with Mushrooms & Chickpeas. This one is also courtesy of Vegan Food Hacks.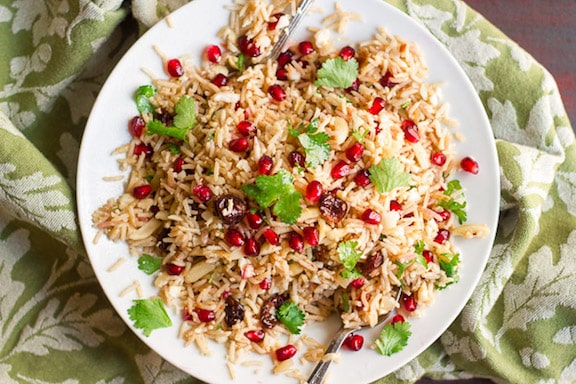 From OhMyVeggies, Basmati & Cauliflower Rice Pilaf with Fruit & Almonds is made with a mix of spiced basmati and cauliflower rice, crunchy almonds, and sweet pomegranate seeds. It's as beautiful as it is nourishing.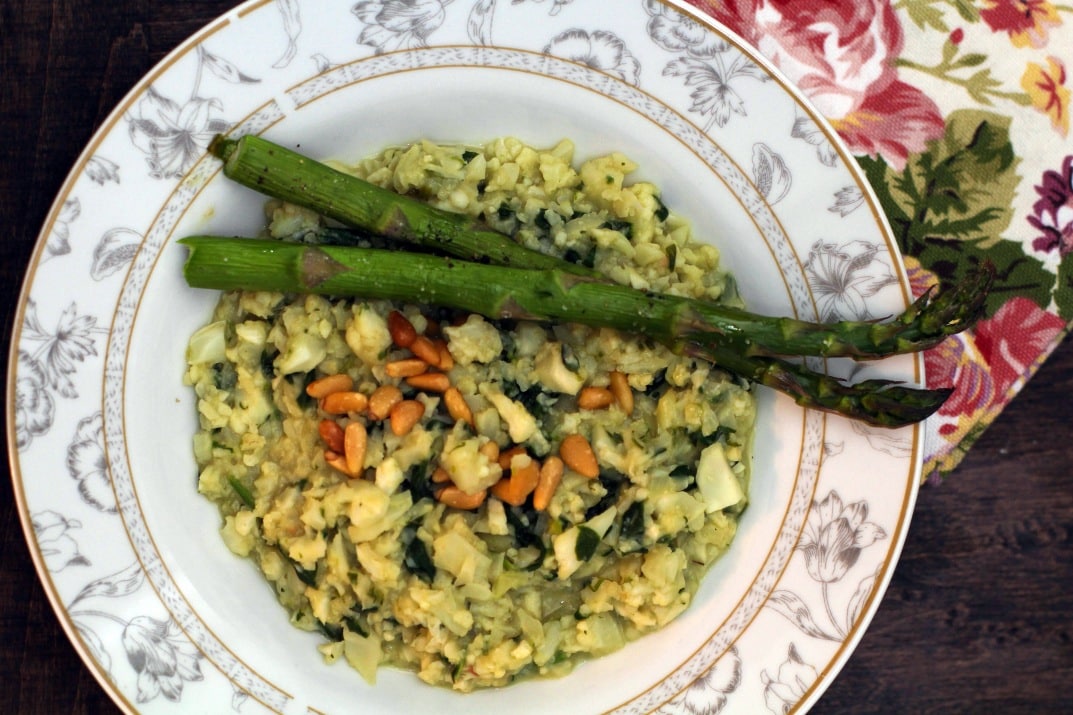 Adapt this delicious Cauliflower "Risotto" with ingredients you have on hand; add mushrooms, peas, tomatoes, basil, or other veggies and herbs you may be craving.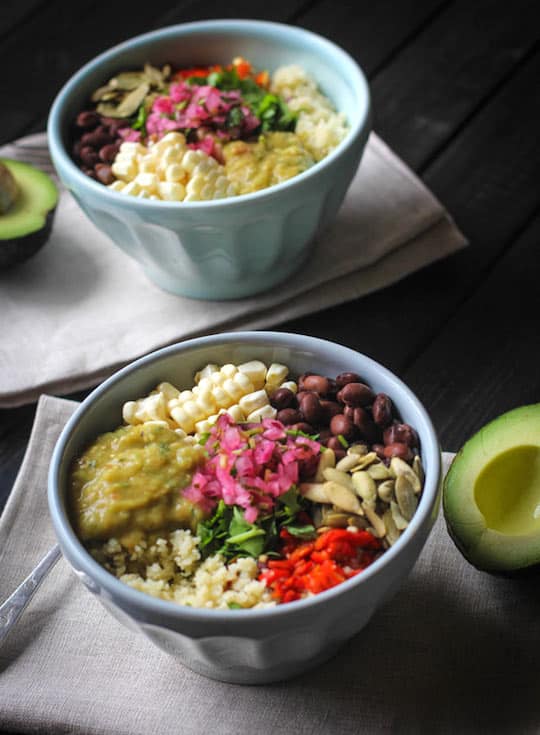 Easy, healthy Lunchbox-Friendly Mexican Cauliflower Rice Salad from OhMyVeggies is especially perfect to prep on Sunday for no-fuss lunches during the week.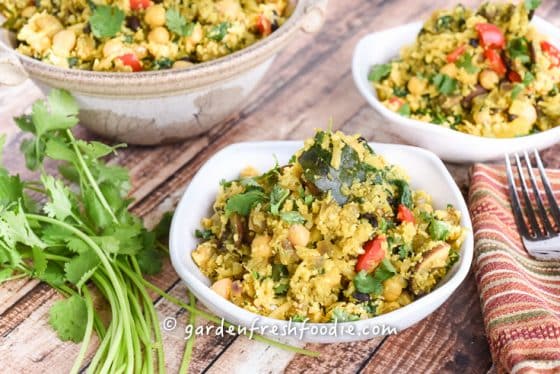 Garden-Fresh Foodie presents a garden-fresh tasting Indian Cauliflower Rice Bowl — the beans and walnuts provide a generous amount of protein to make this a hearty main dish.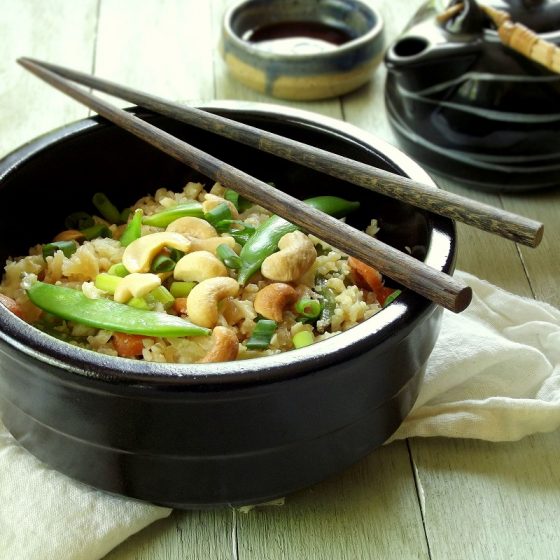 From Connoisserus Veg comes Cauliflower Fried Rice, as simple preparation hat has all the flavors you love in Chinese Fried Rice, minus the greasiness and carbs.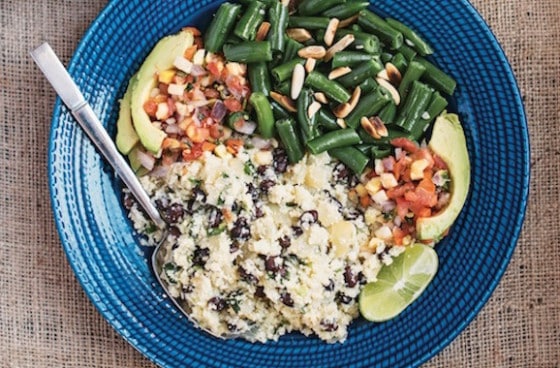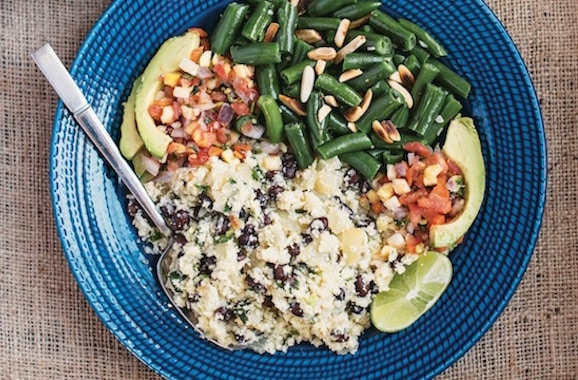 Tex-Mex Cauliflower Couscous is a calorie-light dish that will fill you up and please your palate with novel textures and luscious flavors.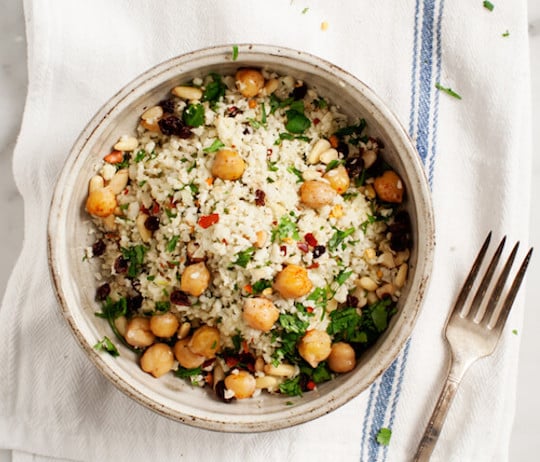 Love and Lemons brings you Spiced Cauliflower "Couscous" flavored with nuts, currants, and exquisitely balanced seasonings.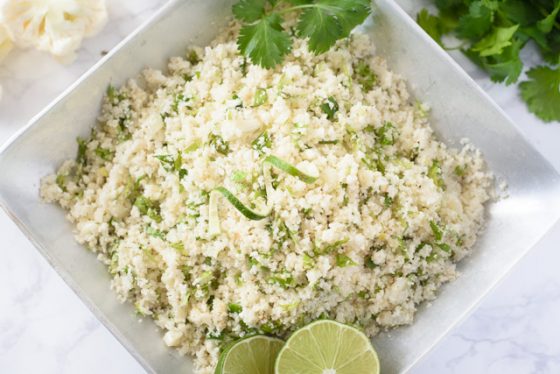 Kimberly Snyder presents Cilantro Lime Cauliflower "Couscous" — and you couldn't ask for a lighter and more lovely vegetable side dish that can be enjoyed year-round.