Here's cauliflower Spanish rice that's super simple to make, thanks to a great new shortcut —frozen riced cauliflower. This will save you the time and effort of wrangling a cauliflower into tiny bits with a food processor. We've added black beans to make this tomato-y rice more substantial as a main dish.
If you're more of a DIY kind of person and not as slothful as we are at Vegan Food Hacks, you're welcome to follow the steps in How to Make Cauliflower Rice at OhMyVeggies.
The brand we used in this recipe was Green Giant, which came from our local supermarket. 365 Organic and Trader Joes offer frozen riced cauliflower as well.
Serves: 4 to 6
1 tablespoon olive oil

1 medium onion, finely chopped

½ medium bell pepper, any color, diced

16-ounce bag frozen riced cauliflower

1 cup tomato sauce

1 teaspoon chili powder

1 teaspoon ground cumin

15-to 16-ounce can black beans, drained and rinsed, optional

Salt and freshly ground pepper to taste

Fresh cilantro as desired, plus more for topping

Picante or hot sauce of your choice, optional
Heat the oil in a large skillet or stir-fry pan. Add the onion and sauté over medium heat until translucent.
Add the bell pepper and continue to sauté until it's soft and the onion is golden.
Add the riced cauliflower and tomato sauce to the pan. Turn the heat up to bring to a simmer.
Stir in the chili powder, cumin, and optional black beans. Continue to cook for about 8 minutes, stirring often. The underside should start getting a nice golden hue as you cook and stir.
Season with salt (you may not need any unless the tomato sauce is salt-free) and pepper.
Stir in as much cilantro as you'd like, and use some for garnish. Serve at once; pass around picante or hot sauce for anyone who might like a spicier dish.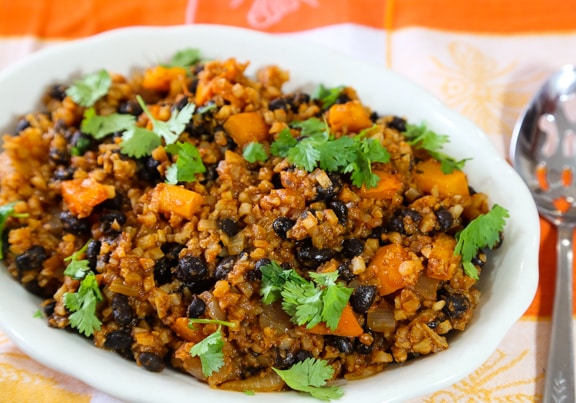 See more of our Shameless Shortcut Recipes. If you enjoyed this shortcut Cauliflower Spanish Rice, you'll also like Cauliflower Fried Rice with Mushrooms and Chickpeas.