Kip Andersen, co-producer/director of "Cowspiracy: The Sustainability Secret," considered himself to be an environmentalist. He recycled to reduce waste, took quick showers to save water, supported several environmental organizations. Then "I did some research and discovered all these incredible things — rainforest destruction, species extinction -- can all be tied to animal agriculture. Jeez, this is the cause?" And if so, why was no one talking about it?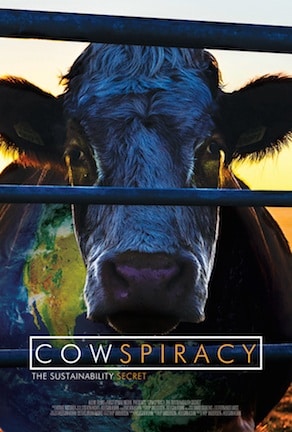 Stunned, Andersen "checked the websites of my favorite nonprofits — Greenpeace, Sierra Club, Surfrider —I didn't see anything on there. I started emailing and calling over months, years, and no avail. That's when I started to step this up, that's when I teamed up with Keegan (fellow producer/director Keegan Kuhn) to get to the bottom of this."
The bottom, it turns out, is a long way down. The feature-length documentary follows Anderson on his journey into the heart of darkness. And silence. "There's suppression and mismanagement of information," says "Comfortably Unaware" author Dr. Richard Oppenlander , the degree of which surprised even Kuhn of First Spark Media. "I felt like I was well-informed on this issue when we started," says Kuhn, whose 2013 film "Turlock" documents the nation's largest animal neglect case. "The more research we did, the worse it got -- I realized how truly broken our food system is."
Worse, until he and Andersen completed filming, they couldn't even go public with what they'd learned. "We've had to stay silent every step of the way in fear of being shut down," says Andersen. The topic is so hot, their funding got pulled. To get the word out, the "Cowspiracy" team put a lot of skin and a lot of money in the project. They self-funded "Cowspiracy" with the support of an Indiegogo campaign. Says Kuhn, "We put everything on the table we could to fit into the film."
It's paid off. The information in "Cowspiracy" is not just getting out, it's making the the beef industry  uneasy.
Kuhn would tell skeptical cattlemen the same thing he tells skeptical consumers "Do more research and find out. Be as informed as possible. Truly know the impact of animal agriculture on 7 billion people. People can't make informed decisions until they have the information. We want to get this information out there. Screenings are the best way we can do that."
Kuhn and Andersen have been road tripping the country for "Cowspiracy" screenings, and in fact, agreed to be interviewed en route from Sun Valley to Bend, Oregon. Want to see "Cowspiracy" at a theatre near you? Host a screening.
The other thing you can do is go vegan. Andersen has. And despite being stonewalled and misguided by the environmental agencies he'd admired, he is "an optimist. This is not dreary," he says. "Everywhere we look, this shift is already happening,a mass movement of the population becoming informed and changing their buying habits."
"Cowspiracy" likewise ends on an up. It's even having an affect on Kuhn. "It's exceeded expectations. People are so excited about it," he says. "We're going to look back on how food's produced today and shake our heads."
"Share this information, don't keep it to yourself," Andersen urges. "Everyone needs to be held accountable for their food choices. Share the truth."
See more of Ellen's Meatless Monday Musings on VegKitchen.
Ellen Kanner writes the Meatless Monday column for The Huffingon Post, is the Edgy Veggie, a syndicated columnist, and Dinner Guest blogger on Culinate. She is also a contributor to Bon Appetit, Relish, Eating Well, Vegetarian Times, More, the Miami Herald and regional publications across the country.