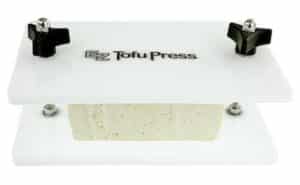 Recently, I was sent the EZ Tofu Press * to try out. As I mention in all the reviews here on VegKitchen, I only review products that I personally like and can recommend, and that I feel would make life in your plant-based kitchen easier and more enjoyable!
And so, the bottom line is that I do like the EZ Tofu Press. There is absolutely no learning curve to using it; just place the block of tofu in between the two rectangular plates, tighten the screws, and place over a plate (or as I've done, right in the sink, propped on one side so it can drain). If you'd like, you can tighten the screws a little if you'd like a firmer texture for your tofu. The whole process can be done in 5 to 15 minutes.
I'm a fan of using tofu pressing devices. They do a better job of it than using the towel or paper towel method, and especially with the latter, it's a lot less wasteful. I'm sure that in all my years of using tofu, I've gone through rolls of paper towel — multiply that by many thousands of tofu users, and that's a lot of trees!
Pressing tofu helps it to absorb marinades, sauté to a firmer texture, and in general, pick up the flavors of whatever it's being cooked or stir-fried with, such as Sautéed Tofu With Green Veggies, below. And if you're using it uncooked, for instance, mashed  to make something like Tofu Eggless Salad, it holds the dressing better and is less likely to get watery when leftovers are stored.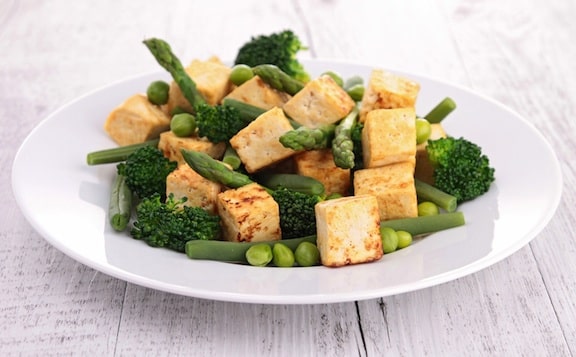 The EZ Tofu Press is easy to clean and is dishwasher safe; it is less costly compared to some other tofu presses, and is quite durable. For those who use tofu at least once a week, it's quite a handy gadget to have in the kitchen.
Full disclosure:
EZ Tofu Press provided VegKitchen this product sample for review, but did not otherwise compensate the reviewer for this post. The reviewer was not obligated to review this product. VegKitchen only chooses to review books and products that we can wholeheartedly recommend to our readers to enhance their healthy, plant-based lifestyles.
* This post contains affiliate links. If the product is purchased by linking through this review, VegKitchen receives a modest commission, which helps maintain our site and helps it to continue growing!