The black bean base of these soft tacos has a wonderfully garlicky and smoky flavor. Yellow squash, chili peppers, and dried tomatoes add even more flavor and color. These are  easy to make and even easier to serve, as everyone assembles their own tacos at the table. Photos by Hannah Kaminsky.
Makes: 12 smaller tacos or 8 larger ones, 6 or more servings
12 good-quality corn tortillas, or 8 whole-grain soft taco-size wheat tortillas
1 tablespoon extra-virgin olive oil
4 cloves garlic, minced
1 medium yellow summer squashes, quartered lengthwise and thinly sliced
(cut away any large seeds; they're pretty flavorless)
1 to 2 small fresh hot chili peppers (such as jalapeño or serrano),
seeded and minced, or 1 medium milder chili pepper (such as poblano)
Two 15- to 16-ounce cans black beans, drained and rinsed,
or 3 ½ cups cooked black beans (from about 1 ½ cups raw)
Juice of ½ to 1 lime, to taste
⅓ cup sliced sun-dried tomatoes (moist, but not oil-cured)
2 teaspoons ground cumin
1 teaspoon mesquite seasoning or smoked paprika, or to taste
¼ cup minced fresh cilantro, optional
Salt and freshly ground pepper to taste
To serve:
Shredded romaine lettuce or baby spinach, or a combination
Your favorite chunky salsa, homemade or store-bought
Bring the tortillas to room temperature if they are refrigerated. Or, if you prefer, you can wrap in foil and warm in a slow oven (250º F).
Heat the oil in a medium skillet. Add the garlic and sauté over low heat for a minute or so.
Add the squash and chilies. Sauté over medium heat, stirring often, until the squash is just tender, about 3 to 4 minutes.
Add the beans, ½ cup of their cooking liquid or water, and lime juice. Cook over medium heat until the mixture comes to a gentle simmer. Mash some of the beans in the skillet with a potato masher until there's a nice thick base.
Stir in the cumin, dried tomatoes, and mesquite. Cook over low heat gently for 5 minutes longer. Season with salt (you may not need any if using canned beans) and pepper.
Let everyone create their own soft tacos by layering first lettuce and/or spinach, then the bean and squash mixture in the center of your choice of tortillas, then topping with a little chunky salsa. Eat out of hand, served with plenty of napkins!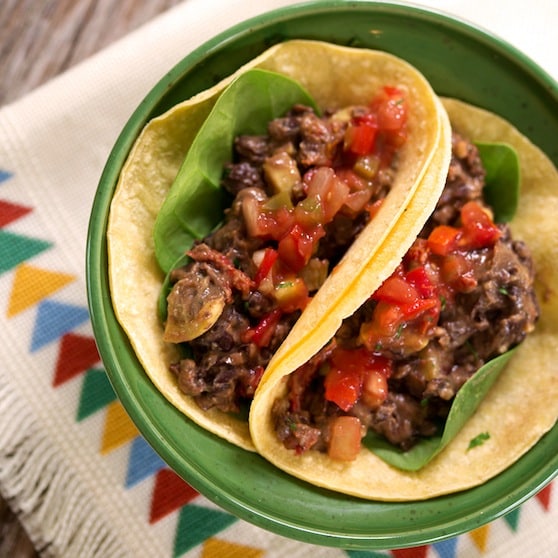 Nutritional Information: 
Per Serving (when making 12 smaller tacos; no garnishes): 143 calories; 2.3g fat; 19mg sodium; 320mg potassium; 25.7g carbs; 6.5g fiber; 0.8g sugar; 6.5g protein