A reader of this site wrote that she and her husband will be traveling quite far by car for their family vacation, and that they are tired of, as she put it, "soggy salads… and tasteless veggie subs…plus we don't like supporting fast food." What are weary (and hungry) car travelers to do? Here are some ideas and strategies for healthy road trip snacks and meals.
I'm with this reader. When my family took a long road trip by car last summer, we packed a cooler filled with fresh fruits and beverages, and one containing healthy snacks. We can't stand fast food and refuse to eat the horrible stuff at rest stops. We went through lovely areas that had good vegetarian restaurants, and made sure to enjoy good meals when we had the opportunity. We restocked our coolers at natural foods stores and food co-ops on the road.
It made the trip less stressful, and we never had to frantically search for food when we were hungry which is the worst time to do so. Here are some tips for easy, durable food to take on road trips:
1  Before you leave home, stock a cooler with apples, bananas, baby carrots, fresh bread, vegan deli slices, and condiments for making simple sandwiches, and, if desired, some beverages, such as natural juices and teas in aseptic boxes.
2  Stock another cooler (or even just a box) with compact, high-density non-perishable healthy foods like trail mix, granola bars, cereal bars, whole grain crackers, a jar each of natural peanut or other nut butter and all-fruit preserves, dried fruits, and fruit leathers. If you think you'll have difficulty finding an acceptable breakfast, you can also bring your own cereal or granola (or packets of instant hot cereal) and some bowls and spoons. Bring along your own utensils, too, for spreading and cutting.
3  If you crave warm food, you can pack some of those soups-in-a-cup, noodles-in-a-cup, or coucous-in-a-cup products from natural foods stores. You can get hot water almost anywhere on the road-gas stations, rest stops, etc. to reconstitute them.
4  If you do want to eat out in unfamiliar places, check your map before you leave and see if you'll be passing any college towns. These are more likely to have the kind of restaurants or little cafes that health conscious eaters will enjoy. Be wary of salad bars. They may look healthier, but they are notorious for harboring bacteria. You don't want to greet the holidays with food borne illness. I have found that if all else fails, ordering a salad and a baked potato will do (but don't eat the skin), in those kinds of places that have never heard of vegetarians. Pasta, too, seems a good bet — it may make for a starchy meal, but it's safe and satisfying.
5  Hotel and restaurant breakfasts can be a challenge, if not impossible, especially for vegans. Besides, I really don't like having to get all dressed and ready before having anything to eat or drink. So in one large, lidded plastic box I've been known to pack a basic "breakfast kit," which includes:
Aseptic containers of rice milk and chocolate soy milk
Our favorite healthy cold cereals
A couple of Fantastic Foods instant oatmeal-in-a-cup
A small container of organic instant coffee
Two types of tea
A small container of organic raw sugar
Two small jars of all-fruit preserves
Peanut butter
A small loaf of whole grain bread
Natural cereal bars (not the supermarket kind)
A few bananas
On a couple of road trips, we took such a kit up to our hotel room and it was more than enough for my husband, myself, and our two sons until we got to our destination, where we try to stay in a hotel with a fully equipped kitchen (or kitchenette).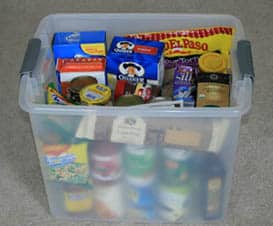 6  If you do stay in a place where you can do a little cooking, you won't want to do too much; after all, you are on vacation. But for those times when you want to stay in for meals, you can shop for a little fresh produce, plus ingredients for making convenient quick dinners, such as veggie burgers and ready-made healthy soups.
7  It's nice to have ingredients for picnic lunches.You know how it is when you're traveling and can't find a decent place to eat-a good day can go down the tubes, with everyone getting crabby on an empty stomach.
8  You may be surprised where you'll find vegetarian and veg-friendly restaurants. Before you leave home, see if any of these places might possibly be on your route. One of the best sources is Happy Cow. Happy travels!