Instead of loading up on store-bought snacks, which are high in sodium, sugar, and fat (nearly all supermarket snack foods contain unhealthy partially hydrogenated fats), try these simple home-made healthy snacks for kids.
Americans are a snack-crazed culture. And for better or worse, our children seem to be born with this passion for snacking. From the time you become a parent until you pack the kids off for college, snack foods will constitute a sizable portion of your food budget, and the interior of your car will be blanketed with crumbs and wrappers.

---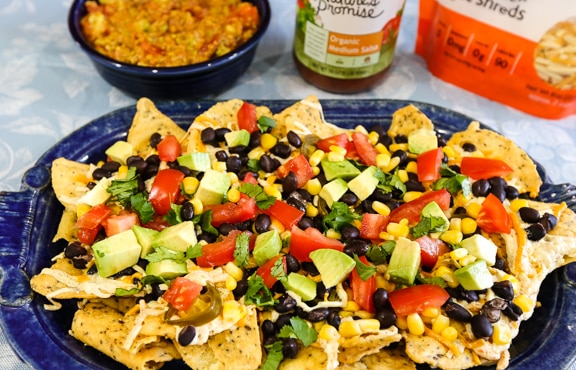 NACHOS: Very popular with older children and teens. Simply pile tortilla chips on a microwave-proof plate and sprinkle with salsa and nondairy cheddar cheese. For "nachos grandes," sprinkle with some drained and rinsed canned black or pinto beans. Microwave just until the cheese melts and serve warm.
Simple and so good, just combine about ¾ cup vegetarian refried beans with ¼ cup good-quality salsa in a serving bowl. Sprinkle with non-dairy cheese, if you'd like. Cover and microwave for about 1 minute, then serve with natural stone-ground tortilla chips.
CINNAMON-RAISIN TOAST: Raisin bread makes great cinnamon toast and is a great after-school snack served with fruit. Simply toast fresh whole-grain raisin bread, spread lightly with vegan buttery spread like Earth Balance, and sprinkle lightly with cinnamon and natural cane sugar.
TRAIL MIX: Sure, you can buy prepared trail mix, but you may enjoy mixing your own, especially if you're already in the habit of keeping several types of nuts and dried fruits in your pantry. Invent your own combinations of nuts (peanuts, cashews, almonds, sunflower or pumpkin seeds, walnuts, pecans, hazelnuts) and dried fruits (raisins, apricots, flour-rolled date pieces, dried cranberries, dried cherries, pineapple, mango, or papaya). For a rich treat, add a small amount of cane-juice sweetened chocolate chips or natural peanut butter chips.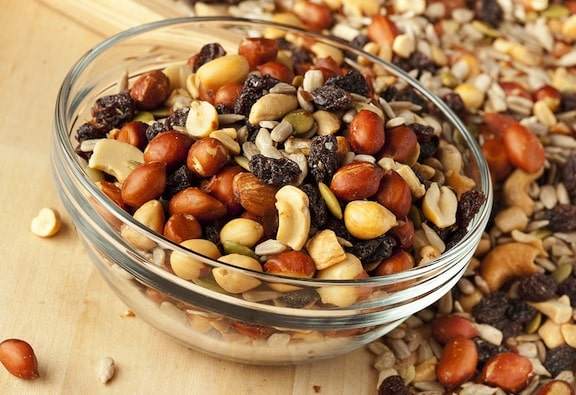 RAW VEGGIES AND CREAMY DIP OR HUMMUS: For an easy dip, combine about ⅓ cup each vegan mayonnaise and plain nondairy (coconut or soy) yogurt in a small bowl. Sprinkle in a little dried dill and seasoned salt or seasoning blend (such as Frontier or Mrs. Dash). Stir until smooth. Better yet, use prepared or homemade Hummus. Serve with baby carrots, small broccoli and cauliflower florets, bell pepper strips, and other raw vegetables.
SKEWERED FRUIT: Any presentation that adds a bit of interest to fresh fruit is always welcome. Simply cut any fresh fruit in season into bite-sized chunks and alternate on wooden or bamboo skewers with grapes (organic fruit preferred, of course).
PEANUT BUTTER AND JELLY "PIZZA": Here's a fun way to give a familiar duo a fun spin. Warm up a good-quality personal-size pizza crust in a toaster oven. Spread with natural-style peanut butter (or other natural nut butter) and all-fruit preserves. Cut into 6 wedges. Makes 2 or 3 snack-size servings.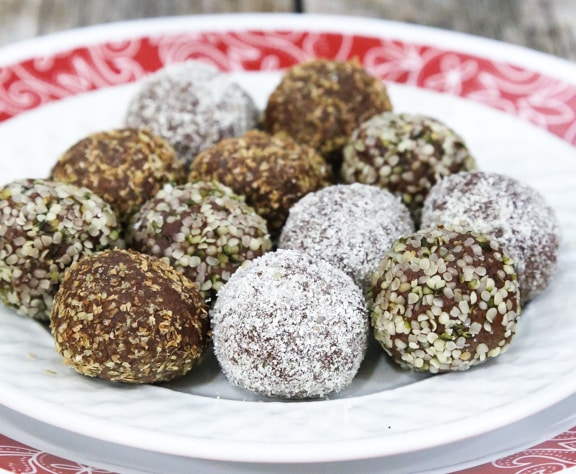 CHOCOLATE-PEANUT BUTTER "TRUFFLES": These were, and still may be, my kids' favorite homemade snack, even though they are quite grown up now. See photo at the top of the post! Combine ½ cup each natural peanut butter (or your favorite nut butter), dairy-free chocolate chips, raisins, and wheat germ or hemp seeds in a food processor. Process until the mixture is completely smooth. You may have to stop the machine and reach in with a spoon a couple of times to break up clumps. Roll into a dozen 1-inch balls; roll them in sesame seeds if you'd like.
For more healthy snacks, visit

Snacks and Dips

in the Recipes Galore area.
Make sure to explore the entire

 Veg Kids and Teens

 page on VegKitchen for lots of easy, healthy recipes for vegetarian and vegan kids and teens.