Tossing out your junk food and replacing it with organic fruits and veggies can be costly—especially when you're looking for specialty items that are vegan/vegetarian, gluten free, dairy free, etc. Luckily, there are many ways to find coupons and discounts so that your next trip to the grocery store is as healthy and cost effective as possible.
Follow the Best Health Blogs
Many health food bloggers partner with grocery stores and companies to offer weekly discounts and coupons on health foods, along with money-saving recipes and advice for healthy on a budget. Blogs both big and small offer these kinds of deals, including Greatist and MindBodyGreen.
The key with these blogs is to make sure you're checking in regularly so you don't miss a great deal. There are a number of ways to stay up to date—you can join their mailing list, which often gets exclusive announcements for great deals, follow them on social media or sign up to get every blog most emailed to you. You'll never miss a good deal or coupon this way.
Some blogs to follow for coupons include:
Be Grocery-Savvy
Depending on what you're buying, different grocery stores can give you the most bang for your buck. For example, a recent analysis of grocery store pricing revealed Aldi as the best overall option, with 34 percent in average monthly savings. Surprisingly, Trader Joe's came in last, beaten out by Wal-Mart and Publix as well.
Many grocery stores have adopted price-matching policies and will even allow you to use competitor's coupons for many items. For example, many Publix stores will accept coupons for items at Whole Foods, Target, Kroger etc. The regulations on this may vary for different stores, so ask customer service for a list of accepted coupons or refer to the store's website.
Publix will allow you to stack store coupons and manufacturer coupons for the same item, and if you happen to like a specific brand of produce, search for coupons for that brand and then buy it in bulk. You can then freeze the produce and have enough to last you for weeks—saving you both money and another trip to the grocery store.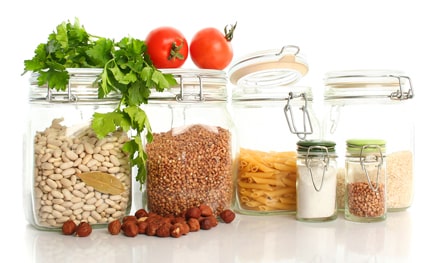 Know Where to Find Coupons to Your Favorite Stores
Many supermarkets have entire sections on their website devoted to coupons to print and use in the store. Some of the stores that offer online coupons include:
Wal-Mart (Their partnership with Wild Oats, an organic food supplier, allows them to offer inexpensive organic foods.)
Whole Foods recently launched an app for both iPhone and Android that provides users with coupons and daily deals for their neighborhood store. The app provides a barcode for all the coupons offered that day and is scanned straight from your phone screen at checkout. Users can also create and save shopping lists, check prices and have access to healthy recipes—some locations even deliver the groceries.
Check with the Manufacturer
If you find yourself regularly purchasing a specific brand of food, check the manufacturer's website for coupons. Most companies offer an email list for receiving coupons and you can be notified anytime they are having a sale.
To find coupon option for your favorite brands just search Google with "brand name, coupons." You'll likely find an email sign up or page of printable coupons.
Everyone can afford to eat clean, even on a budget. Be natural-food savvy when it comes to shopping and you'll get everything you need and more, all without breaking the bank.
__
Jessica Thiefels has been writing for more than ten years and is currently a lifestyle blogger and the editor of Whooo's Reading and Carpe Daily. She is also the owner of her own small fitness business, Honest Body Fitness, and is using her experience from writing, editing and marketing to become a successful entrepreneur. Follow her on Twitter @Jlsander07.