This is a garlic lover's dream—whole bulbs of roasted garlic to do with whatever you wish. Adapted from For the Love of Garlic: The Complete Guide to Garlic Cuisine* by Victoria Renoux.
Peel the loose outer paper from 2 to 3 large garlic bulbs and cut about ¼ inch off the tops to expose some of the cloves. Drizzle each bulb with ½ teaspoon olive oil.
Place the bulbs in a terra cotta garlic roaster or wrap them in aluminum foil. Bake in a preheated 350˚F over for 45 to 60 minutes, or until the garlic is soft. Note that it takes a little longer to bake garlic in a terra cotta garlic roaster than in foil.
Serve the garlic immediately, either from the roaster or arranged on a plate. To release the soft roasted garlic flesh from the cloves, simply squeeze them. Squeeze any leftover cloves into a small covered and refrigerate up to a few days.
Variation:
If you prefer to roast the cloves individually, separate them from the raw bulb and arrange on a sheet of aluminum foil. Drizzle with the oil and fold the foil around them to form a closed pouch. Bake in a preheated 350˚F oven for about 20-30 minutes, or until soft.
Ten Ways to Use Roasted Garlic:
Add to almost any soup, especially blender soups that contain potatoes
Stir into cooked rice, beans, and vegetables
Add to mashed potatoes
Add to salad dressings, dips, and spreads
Spread on bread and top with slices of tomato and fresh basil
Spread on pizza dough before adding the other ingredients.
Mix with Earth Balance and spread on grilled corn-on-the-cob
Mix with a little olive oil and toss with cooked pasta just before serving
Add to a white sauce
Mix with vegan sour cream and serve over baked potatoes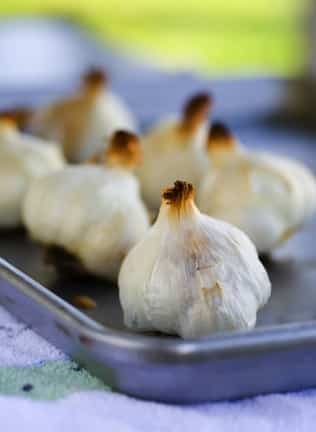 *This post contains affiliate links. If the product is purchased by linking through this review, VegKitchen receives a modest commission, which helps maintain our site and helps it to continue growing!