These Southwestern-flavored "pizzas," made with tortillas and embellished with veggies, can be part of a satisfying meal served with a hearty bean chili or  bean salad. Otherwise, they make a nice appetizer. If you're just making them for one or two, don't worry about sticking to the measurements. Just pile on the embellishments suggested below as you wish, and add or substitute others. There's no wrong way to do these! 
Serves: 6 to 8 individual mini pizzas; lots more as an appetizer
6 soft taco-size (8-inch) whole-grain flour tortillas




or 8 6-inch corn tortillas (preferably organic)

½ red bell pepper, cut into short, narrow strips

½ green bell pepper, cut to match red bell peppers

1 cup cooked fresh or thawed frozen corn kernels

1 cup finely diced firm, ripe tomato

One 4- to 8-ounce can chopped mild green chilis




or 1 to 2 small hot fresh chili peppers, seeded and minced

2 to 3 scallions, thinly sliced

¼ cup minced fresh cilantro, optional

1 ½ cups grated cheddar- or nacho-style non-dairy cheese
Preheat the oven to 400 degrees F.
Spread the tortillas in a single layer on two nonstick baking sheets (you may have to bake them in batches if they don't all fit at once).
Divide the ingredients evenly over the tortillas in the order listed, ending each with the grated cheese. Bake for 10 minutes, or until the cheese is bubbly. Cut each flour tortilla into 6 wedges or each corn tortilla into 4 wedges to serve.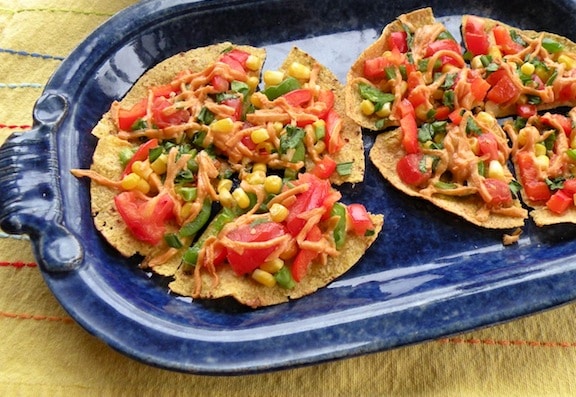 Nutritional Information:
Per serving: 213.6 calories; 11.2 g fat; 508.4mg sodium; 114.6mg potassium; 26.1g carbs; 3.5g fiber; 2.8g sugar; 3.7g protein