When my kids were young, they never wanted mashed potatoes until we read The Trouble With Grownups, a Berenstain Bears book. In one scene, the cubs are bored with the same old dinner. Mama and Papa scold the cubs for building volcanoes with their mashed potatoes. Immediately charmed, my kids wanted mashed potatoes so they could rebel against the grumpy fictional bear parents. We even concocted a "hot lava" sauce for the mashed potato volcanoes.
I see nothing wrong with making food more amusing, especially if doing so inspires kids to eat it. Mashed potato volcanoes with hot lava became a fixture on their repertoire, and it accomplished the feat of getting mine to eat two — or three —vegetables in one dish.
Volcanoes
4 large potatoes, peeled and diced

2 tablespoons vegan buttery spread

½ cup unsweetened nondairy milk

Salt to taste, optional

Hot Lava
1 cup unsweetened nondairy milk

2 tablespoons unbleached flour

½ cup grated cheddar nondairy cheese

2 tablespoons ketchup

Greenery
1 to 2 cups frozen peas and/or small broccoli florets, steamed
Put the diced potatoes in a large saucepan and cover with water. Bring to a simmer, then cover and simmer over medium heat until tender, about 15 minutes.
When the potatoes are done, drain them and transfer to a mixing bowl. Add the vegan butter and nondairy milk and stir in. Mash the potatoes well with a potato masher, then add a little salt if desired.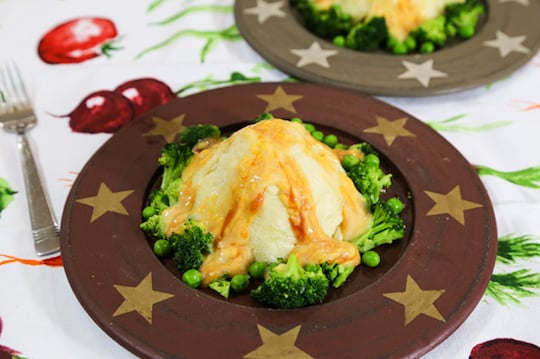 To make the hot lava, heat the nondairy milk in a small saucepan. Dissolve the flour in just enough water to make it smooth and flowing. When the milk is hot, stir the dissolved flour slowly into the saucepan. Sprinkle in the cheese and stir until it melts. Simmer the mixture gently until smooth and thick. Stir the ketchup into the sauce, but leave some red streaks showing, so that it looks "fiery."
Divide the mashed potatoes among 4 serving plates. Have everyone shape them into volcanoes, then press the tops down lightly to flatten, and finally make a small indentation at the very top with their thumb. Then, have the kids arrange some of the peas or broccoli florets around the volcano.
Let each child pour some of the "lava" into the indentation at the top of each volcano with a small ladle. It should flow down the sides. It's fine if it drips over the greenery too. Eat at once, before the lava solidifies into magma!
Photos: Evan Atlas