This tofu noodle skillet is a vegan version of the vintage tuna-noodle casserole that evokes 1950s TV moms in shirtwaist dresses, wearing pearls. Firm and chewy baked tofu stands in for the tuna. The first few time I made this, I baked it, which tends to dry it out quite a bit.
When I made it again, I realized that there's really no reason to bake it, as all the ingredients are cooked and ready, needing just a spin in the skillet to pull eveything together. However, if you'd like to make this more casserole-like, simply transfer to a small casserole dish and serve from there. Or, you can make it ahead of time, and then reheat briefly in the oven in a casserole dish. Serve this mild dish with plenty of green veggies — broccoli, broccoli rabe, greens, or green beans.
Serves: 6 to 8
8 to 10 ounces vegan ribbon noodles, shell, or bowtie pasta
1 tablespoon olive oil
1 medium onion, finely chopped
3 large celery stalks, diced
1 to 1 ½ cups sliced white or brown mushrooms
3 tablespoons unbleached white flour
2 cups unsweetened almond milk or other nondairy milk
8-ounce package baked tofu, finely diced
1 cup grated vegan mozzarella-style cheese, optional
but highly recommended
2 to 3 scallions, sliced
Salt and freshly ground pepper to taste
Wheat germ or toasted bread crumbs for topping
Paprika for topping
Cook the noodles in plenty of rapidly simmering water according to package directions until al dente, then drain.
Meanwhile, heat the oil in a large skillet or steep-sided stir-fry pan. Add the onion and sauté over medium heat until golden. Add the celery dice and continue to sauté over medium heat for 3 to 4 minutes longer.
Add the mushrooms to the pan and continue to sauté until they're wilted.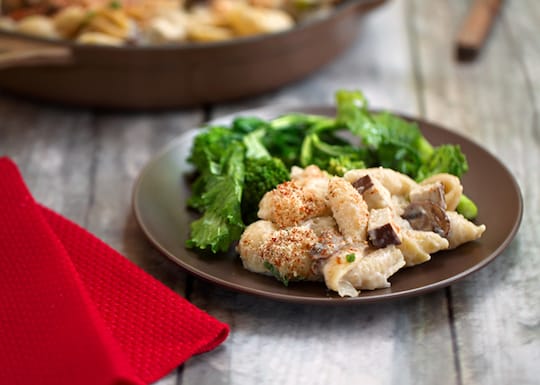 Sprinkle in the flour, a tablespoon a time, and stir in until it blends with the veggies. Pour in the almond milk, turn up the heat, and cook, stirring, until it thickens and is piping hot.
Stir in the tofu, optional cheese, and scallions, followed by the cooked noodles. Season with salt and pepper. Especially if you're not using cheese, you'll have to ramp up the flavor with salt — though this is meant to be a mild dish, you don't want it to be bland.
Cover the pan and let it stand off the heat for 5 minutes or so, during which time the noodles will absorb more of the sauce.
Top generously with wheat germ or bread crumbs and paprika and serve straight from the pan, or transfer to a casserole dish before topping, then serve.
Nutrition Information:
Per Serving: 148 calories; 18g carbs; 6g Total fat; 7g protein; 175mg sodium
Photos: Hannah Kaminsky