These simple, light vegan mushroom and bell pepper quesadillas are good served with a hearty grain pilaf or a bean dish. They also make a nice accompaniment to a well-seasoned chili. Photos by Evan Atlas.
Serves: 2 generously or 4 modest servings
8 ounces white or cremini mushrooms, cleaned and sliced
1 medium green or red bell pepper, or half of each, thinly sliced
4 soft taco-size (8- to 10-inch) flour tortillas, preferably whole grain
Salsa, your favorite variety, as desired
2 to 3 scallion, green parts only, thinly sliced
¼ cup chopped fresh cilantro, optional
1 ½ cups grated vegan cheddar or nacho style cheese
Place the mushrooms in a medium skillet and layer the bell peppers on top of them. Add a small amount of water, cover, and steam until the mushrooms are done and the bell peppers are tender-crisp. Drain.
Sprinkle about a quarter of the cheese over the surface of one tortilla. Arrange half of the mushroom and pepper mixture over the cheese. Top with some salsa — enough to flavor and moisten the veggies, but not to drench them. Sprinkle with half of the scallion, and some optional cilantro. End with about another quarter of cheese, and cover with another tortilla.
Repeat the above step with the remaining ingredients.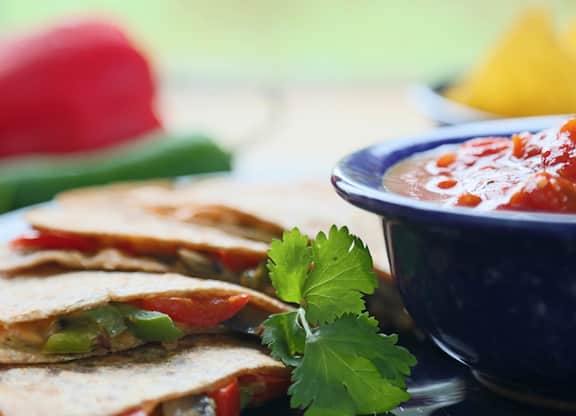 To bake: Arrange both quesadillas on a parchment-lined baking sheet and bake at 400 degrees F for 12 to 15 minutes, or until the tortillas becomes lightly golden and crisp on the outside.
To cook on the stovetop: Cook the quesadillas one at a time on a nonstick griddle over medium-high heat. When one side is golden and crisp, carefully flip over and cook the other side until golden.
Once done, cut each quesadilla into 4 equal wedges, allowing 2 to 4 wedges per serving, and eat out of hand with extra salsa.
Nutritional Information
Per serving:  311 calories;  38g carbs; 13g total fat; 7g protein; 5g fiber; 619mg sodium