Plant-based eating is picking up steam, whether people pack their plates with vegetables once a day, once a week, or all their lives.  As more people discover this traditional healthy way of eating, Oldways has created easy-to-use resources including a newly updated Vegetarian & Vegan Diet Pyramid, daily serving suggestions, practical cooking and lifestyle tips, recipes and other tools to help answer questions and provide people of all ages with a well-balanced way to put more plants on their plates.
History of the Vegetarian Diet Pyramid
The original Vegetarian Diet Pyramid, the fourth traditional diet pyramid released by Oldways, was presented at the 1997 International Conference on Vegetarian Diets held in Austin, Texas. In October 2013, Oldways is unveiling a new version of the pyramid, which for the first time will include vegan guidelines (astonishingly similar to the vegetarian guidelines!).
To create this enhanced Vegetarian & Vegan Diet Pyramid, Oldways brought together a world-renowned scientific committee to review extensive scientific data on plant-based diets and provide recommendations for updates.  This committee includes Dr. Joan Sabaté of Loma Linda University, and Drs. Walter Willett and Frank Sacks of the Harvard School of Public Health, Registered Dietitians Sharon Palmer, Kathy McManus of Brigham and Women's Hospital, and Ginny Messina of Loma Linda University, among others (keep reading for full list).
As Oldways' decades-long exploration of the health benefits of traditional diets reinforces, many variations of vegetarian diets have existed in different cultures throughout history.  The Traditional Vegetarian Diet illustrated in this new pyramid reflects the vast variety of delicious, healthy foods, such as vegetables, fruits, nuts, seeds, whole grains, legumes, herbs and spices, that fit into this healthy eating pattern.  Best of all, this way of eating allows enjoyment of an abundance of delicious foods while consuming fewer calories, leading to better health and wellbeing.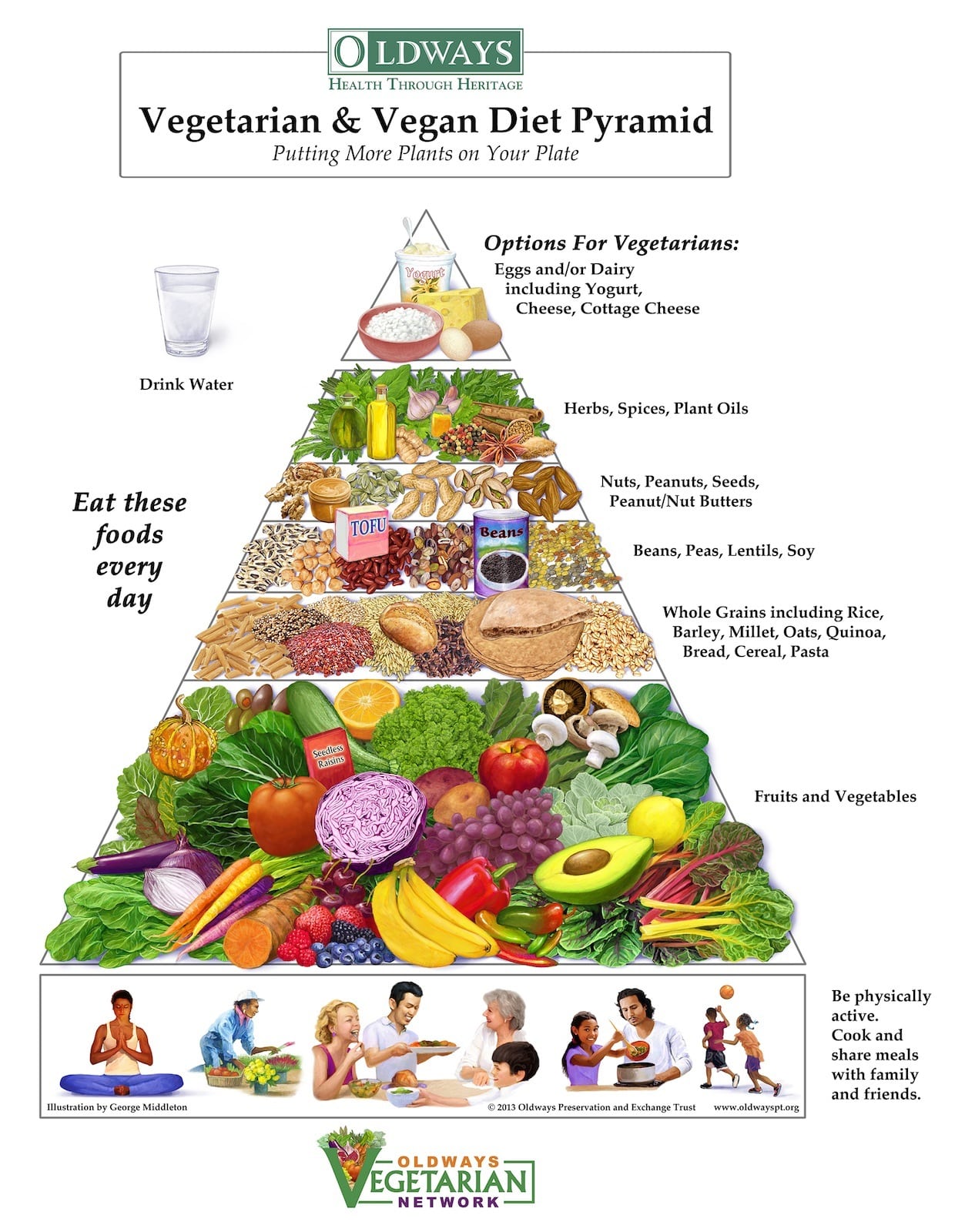 There is more to vegetarian eating that just giving up meat; success means sticking with a well-planned and well-balanced diet.  To help people make the leap, Oldways Vegetarian Network will reach consumers, media, health professionals, grocery retailers, and others with program activities, including a 4-week meal plan, recipe collection, the "Vege Pledge," restaurant connections, toolkits, website resources, and more. 
What's so Healthy?
Hundreds of studies show scientifically proven benefits of a plant-based diet, including improved health, lower disease risk, weight loss and, according to a significant study of 70,000 Seventh-day Adventists, published online by JAMA in June 2013, longevity.  It's a fact:  Eating plants is very, very good for us and a well-planned vegetarian or vegan diet as outlined in the pyramid provides everything your body needs to thrive.
By the Numbers
Americans are cutting back on meat, primarily because of concerns for their health.  According to a 2012 nationwide survey commissioned by The Monday Campaigns, 59% of respondents say they have cut back on meat in the past year and 41% say they are actively trying to do so now. 62% of respondents report that health is the primary reason they are cutting back or considering cutting back on meat.
For a copy of Oldways Vegetarian/Vegan Diet Pyramid or for recipes and tips, please visit  Oldways.