This simple stir-fry of baked tofu and broccoli is enlivened with an easy, orange-flavored sauce. For a tempting Asian-style meal, pair this with Vegetable Lo Mein, and serve with a platter of raw vegetables on the side. Photos by Evan Atlas.
Serves: 4
Sauce:
2 tablespoons arrowroot or organic cornstarch
2 tablespoons reduced-sodium soy sauce or tamari
¾ cup orange juice, preferably fresh
1 tablespoon orange zest, optional
(but highly recommended, if using organic oranges)
1 tablespoon rice vinegar or other mild white vinegar
2 teaspoons dark sesame oil
2 teaspoons grated fresh ginger, or more, to taste
-
1 tablespoon safflower or other neutral vegetable oil
2 cloves garlic, minced
2 large broccoli crowns, cut into bite-sized pieces
1 medium red bell pepper, cut into short, narrow strips
8-ounce package baked tofu, cut into short narrow strips
Freshly ground pepper and extra soy sauce to taste, optional
¼ cup toasted cashew pieces, or more as desired, optional
Combine the arrowroot cornstarch with ¼ cup water in a small mixing bowl and stir to dissolve. Stir in the remaining sauce ingredients, then set aside until needed.
Heat the oil in a stir-fry pan. Add the garlic and cook over low heat for 1 to 2 minutes, or until golden.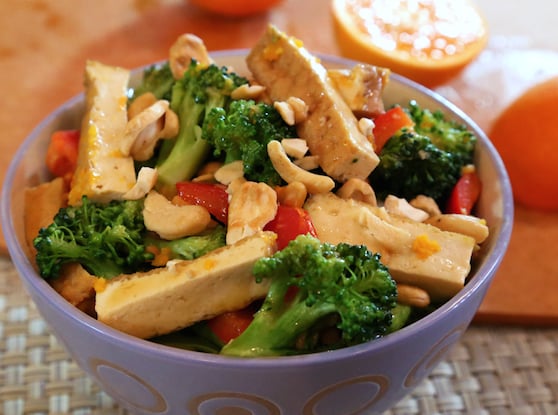 Add the broccoli and ¼ cup water. Cover and cook over medium heat until the broccoli just turns bright green and tender-crisp, about 3 to 4 minutes.
Stir in the bell pepper and tofu, turn the heat up to high, and stir-fry for 2 to 3 minutes.
Pour in the sauce and cook just until it has thickened and everything is well heated through. Season with extra soy sauce (or pass around) to taste, and plenty of pepper.
Scatter the cashews over the top and serve at once.