This simple pasta salad is reminiscent of a retro favorite, tuna-noodle salad, with baked or firm herbed tofu standing in. It's a pasta salad that's welcome all year round, not just during summer months. In addition, once you have your noodles cooked, this takes hardly more time to make for lunch than a sandwich, and packs up really well as a portable lunch. Serve with cherry tomatoes and carrot sticks (or baby carrots) on the side. Photos by Rachael Braun.
Serves: 6
8 ounces pasta, any small shape (twists or small shells work well;
of course, you can use your favorite gluten-free pasta, too)
8-ounce package baked tofu, 8 ounces extra-firm herb-flavored
tofu, or homemade 

Baked Tofu Teriyaki

, finely diced
2 large celery stalks, finely diced
⅓ cup chopped black olives
2 scallions, green parts only, thinly sliced, optional
½ cup vegan mayonnaise or Cashew Cream
1 teaspoon yellow mustard
Salt and freshly ground pepper to taste
Cook the pasta according to package directions until al dente. Rinse under cold running water until the pasta cools. Drain and transfer to a serving container.
Combine the pasta with the remaining ingredients and toss well. Cover and refrigerate until needed or serve at once.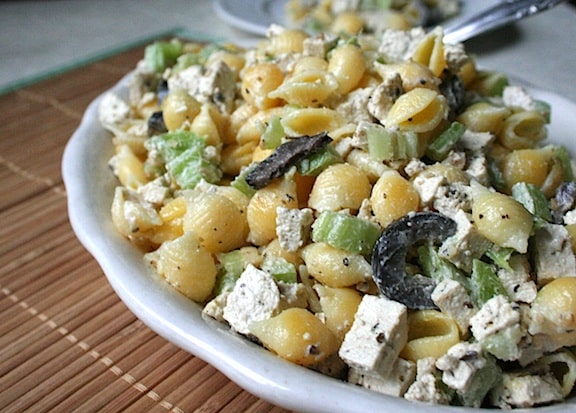 Nutrition Information: 
Per serving: 291 calories; 17g fat; 10.2g protein;  359mg sodium;  20.7g carbs;  2.1g fiber;