Recipes in cookbooks and on food sites rarely speak to single people, even though more Americans than ever now live alone. Singles eaters' main concern might include how to find the motivation to prepare healthy food at home more often, how to tailor quantities, and what staples to keep on hand. It's even more of a challenge when you're striving for a vegan or largely plant-based diet for one. There are no better spokespersons for this experience than some of my single friends, who have contributed some fantastic tips and strategies that may never have occurred to me. And so, in their own voices:
Sharon: I like to buy groceries that I can just assemble — very little chopping, dicing, processing, blending, etc. For example, one of my favorite go-to meals is a burrito which involves a can of beans, salsa, frozen corn, canned refried beans, my favorite tortillas (Ezekiel brown rice), maybe some vegan cheese and a few fresh veggies that are easy to deal with like avocado and romaine lettuce, and dried spices to jazz it up. (see our Easy Vegan Bean Burritos at top) Next, heat, wrap, and roll. Another thing I do is make larger quantities and store in the refrigerator in individual size servings so I'm not always starting from square one.  
My sister lives in an apartment right next to mine, so we share meals, usually twice a week. Typically there's some show we get hooked on. So we get together every Monday and Tuesday night to watch.We both buy ingredients and one of us cooks. There are a few standards, like Italian pasta with steamed veggies or a Mexican plate with burritos and such. My sister always has the veggies and pasta and onions and makes a delicious sauce. I always have the Tex-Mex goods, canned refried beans and other types of beans, salsa, tortillas, and vegan cheese. Sometimes it's not very planned. It's like, hey what do you have? Great, I have this, so we throw something together. 
The best way to economize is to keep well stocked with staples and make good use of them. Staples include onions, romaine lettuce, beans, refried beans, salsa, pasta sauce, pasta (we try to go for the quinoa/brown rice gluten- free pasta for more nutrients}, quinoa, brown rice, tomatoes, tortillas, avocados, and fresh fruit. We especially enjoy all the summer fruit, like raspberries, papaya, mangos, berries. Limes and lemons brighten up almost any kind of meal. Having these ingredients and fresh foods on hand definitely keeps the temptation of ordering in at a minimum. Also, having a plan is what it's all about, even if it's the same every week. But there are ways to mix it up, even with a repertoire.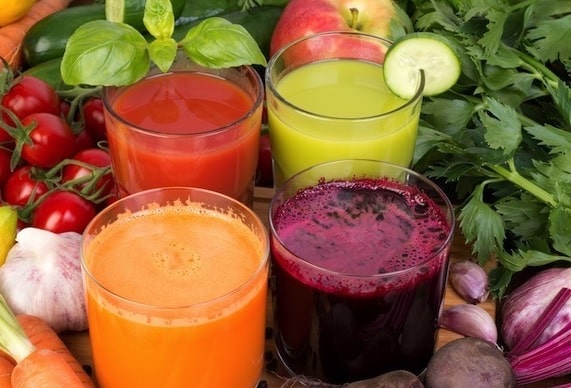 Rachel: I have a list of fresh basics I like to keep on hand. Some of them are salad greens, carrots, beets, red cabbage, kale, parsley, and cilantro, so that I can juice or make salad. Other staples include broccoli, bok choy, cucumbers, olives, and hummus. Tofu makes it into the rotation, but more rarely. I buy organic prepared lentils and beans to throw into my salads, as well as avocados when they're affordable. Crackers and Ezekiel bread, nut butters, and nuts and seeds round out my pantry staples.

I try to juice for two days — I make two cups of veggie or citrus juice, split it between two jars and add water so as to take it easy on my adrenals. I take a superfood supplement, as well as vitamins. As a professional classical violinist, I travel a great deal and am on the go a lot. So stocking up on these fresh produce staples is indispensable for me.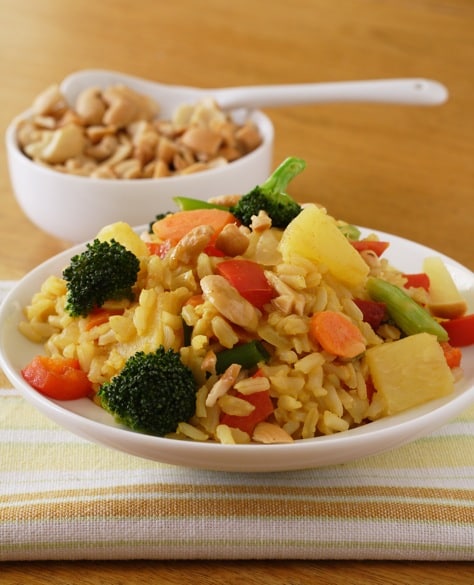 Heidi: Though I recently remarried, my husband travels five days a week, so I'm usually on my own when it comes to meals. Cooking for one can be a challenge  — I often overestimate the food I will need and more fresh items will go to waste than I care to admit. I have no taste for vegan convenience foods; I hate those frozen veggie burgers, fake meats and cheeses, etc. I definitely don't have all the answers, but I have figured out a few things:
1) I purchased a Cuisinart® rice cooker - the one with the steaming "hat." It's set up for cooking grains in the bottom part and steaming veggies on the top. This is my favorite simple (and very healthy) kind of meal.

I cook my quinoa in fresh carrot juice and toss it with steamed edamame. Whatever fresh vegetables I have on hand that I put in the little steaming hat about ten minutes before the grain is done, along with a few spices and maybe a sprinkling of slivered almonds. I also steam sweet potatoes and kale over quinoa and toss it all with lemon juice and cumin. It's so good for you and super simple. Single people should go for the big one (the 8 cups), not gravitate toward the 4 cup because we think small is better for folks who live alone. I originally bought the four cup and quickly found I couldn't stuff enough in there. There's always value in having too many steamed vegetables on hand. The next day they can be tossed with a pasta or used to top pizza.
2) A high-speed blender was a great investment for me, as I use mine almost every day. My favorite breakfast is a kale, pineapple, ginger, and cashew smoothie. If I'm lazy and tired at night I will sometimes puree my dinner as well.
3) I shop more often, for less food. Instead of throwing food away, I have tried to get real about what I'm really eating — not what I hope to eat. I have a great international grocer nearby that's very inexpensive. I stop in every few days and pick up fresh produce.
4) Never underestimate the power of a loaf of good bread. You can make a delicious spread (like a bean paté) in your high-speed blender and serve it on toast with some sautéed mushroom and/or greens.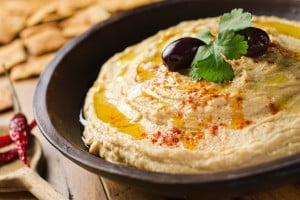 5) Having a homemade hummus or spread in the fridge on Monday, along with a tasty homemade salad dressing, and some cut up fruits and prepped veggies, saves money and prevents weight gain. If I chop up some onions and pre-prep my veggies, I'm much more likely to make myself a healthy dinner later in the week when I'm tired and vulnerable for ordering Thai take-out.
6) I make big batches of soup and freeze individual portions. Fresh soups taste better, but I figure my frozen soups are better than soups from a can! I like to have them on hand to heat up for lunches or lazy-night dinners.