Simple fact: I bought my first pressure so that I could make beans in minutes. The mighty legume is a tremendous source of protein in a vegan diet and, frankly, I was tired of buying all of those cans of beans. What keeps most people from making beans from scratch is one thing: time. The pressure cooker removes that obstacle.
Now, to soak or not to soak, that is the question. Many people are drawn to using a pressure cooker to avoid soaking beans (I was), but soaking does have a purpose: It makes beans more digestible and, even in the pressure cooker, they cook more quickly. In my personal experience, they also cook more evenly and, frankly, taste better.
If you don't want to soak beans overnight—or you forget to—you can cook unsoaked, dried beans. The cooking time is longer than soaked but still significantly shorter than the conventional stove top method.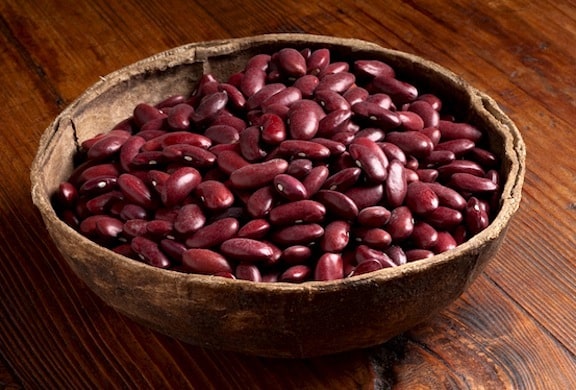 When cooking beans you want just the right amount of water. I have seen instruc- tions as diverse as simply covering the beans with water to using 8 cups (2 L) of water. Ultimately, you will find the right ratio for you based on your cooker and your stove, but let's start with the general rule: cover the beans with water, and then add another 1 inch (2.5 cm).
More specifically, when I lived at sea level, I used  1⁄2 cup (120 ml) of liquid to 1 cup (170 g) of soaked (uncooked) beans (or 1:2 ratio) and 2 cups (470 ml) of liquid to 1 cup (200 g) of unsoaked (dried) beans (or 2:1 ratio). That formula worked very well for me there, but now that I live at 6,000 feet (1.8 km), I use a 3:1 ratio of liquid to beans for unsoaked beans. (I use the same ratio as at sea level for soaked beans.)
When in doubt, use too much cooking liquid rather than too little. Let me tell you, I've burned some beans and that is no fun: it stinks and it's wasteful.
Finally, avoid salting beans before they are fully cooked. The skin may break and the beans may not cook evenly.
--
Excerpted from Vegan Pressure Cooking by J.L. Fields @2015. Fair Winds Press. Reprinted by permission.
*This post contains affiliate links. If the product is purchased by linking through this review, VegKitchen receives a modest commission, which helps maintain our site and helps it to continue growing!