Because of of its pumpkiny goodness, this soup is perfect to serve as a starter to everyday meals as well as festive occasions, like Thanksgiving. If serving for a holiday meal, remember that it's filling enough to be a dinner centerpiece on its own, so serve in modest portions, otherwise you won't have enough room for anything else! Recipe and photo by Dianne Wenz of VeggieGirl.
Makes 6 – 8 servings
4 to 5 cups sugar pumpkin, kabocha squash or
butternut squash, peeled, seeds removed, and diced
(see tip below on making winter squashes easier to cut and peel)
2½ cups vegetable broth
1 large onion, diced
1 tablespoon fresh grated ginger
2 large carrots, sliced
14-ounce can diced tomatoes
3 cups cooked kidney beans (I used 1 ½ cup each
red kidney beans and white kidney beans)
⅔ cup natural creamy peanut butter
2 teaspoons curry powder
½ teaspoon sea salt
2 ½ cups plain unsweetened nondairy milk
4 cups fresh spinach, chopped
¼ cup roasted peanuts, chopped
Preheat oven to 400º F. Line a baking sheet with parchment paper and roast the pumpkin for 20 minutes, until fork tender. Let cool slightly.
While the pumpkin is roasting, combine the broth, onion, ginger, carrots, tomatoes, and kidney beans in a large pot over medium heat and cook for about 30 minutes, until the vegetables have softened.
Add the curry powder and peanut butter and mix to incorporate.
Place the roasted pumpkin and nondairy milk in a food processor or blender and process until smooth, stopping to scrape down the sides if necessary.
Add the pureed pumpkin to the pot with the vegetables and stir to combine. Stir in the salt. Cook for several more minutes, until heated throughout. Add more broth or non-dairy milk if the consistency seems too thick.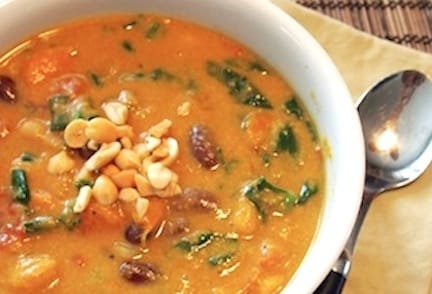 Stir in the spinach and cook until it's just wilted. Transfer to bowls and top with chopped peanuts.
A tip from Nava: If you don't have sharp enough knives to cut a thick-skinned pumpkin or squash, wrap the whole thing in foil, set in a casserole dish, and bake 375º F. for 30 to 45 minutes, or until you can pierce through the skin, with some resistance. When cool enough to handle, it will cut more easily. Scoop out the seeds and fibers, cut in half, and proceed as directed above in step one. You can also see a quick how-to in our video on How to Cut Butternut Squash Easily, which applies to other large squashes as well.