Originally published in VegNews. "This has got to be fake!" That's what I kept repeating to my two teens while in Amsterdam a few summers ago. Taking in views of tour boats plying the canals, the whimsically gabled roofs of residential homes reflected in the waters, and the only real traffic supplied by chunky black bicycles, Amsterdam seems more like a movie set than a city. Even at the height of tourist season, the pace was relaxed, even languid. And excellent English is spoken everywhere. 
Our brief stop in the star city of the Netherlands was the perfect end to a whirlwind 4-week overseas trip. It's more a place to just be than to go, go, go—the top "must-do" tourist spots, including the Anne Frank House, the Rijksmuseum, the Van Gogh Museum, and Vondelpark can be accomplished in short order. This leaves plenty of time for entire days spent hopping on and off rented bicycles or private "canal bikes," exploring the narrow streets that connect the main canals that circle the city. Galleries, bookstores, cafés, outdoor markets, and boutiques abound in any of Amsterdam's charming neighborhoods.
Though it likely exists, we didn't encounter much of a Dutch cuisine. Instead, Amsterdam's eateries represent a wide range of international styles, and we sampled many of them. Indonesia was once a Dutch colony; ample evidence of this is the number of excellent Indonesian restaurants dotting the city. We also enjoyed Thai, Middle Eastern, Japanese, Italian, and Ethiopian meals during our short stay. All offered plenty of vegan choices and generous portions. With the weather so warm and fine, we gravitated as much as possible to eateries that offered outdoor seating.
Amsterdam also boasts several vegetarian and vegan establishments. Right around the corner, or more accurately, right around the canal from our hotel, we found Restaurant De Bolhoed (meaning "bowler hat.") one of the most established. With its decidedly bohemian atmosphere, I felt as if I'd traveled back to the radical 1970s vegetarian scene in Ithaca or Ann Arbor. Hundreds of fairy lights twinkle amid a forest of hanging plants; casual, distressed tables and chairs sit here and there against a backdrop of crudely sponge-painted walls.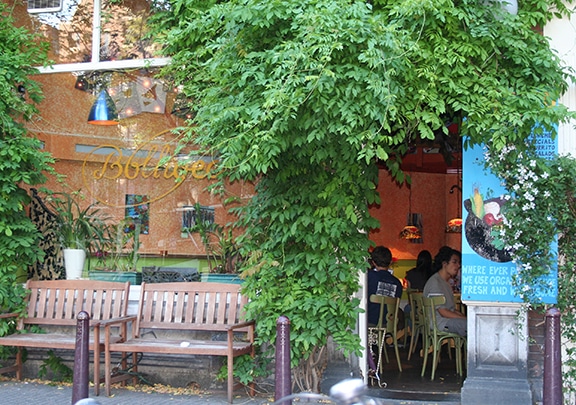 Bolhoed's cuisine, too, is a bit of a throwback—hearty and home style, with lots of grains, sprouts, and raw veggies Perhaps it's not as chic and sleek as the renowned veg restaurants in the U.S.; still, Bolhoed's food is fresh, mostly organic, and generous. Each day, a board announces the daily special soup and a vegan paté. When we visited, the soup was Tomato Coconut, and the paté was mushrooms and tofu with sage and Herbes de Provence.
There is also a daily pasta and special vegan dish. My son and I both ordered the latter, as it consisted of several great-sounding tastings: Bulgur with pine nuts; a De Puy lentil salad with arugula; carrot, tofu and sage quiche ( a dried tomato tapenade dressed it up, and the crust was hearty with poppy seeds); roasted vegetables Provençal (pumpkin, zucchini, tomato, and fennel) and a simple salad (with a few too many alfalfa sprouts for my taste). My daughter had the Asian stir-fry (a menu staple), a plentiful bowl of thick udon noodles mingled with broccoli, peppers, zucchini, and tofu. This entree came with a beautifully arranged salad of whole romaine leaves, watercress, tomatoes, olives, red cabbage, and a creamy dressing.
There are a small number of main dish offerings on the menu, including enchiladas, burritos, and "casserole." Very vegan friendly, few dishes have cheese and of those, most all can be made vegan, according to our server. You can accompany your meal with freshly made juices as well as organic wines and beers.
If you're not too full, you can end your meal off with a large assortment of coffees and a delectable dessert. We got to sample several vegan selections, as we often stopped at Bolhoed on our late evening walks from dinner to our hotel. No matter how filling a dinner we'd had, my sons always had room for one of Bolhoed's desserts. Pies were particularly good—chocolate strawberry, tofu cheesecake topped with strawberries, tiny cranberries and mango, and summer fruit pie were among those my hungry young men enthusiastically sampled. Vanilla spice cake, a soft cake layered with fresh apple, and topped with a mellow carob frosting, was also well received.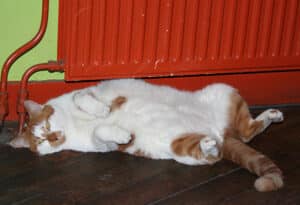 Bolhoed has been in the same location since the 1980s, starting in its early days as a health food store. Word has it that long before that, it was a hat shop, hence its name. If you visit, please say hello to Sammy, the friendly resident cat, who is always ready for a pat on the tummy (full disclosure: I have no idea if Sammy has used up all of his nine lives). In one of our tour books, we learned that true Amsterdammers are always on a quest for gezelligheid, which translates loosely as coziness. It's more than that, though; it's what you've got when the atmosphere, the company you keep, the conversation, and feeling of relaxation converge into a pleasurable experience. Chances are, you'll find that perfect gezellig feeling at Bolhoed.
Restaurant De Bolhoed
Prinsengracht 60-62, Amsterdam
Verstuur via SMS T: 020 - 626 18 03
Open daily noon-10pm (11pm Sat). The restaurant is very busy on weekend nights, so reservations are recommended.