When you're in the mood for tasty Asian-style fare, this seitan stir-fry, embellished with broccoli, peppers, and hearty noodles comes together quickly. Serve with spring rolls (from the natural foods store freezer) and a simple coleslaw with a sesame-ginger dressing. Photos by Evan Atlas.
Serves: 4 to 6
Sauce:
1 ½ tablespoons arrowroot or cornstarch

1 cup vegetable broth or water

2 tablespoons reduced-sodium soy sauce

2 teaspoons grated fresh or jarred ginger, or more to taste
--
8-ounce package wide Asian wheat noodles or udon noodles

2 tablespoons dark sesame oil

1 medium onion, quartered and thinly sliced

2 cloves garlic, minced

12 to 16 ounces seitan, cut into bite-sized shreds

3 cups bite-sized broccoli florets

1 medium red bell pepper

2 cups fresh slender green beans, trimmed,




or substitute frozen whole organic green beans, thawed

Freshly ground pepper to taste
In a small mixing bowl, dissolve the cornstarch in ¼ cup of the broth or water. Stir in the soy sauce, ginger, and remaining broth or water. Set aside.
Bring a large pot of water to a boil. Cook the noodles until al dente, according to package directions, then drain.
Heat the oil in a stir-fry pan. Add the onion and sauté over medium heat until translucent. Add the garlic and seitan and stir-fry over medium heat until the seitan is touched with golden brown on most sides, about 8 minutes.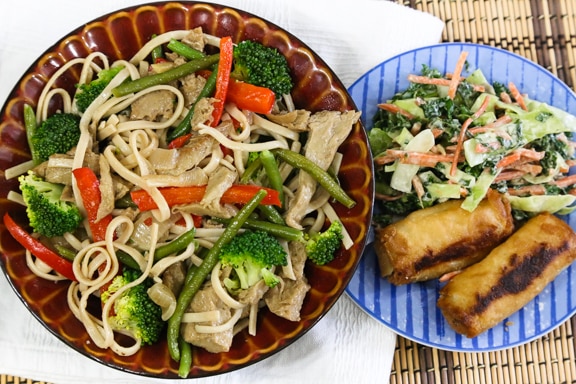 Turn the heat up to medium-high and add the broccoli, bell pepper, and green beans. Continue to stir-fry just until the vegetables are tender-crisp, about 3 minutes longer. Add a small amount of water if more moisture is needed in the pan.
Stir the sauce up before adding the pan. Pour it in, stir together with the veggies and seitan, and cook briefly until the it thickens.
Stir in the cooked noodles and remove from the heat. Season with pepper and a bit more soy sauce if desired, and serve at once.
Nutrition Information
Per serving: 410 calories; 11g fat; 735mg sodium; 54g carbs; 7g fiber; 26g protein