The contrast of warm, spicy triangles of pan-browned tofu with cool, crisp lettuce is quite enticing. Serve this easy tofu dish with a simply prepared brown rice, quinoa, or noodles, and a platter of raw veggies. Photos by Evan Atlas.
Serves: 3 to 4
14- to 16-ounce tub firm or extra-firm tofu

3 tablespoons good-quality ketchup or tomato sauce

2 tablespoons reduced-sodium soy sauce

1 tablespoon agave nectar or maple syrup

1 tablespoon dark sesame oil 

1 to 2 teaspoons sriracha or other hot sauce, plus more for serving

2 to 3 cups thinly shredded crisp lettuce (such as romaine)

2 to 3 tablespoons

Vegan 

Ranch Dressing

, or vegan mayonnaise

Additional hot sauce and/or sweet chili sauce for serving

Sesame seeds for garnish, optional
If time allows, press the tofu ahead of time, especially if you have something like an EZ Tofu Press or Tofu XPress, as the tofu benefits from being really firm.
Cut each block of tofu into six slabs crosswise. Blot very well (especially if you haven't pressed ahead of time), then cut each slab in half to make two squares. Finally, cut each square on the diagonal to make triangles.
Combine the ketchup, soy sauce, agave, sesame oil, and hot sauce in a small mixing bowl and whisk together.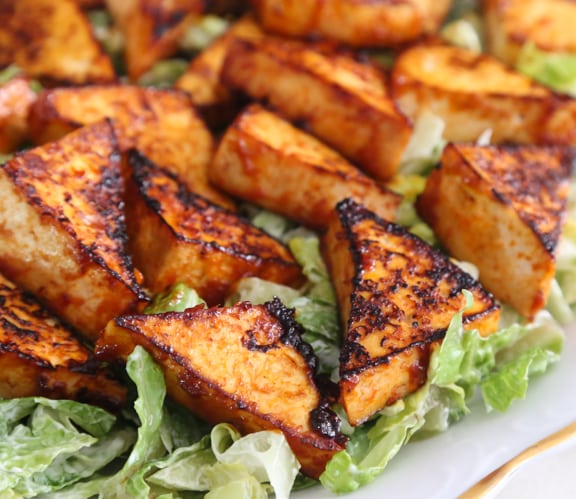 Pour half of the sauce into an extra-wide skillet and heat gently. Add the tofu in one layer and pour the rest of the sauce over the top. Turn the heat up to medium high.
Cook until the bottoms of the tofu triangles are lightly browned and crisp, about 8 minutes, then gently turn and brown the other side. The sauce should be completely reduced at this point.
Toss the lettuce with the dressing in a medium bowl. Transfer to a serving platter and spread evenly. Arrange the tofu triangles over the bed of lettuce.Sprinkle with optional sesame seeds.
Serve warm or at room temperature, passing around some additional hot sauce and or chili sauce.
Variation: Replace 1 tablespoon of the ketchup and 1 tablespoon of the soy sauce with 2 tablespoons hoisin sauce.
Nutrition Information: 
Per serving (without dressing): 81.4 calories; 3.2g fat; 8.5g carbs; 0.9g fiber; 5g protein; 272mg sodium