Here's a colorful, veggie-filled tofu scramble that you can enjoy at any meal of the day. You can vary the veggies here according to mood and season. Replace spinach with arugula, kale or chard; substitute zucchini or cauliflower for the broccoli. Sliced mushrooms are always a good addition to scrambles, as well. Serve with fresh fruit and bread for a simple brunch or even an easy dinner. For a heartier meal, add a simple potato dish or baked sweet potato.
Serves: 3 to 4
14- to 16-ounce tub firm or extra-firm tofu

2 teaspoons olive oil or vegan buttery spread

1 broccoli crown, cut into small florets (about 1 ½ to 2 cups)

1 to 2 teaspoons good-quality curry powder, to taste

Pinch of turmeric

3 to 4 scallions, sliced

2 medium firm, ripe tomatoes, diced

2 to 3 tablespoons nutritional yeast, optional but highly recommended

Sriracha or other hot sauce to taste, optional (or see variation)

3 to 4 ounces baby spinach (or see variation)

Minced fresh parsley and/or dill to taste

Salt and freshly ground pepper to taste
Drain the tofu well and cut into 6 slabs crosswise. Blot gently between paper towels or clean tea towel.
Heat the oil in a medium-large skillet. Add the broccoli and a small amount of water (just enough to keep the pan moist) and sauté over medium heat, stirring frequently, until bright green.
Either cut the tofu into small dice, or crumble (with your hands, or a fork). Add to the skillet. Sprinkle in the  curry powder and turmeric and stir until well blended in with the tofu.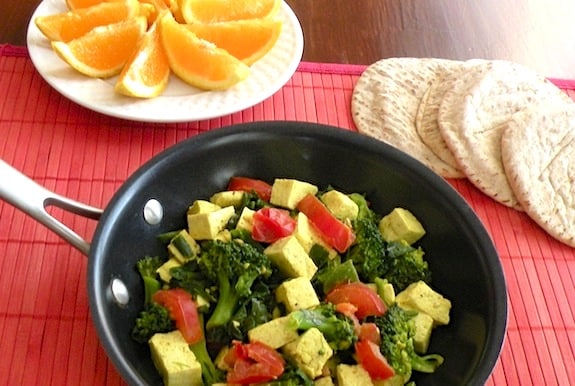 Add the scallions and tomatoes; continue to cook over medium-high heat for 4 to 5 minutes, or until the tomatoes have softened and everything is well heated through. Str in the optional nutritional yeast, and if you'd like a spicier scramble, some red pepper flakes or sriracha sauce.
Add the spinach, cover, and cook until wilted. Stir the spinach into the tofu mixture. Remove from the heat and stir in the parsley or dill. Season with salt and pepper, and serve from the skillet.
Variations:
To make this even heartier, add 1 to 2 vegan sausage links, preferably Tofurky or Field Roast. Cut in half lengthwise, then slice thinly. Add at the beginning, at the same time when adding the broccoli.
Use a minced and seeded fresh hot chili pepper, such as jalapeño or serrano, in place of dried hot red pepper flakes or sriracha sauce for a spicy scramble.
Use thinly sliced kale, green chard, or collard greens in place of spinach. Add to the skillet just as the broccoli starts to turn bright green.
Nutrition Information:
Per serving: 117.4 calories; 6.2g fat; 9.4g carbs; 4.2g fiber; 9.6g protein;  51.7mg sodium