Tempeh is one obliviously of my favorite proteins to work with, and I've found it makes the best little sliders. These are great are because you get about 4 per standard package of tempeh. Since living in LA, these lil' guys have become a staple in my catering arsenal. Here is a hint: you can replace the sriracha with BBQ sauce if it's too hot you! (FromThe Lusty Vegan* © 2014 by Ayinde Howell and Zoe Eisenberg. Used by permission, Vegan Heritage Press.)
Serves: 4 to 6
¼ cup grapeseed or safflower oil 

8 ounces tempeh, cut into 4 squares

¼ cup chopped onion 

2 teaspoons chopped fresh sage

1 teaspoon chopped garlic 

1 teaspoon dried basil

1 teaspoon salt

1 ½ cups water

1 ½ tablespoons sriracha sauce

8 slider buns, split 

Ranch Dressing, recipe follows

½ red onion, sliced, optional

½ cucumber, sliced, optional
Heat the oil in a medium skillet over medium heat until hot and shimmering. Add the tempeh and cook until browned on both sides, about 4 minutes per side. Repeat until all of the tempeh is cooked. 
Remove the tempeh to a plate lined with paper towels. Remove half of the oil from the skillet and return the skillet to the heat. Add the onion and sauté for approximately 2 minutes, then add the sage, garlic, basil, and salt and sauté for 1 minute. 
In a bowl, combine the water and sriracha, stirring to mix. Pour the sriracha water into the skillet and add the tempeh back into skillet. Cover and simmer on low for 10 minutes. 
Lightly toast the slider buns and arrange a tempeh patty on the bottom half of each bun. Top with the dressing and sliced onion and or cucumber, if using. Serve hot.
Note: You can find slider buns at Trader Joes or well-stocked supermarkets. If unavailable, cut hoagie rolls into slider-sized sections.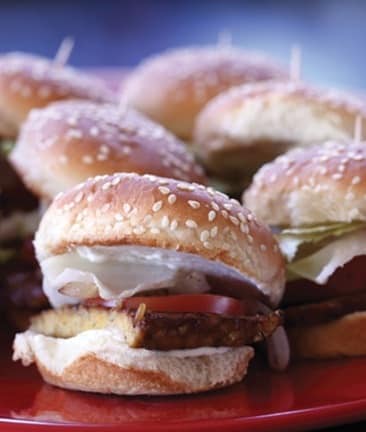 ----------------------------------
Ranch Dressing 
Ranch dressing is an American favorite. Here's the thing: it's a pretty basic cream base, and if you're making your own, you can add anything to make it whatever you want! This is my twist on a traditional ranch. Feel free to throw in fennel or something crazy! You're the chef now. This recipe is from The Lusty Vegan* by Ayinde Howell and Zoe Eisenberg © 2014, Vegan Heritage Press. Used with permission.
Serves: 2 to 4
1 cup unsweetened soy milk

¼ cup vegan mayonnaise 

¼ cup vegan sour cream

2 tablespoons lemon juice

3 tablespoons chopped fresh Italian parsley

3 tablespoons minced chives

1 tablespoon chopped fresh garlic

1 teaspoon smoked paprika

2 tablespoons vegan Worcestershire sauce

Salt and black pepper
In a medium bowl, whisk all ingredients thoroughly. Refrigerate until ready to serve.
*This post contains affiliate links. If the product is purchased by linking through this review, VegKitchen receives a modest commission, which helps maintain our site and helps it to continue growing!