VegKitchen's post on stocking a healthy vegan pantry is one that gets a lot of views, so it occurred to me, in this bountiful season of fresh produce, that we should explore what it takes to keep your refrigerator stocked with fresh foods as well as other natural, wholesome edibles that compliment and bolster them. Read on for my recommendations on how to put together a well-stocked refrigerator that will make healthy plant-strong eating a breeze.
On the shelves:  Here's a basic list of what you'll find on mine:
Nondairy milks that have been opened (we mainly use rice and almond milk)
Store-bought hummus (unless you make your own)
Salsa and other sauces, after they've been opened
Breads
Olives
Mason jars of hemp seeds (chia, sunflower, and sesame need not be refrigerated)
Fresh coffee beans or fresh ground coffee
Vegan buttery spread like Earth Balance
Glass quart container of homemade lemonade or ice tea
Well-sealed containers of leftovers
Summer only—whole-grain flours, which can be perishable at warmer temperatures.
On the side doors (I use these shallow shelves to organize condiments, mostly):
Mustards
Ketchup
Vegan mayonnaise
Sriracha and other hot sauces
Lemon and lime juice (for those times when we run out of fresh)
Coconut water
Nutritional yeast
All-fruit jams
Produce or crisper drawers: These two drawers are the centerpiece of my fridge, where I keep an array of year-round and seasonal produce. Any spillover that won't fit in the drawers, such as large bunches of greens or lots of ears of fresh corn, goes on the shelves.
Our vegetable drawer almost constantly contains: Scallions, cabbage, lettuce or baby greens, cukes, peppers, carrots, celery, apples, hardy greens (kale, collards, chard), leafy greens (baby spinach is my favorite) broccoli, and cauliflower.
Occasional veggies I enjoy but which aren't continuous: sweet potatoes, eggplant, fennel, jicama, watercress, broccoli rabe, beets, fresh corn, and asparagus.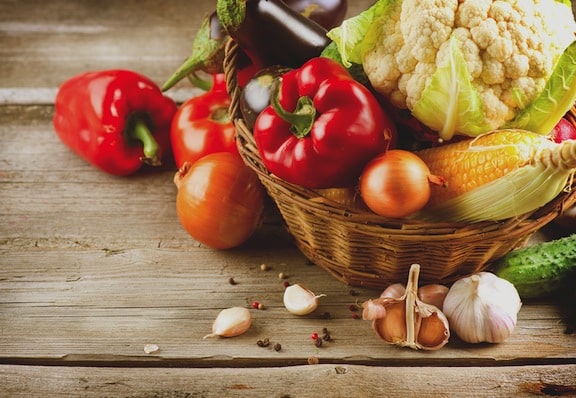 The fruit drawer varies a bit more than the vegetable side, as fruit still seem to be more seasonal. A few fruits that are always present are: Ripe avocados, lemons, limes, and apples. In the winter, pears and oranges are added to those. In the summer, there's a changing array of grapes, cherries, strawberries, blueberries, stone fruits and melons.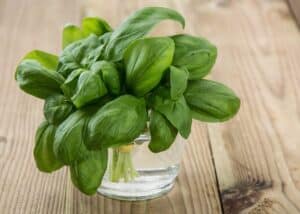 Fresh herbs frequently on hand include parsley, cilantro, and dill. I like to wrap more perishable leafy greens and fresh herbs in paper towel before storing them in plastic bags or containers. Another good way to store them is with their stems in a glass, as you see here with this bunch of basil.
Deli drawer: This looks much different than one that stores Standard America Diet items! Here we keep tofu, tempeh, seitan, tempeh bacon, vegan cheese (our favorite is Daiya), vegan "meats" like sausages, frankfurters, deli slices, and the like, if you're into such things (I'm not; my kids, who have never tasted actual meat, really like the fake stuff, but I try to keep it at a minimum!).
Freezer: Here we keep basic frozen veggies (corn and peas for the most part, but I also love whole organic baby green beans, as the season for fresh and really good green beans is so very fleeting), berries (for smoothies!), nondairy ice cream, non-daily type breads such as corn and/or flour tortillas and pita or panini breads.
On the kitchen counter: There are a handful of fresh foods always in my kitchen but which are best stored at room temperature. These are tomatoes, bananas, onion, garlic, and white or yellow potatoes.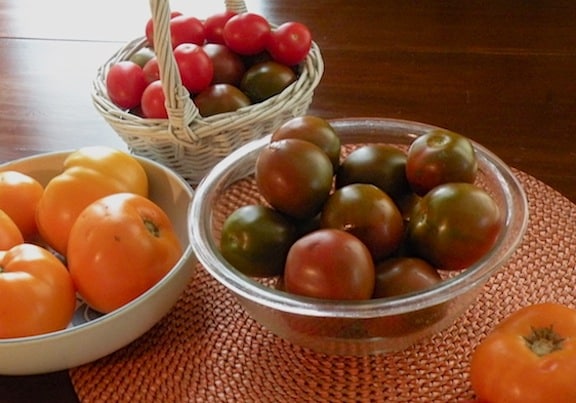 Stocking your kitchen and fridge with this or a similar array of foods will ensure that you have the basic ingredients with which to make fast, healthy meals, whether you're following a recipe or improvising! It's always nice to plan ahead so you can get your fresh foods before your crazy work and/or school week begin, starting with at least two menu plans. But even if this ideal scenario doesn't happen, you can be assured that you'll have plenty of healthy ingredients with which to improvise.