Savory, slightly sweet, and as spicy as you choose to make them, these delightfully flavored strips of tofu or tempeh are delicious in wraps and sandwiches. Or, just enjoy them on their own to bolster the protein content of meals. If you'd like to use both tofu and tempeh, as shown in the photo, double the amount of marinade. Cook each kind of protein separately, then arrange on a plate to serve.
Serves: 4
14- to 16-ounce tub tofu, or 8-ounce package tempeh
Marinade:
2 tablespoons reduced-sodium soy sauce or tamari
2 tablespoons good-quality ketchup
2 tablespoons maple syrup
1 tablespoon olive oil
Sriracha or other hot sauce to taste
1 teaspoon liquid smoke, smoked paprika, or mesquite seasoning, or to taste
If using tofu, making sure that it's very well pressed of water ensures a better outcome (using a tofu press like EZ Tofu Press works very well). But if you don't have time for advance planning, cut the block of tofu into 6 slabs and blot very well with paper towels or a clean tea towel. Then, cut each slab into even strips no thicker than ¼ inch.
If using tempeh, cut the the block crosswise into even strips no thicker than ¼ inch.
Combine the marinade ingredients in a small bowl and whisk together. Heat this mixture in a wide nonstick skillet. Arrange the tofu or tempeh strips over the sauce.
Cook over medium-low heat (cover to prevent splattering) on both sides until the sauce is absorbed and they start to brown lightly, about 5 minutes per side or as needed. Serve warm or at room temperature as a sandwich filling or as a side dish.
Variation: To serve a larger crowd, use both the tofu and tempeh and double the amount of marinade. Divide the marinade between two skillets and cook separately to ensure even cooking.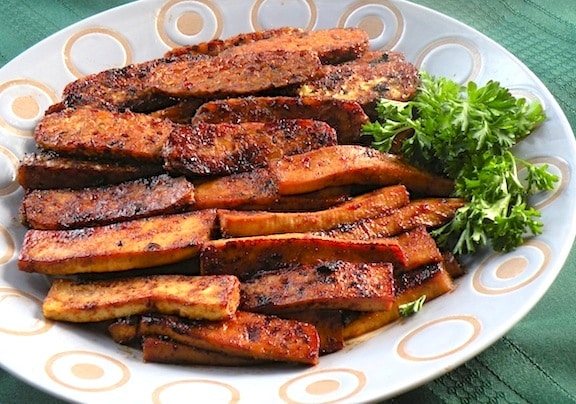 Nutritional Information:
Per serving (when made with tofu): 129.2 calories; 6.8g fat; 424.8mg sodium; 154.8mg potassium; 10.9g carbs; 0.9g fiber; 8.5g sugar; 7.2g protein