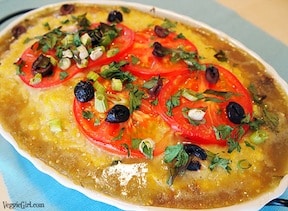 This Tempeh Tamale Pie recipe is a vegan adaptation of the traditional Mexican dish. Serve with warm flour tortillas and a big, colorful salad. Contributed by Dianne Wenz, from VeggieGirl.
Serves: 4
16 ounces (two 8-ounce packages) tempeh, thinly sliced

½ cup vegetable broth

¼ cup rice vinegar

¼ cup tamari or Bragg's Liquid Aminos

½ teaspoon dried thyme

1 ½ cup water

¼ cup cornmeal

14-ounce can creamed corn (yes, creamed corn is vegan)

16-ounce jar salsa verde

⅓ cup olives, chopped

1 tomato, thinly sliced

Sliced scallions and/or chopped parsley, for garnish (optional)
Place the tempeh strips in a shallow dish. Mix together the broth, vinegar, tamari, and thyme, and pour it over the tempeh. Let marinade for an hour or two.
Preheat oven to 400°.
Heat a large pan or skillet over medium high heat. Add a tablespoon or two of the tempeh marinade, and then add the tempeh. Cook for several minutes, flipping the pieces frequently, until the pieces have crisp brown edges.
In a medium saucepan, bring the water to a boil. Slowly whisk in the cornmeal.
Reduce heat and cook for about three minutes, whisking continually. Add the creamed corn and continue to whisk everything together. Cook for about 10 more minutes, stirring frequently.
In a medium baking dish, combine the salsa, olives and tempeh. Spoon the cornmeal over the mixture and top with tomatoes, scallions and parsley, if using.
Bake uncovered for 20 to 25 minutes, until the mixture is bubbly and hot. Serve hot.