If you'd like to complete our Practically Effortless Tofu and Green Beans Teriyaki as a full vegan teriyaki dinner, here's a fun way to do so with hardly any more work. Add store-bought veggie sushi and a few raw veggies and you've got a crave-worthy meal. When my partner is out of town and I'm dining solo, I daresay that this is one of my favorite vegan dinner hacks!
About that sushi — you didn't think I expected make veggie sushi rolls from scratch, did you? Making rolls at home is a time-sucking food project, not to mention messy. It's not called sticky rice for nothing, and we're not messing around when we call these dinners "hacks."
Many large supermarkets sell freshly made sushi rolls, so for convenience, pick them up there while getting the few other supplies you need. Just be aware that prepared sushi from your supermarket is in the seafood department, so you'll need to avert your eyes and hold your nose while you look for (or request) the all-vegetable sushi.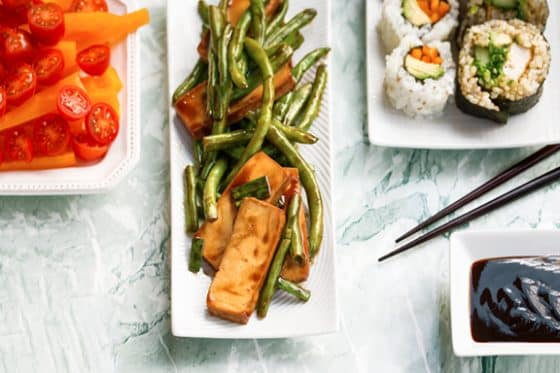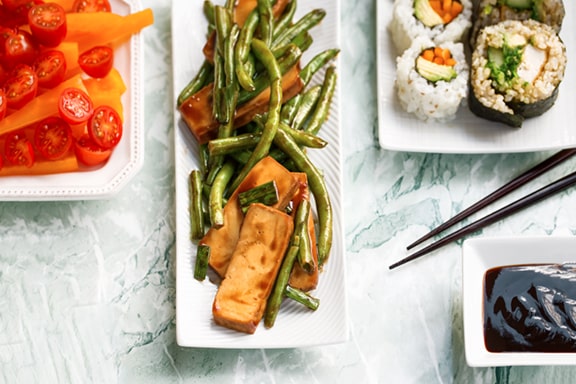 Supermarket sushi isn't quite as fancy what you'd get from a Japanese restaurant, but the veggie varieties are quite acceptable. Otherwise, if you don't mind making an extra stop, order a couple of sushi rolls from the take-out menu of your local Japanese eatery. You'll find more variety, though the supermarket version is more economical.
Either way, making this kind of meal at home is more economical than eating out, what with tax, tip, and extras. Maybe it will become your favorite vegan dinner hack, too!
Serves: 2
Time to table: 15 minutes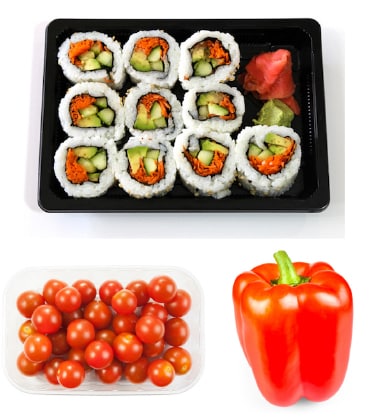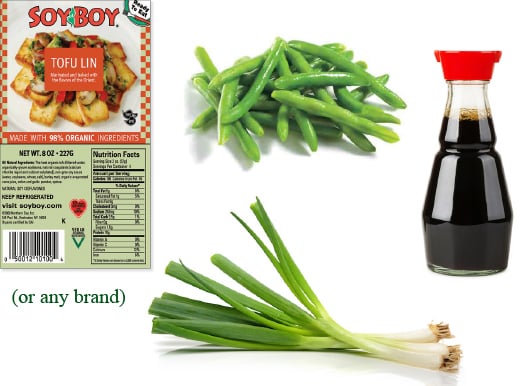 What You'll Need
2 vegetable sushi rolls (or about 10-12 pieces)

1 pint cherry or grape tomatoes 

1 bell pepper, any color

8-ounce package or two 5.5-ounce packages baked tofu (any brand, any flavor)

8-ounce bag whole frozen green beans, preferably organic
(or a 16-ounce bag; use half and freeze the rest)

8- to 12 ounce bottle teriyaki sauce, preferably all-natural

1 bunch scallions 
What to do
1  Take the sushi out of the tacky store or take-out container and put it on a plate. That way it's easier to pretend that you made it. Don't forget the ginger and wasabi!
2  Rinse a few tomatoes and cut up the bell pepper. Divide between two dinner plates (or one, as the case may be, or put them on their own plate.
3  Follow the easy recipe for Practically Effortless Tofu and Green Beans Teriyaki.
4  Serve at once; pass around more teriyaki sauce for the stir-fry and the ginger, wasabi, and soy sauce for the sushi.