Are you craving Asian flavors, but tired of takeout? This preparation of tofu teriyaki will make you feel like less of a slacker —  at least somewhat — as you make it very simply at home. The key to this practically effortless tofu & green beans teriyaki (we can hardly call it a "recipe") is store-bought sauce. It's not a huge deal to make homemade teriyaki marinade, but you'd have to buy all the individual ingredients, and if you're not inclined to make this kind of thing often, they'll languish in your fridge for the hereafter.
With good quality sauces at the ready, our motto at the Vegan Food Hacks kitchen is, "Why bother?"
Using baked tofu is another timesaver in this recipe, because unlike regular tofu that comes in tubs, this kind doesn't have to be drained and blotted. It's already pretty flavorful, so you don't have to drown it in sauce. There are a few good brands of baked tofu, including Soy Boy, Nasoya, and Wildwood; Trader Joe's even has a few delicious varieties.
This 4-ingredient delight will have you eating in no time. For a full dinner featuring this recipe, see Tofu Teriyaki and Sushi Dinner.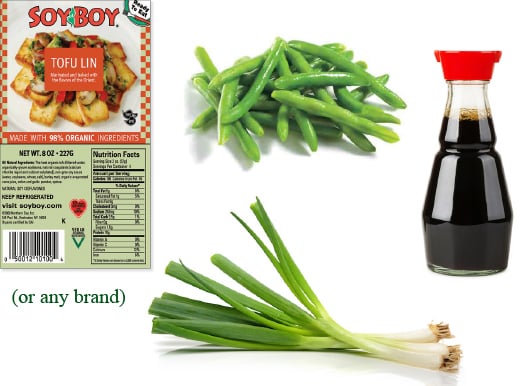 What You'll Need
7-or 8-ounce package or two 5.5-ounce packages baked tofu

8-ounce bag frozen whole green beans, preferably organic
(or half of a 16-ounce bag; see note)

One bunch scallions

One bottle teriyaki sauce, preferably all-natural
What to do:
1 Cut the tofu into strips or slabs.
2 Use anywhere from half or all of the green beans, depending on how hungry you are and how much you like green beans. Put them in a colander and run some hot water over them to thaw a little bit.
3  Combine the tofu and green beans in a stir fry pan or skillet enough teriyaki sauce, enough to coat and everything but not to drown it; from ¼ to ½ cup is about right, depending on the quantity of  green beans.
4  Stir-fry over high heat until the green beans are tender-crisp and everything is nice and hot. S
5  Serve at once; pass around more teriyaki sauce if you'd like.
Note: For the one to two months of the year when really good local organic green beans are available, by all means, use them.