I've long considered marinated baked tofu a great product and have wondered why it has taken so long to make its way onto supermarket shelves. Finally, it's getting there! As always, it's easy to find at any natural foods store, usually shelved alongside the tofu tub varieties.
If you're unfamiliar with marinated baked tofu, it's a firmer, chewier, flavored variety. It comes in cellophane-wrapped packages (usually 8 ounces), and is ready to eat as is or to combine with other ingredients in hot or cold dishes. Here are 5 simple ways to use this fantastic product.
Several brands offer marinated baked tofu, each a little different in flavor and texture, but all quite good! And one more handy bonus, unlike the tub varieties, baked tofu doesn't need to be drained and pressed before using, Brands include:
Soy Boy (Tofu Lin Asian Flavor, Smoked, and Caribbean)
White Wave (Thai, Italian, Garlic-Herb, Sesame-Peanut)
Nasoya (Teriyaki, Sesame-Ginger, Chipotle)
Trader Joe's (Teriyaki, Sriracha, and more)
Here are some of our favorite ways to use this tasty form of tofu.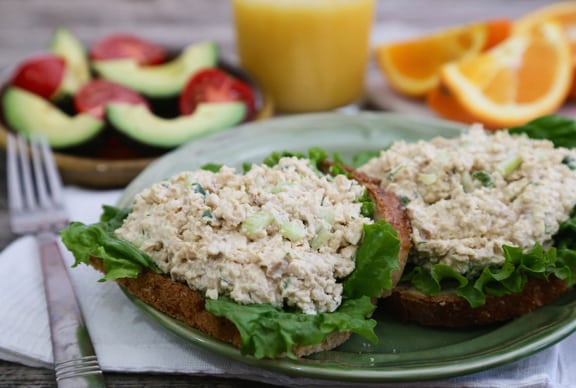 Sandwich spread: "Tofuna" salad or sandwich spread is far and away my favorite use for baked tofu. For this, I prefer Soy Boy Tofu Lin, but use whatever kind you like. Serve in pita, on bread, or atop salad greens. Any time I serve this, it is practically inhaled, even by people who claim they don't like tofu.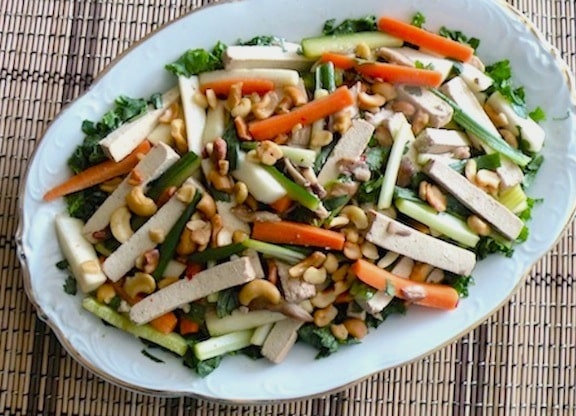 Substantial Salad: Any salad that adds this kind of tofu can become a meal's centerpiece — Chinese-Style Shredded Cold Vegetables and Tofu, for instance. Combine baked tofu with pasta to make a simple and tasty cold dish like this Pasta and Tofu Salad. Try also Mixed Greens Salad with Avocado, Apples, and Baked Tofu.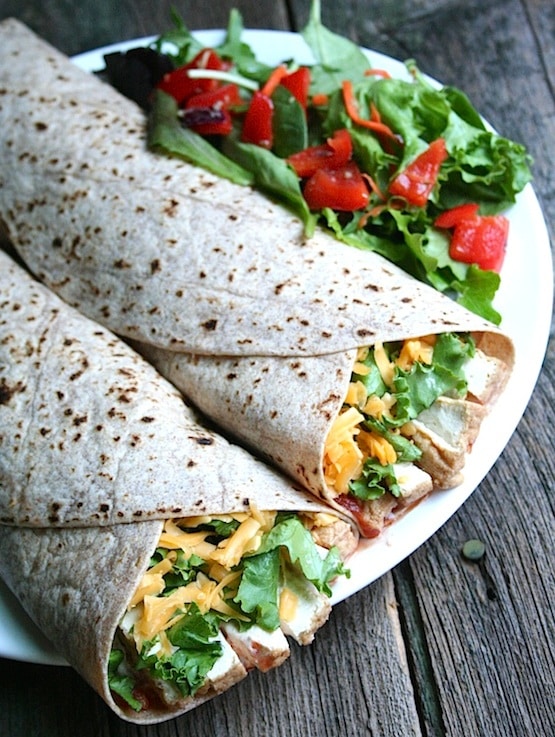 Vegan Fajitas: Made with baked tofu, Super-Easy Tofu Fajitas is a good way to get the bird out of chicken-style fajitas. Make the meal even easier by having everyone make their own fajitas as directed in this almost-not-a-recipe. Yum!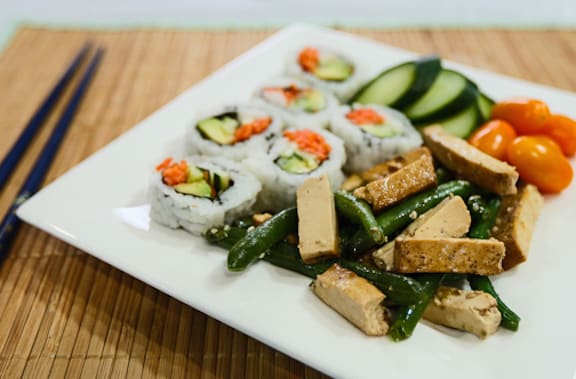 Stir-Fries: Orange-glazed Tofu and Broccoli, enlivened with an orange-flavored sauce (see photo at top), is one way to use baked tofu in stir-fries. Easy Sesame Green Beans with Tofu is another quick dish that shows how good baked tofu can be in this kind of preparation.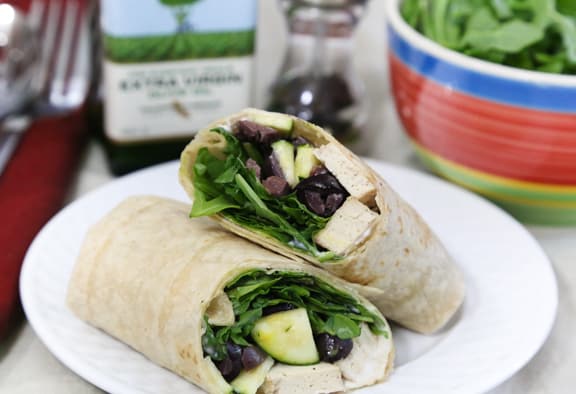 Wraps: Because it's firm and not mushy or watery, strips of baked tofu are perfect in wraps to take to school or work. Case in point, Baked Tofu, Arugula, and Olive Wraps. Just fill, fold, and eat, or pack in a snug container to transport.
--