Three ingredients (plus two optional ones) add up to a delightful dairy-free chocolate pudding. Silken tofu is a great base for pudding — it has just the right consistency, and it spares you from bothering with a flour-thickened sauce, which tends to scorch and lump.
Makes: 2 large or 4 smaller servings
12.3-ounce package firm or extra-firm silken tofu
½ cup semi-sweet chocolate chips
¼ cup maple syrup or agave nectar, more or less to taste
1 teaspoon pure vanilla extract, optional
Fruit for garnish (sliced bananas or strawberries are nice), optional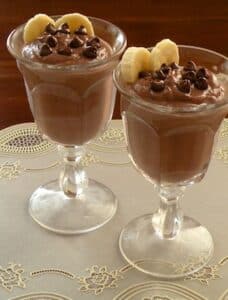 Puree the tofu in a food processor or blender until completely smooth. Transfer to a small saucepan and add the chocolate chips.
Cook over medium low heat, whisking often, until the chocolate chips have melted. Stir in the maple syrup and optional vanilla.
Allow to cool completely, then serve at room temperature, garnished by slices of fruit, if you'd like.