For many vegans and vegetarians, Thanksgiving is the Mother of All Holidays. It used to mean being relegated to side dishes, but over the last couple of decades, the holiday has blossomed into an occasion for full culinary celebration among the plant-based crowd. Thanksgiving's original intent was as a feast of gratitude for the abundance or the fall harvest. The bounty of squashes, pumpkins, sweet potatoes, apples, pears, cranberries, nuts, greens, and other veggies typical to this holiday's theme give vegans and vegetarians the ability to enjoy a full-scale feast. 
Still, Thanksgiving can be a trying time for the meatless crowd, especially those who might be tempted to slip back to their old ways, or feel the pressured about how rude it is to refuse your parents' or great aunt's famous turkey and stuffing. In 1995, Turtle Island Foods came to the rescue for just those kinds of situations. They think of the Tofurky Vegetarian Roast as the holiday meal peacemaker, allowing everyone to have something special to eat at the table. Head over to Tofurky's Holiday Pinterest Board, follow them and re-pin your favorite Tofurky Roast recipe to benefit the Gentle Thanksgiving project, which supports a vegan lifestyle.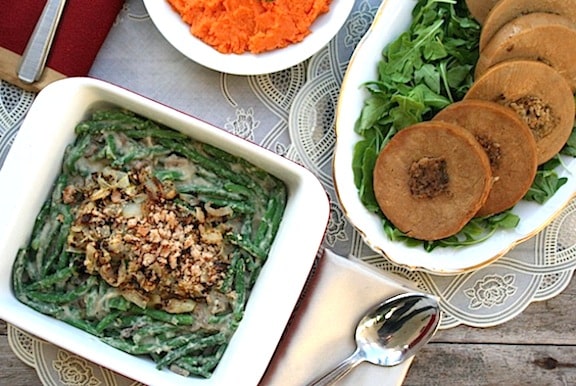 As a longtime expert on meatless vegetarian and vegan Thanksgiving meals, I'm often asked what I think about meatless turkey alternatives like Tofurky's Vegetarian Roast. I'm more of a stuffed squash person myself, but I always answer that it's preferable to the real thing. Growing and slaughtering Thanksgiving turkeys is unimaginably cruel to the animal and harmful to human health and the environment.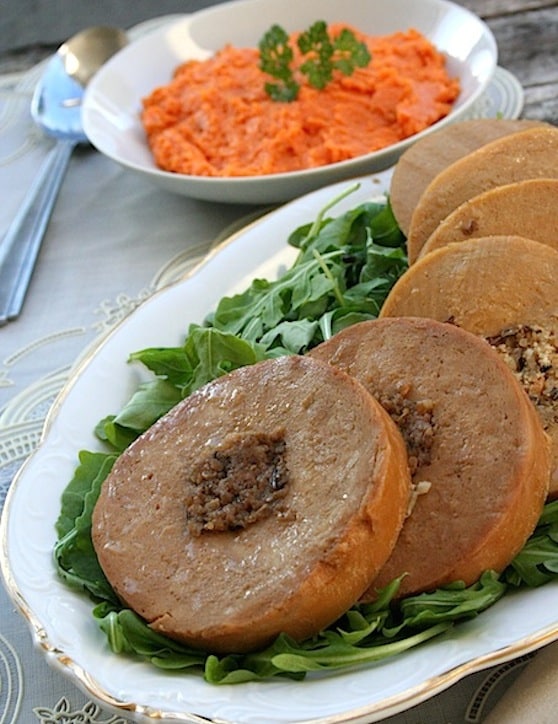 So much of what makes holiday meals appealing is calming the hectic pace of modern life with little islands of comfort and nostalgia. And then there are those who simply enjoy the texture and savor of a product like Tofurky, even if they never cared for or ever had a taste of the bird. I personally know such people; in fact, I gave birth to two of them! My adult son and daughter, I'm proud to say, have never tasted meat, fowl, or fish in their 23 and 25 years, respectively. But give them Tofurky and other such meat alternatives, and they're all over it. The appeal of Tofurky Vegetarian Roast is more in its own heartiness and flavor rather than as imitation turkey.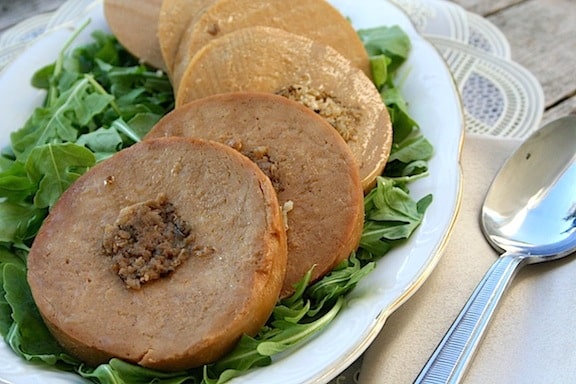 The Tofurky Vegetarian Roast is turning twenty this year; hard to believe! The good folks at Turtle Island Foods have been making it easy to go veg for even longer than that with many other tasty products. If you're looking for the holiday roasts or other products, use their store locator or ask your natural foods retailer to special order for you. Do it soon, as the holiday is upon us!
The classic Tofurky Vegetarian Roast is nearly equally popular for Christmas dinners as well. Please keep in mind that this product is not for those with gluten issues, as it's mainly seitan, wrapped around a stuffing made of rice, wild rice, and bread cubes. It's delicious served with a plant-based sauce like our Easy Mushroom Gravy. And it goes well with all of the abundant seasonal veggie dishes central to the Thanksgiving feast —like our veganized Green Bean Casserole. Tofurky also offers lots more delicious and cruelty-free ideas on its Pinterest Tofurky Holiday Recipes board.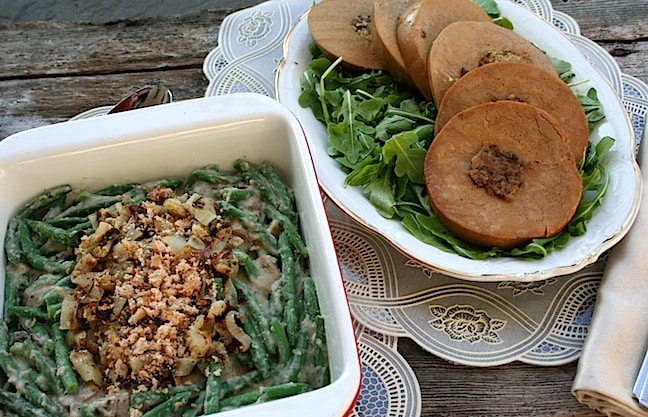 Photos in this post by Rachael Braun.
Disclaimer: This is a sponsored post for Tofurky. However, all thoughts and opinions are my own.