A note from Nava: VegKitchen is in the midst of developing its own companion app for mobile devices, but to whet your appetite (literally and figuratively) for what it's like to be able to access delicious vegan recipes so you can plan your meals while on the go, I'm delighted to present Vegan Delish, created by Carrie Forrest.
For new and veteran vegans and vegetarians, plus those wanting to explore the benefits of a plant-based diet, Vegan Delish is a recipe app available for iPhones and iPads featuring over 175 recipes plus innovative tools such as a digital shopping list and searchable categories.
Listed as one of the top Food & Drink apps in the App Store for 2012, 2013, and 2014, Vegan Delish inspires users to make whole food meals that are as delicious as they are nutritious.
The app is available for download on the iTunes App store and includes over 175 mouth-watering recipes such as:
Flourless Zucchini Brownies
Chana Masala,
Macaroni & Cheese
Lentil Oat Loaf
Avocado Chocolate Pudding
Mock Tuna Salad
Lemon Meltaway Balls
Banana Bread Oat Pancakes
Vegetable Quinoa Salad
FEATURES:
100% whole food recipes with special categories for:
Diet-Friendly
Gluten-Free
Desserts
Oil-Free
Quick & Easy
Main Dishes
Breakfast
Slow-Cooker ... and more!
Standard or Metric recipe measurements
High-definition photos
Digital shopping list
Printing and emailing of recipes and shopping lists
Sharing on Twitter and Facebook
Easy searching with keywords
User recipe ratings and reviews
Expanded information on healthy resources
Kitchen timer function
Recipe scaling for the servings you need
No ads or in-app purchases – it's all included!
REVIEWS FROM VEGAN AND VEGETARIAN MEDIA
"Whether you are a fledgling or lifelong fan of plant-based diets, Vegan Delish belongs in your kitchen…The most difficult part of using the app was deciding which recipe to try first." – Vegetarian Nutrition Dietetic Practice Group of the Academy of Nutrition and Dietetics
"The photos are gorgeous and the shopping list feature is fantastic. I can email it or, because I have a wireless printer connected to my iPhone, I can send the list from my handheld device to my printer!…It's a great tool." – JL Goes Vegan
"The app is laid out very clearly…The categories section is great. It lets you search exactly what you want."– Vegetarian Mamma
"This app has gorgeous quality photos and everything is arranged in a clean, clear, easy to use format…I can see only one down side to this wonderful app - it makes me hungry!" – Almost Skinny Vegan Food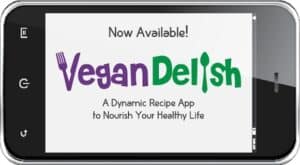 "Vegan Delish…is truly an amazing app and so simple to use, even for someone not so tech savvy like me…I am a huge fan of the Shopping list function." – Nom Yum Free
"This app is so user friendly and well designed. It's easy to navigate and is so visually stunning! Not to mention the recipes are absolutely drool-worthy and are all based on whole foods, with no scary ingredients and are 100% vegan!" – Veggie Nook
ABOUT THE CREATOR
Vegan Delish was created by Carrie Forrest who holds masters degrees in business and public health nutrition, and who is author of the popular food and lifestyle blog, Carrie on Vegan. Carrie has included many of her favorite recipes on Vegan Delish and has collaborated with a team of Featured Contributors to present a comprehensive selection of whole food, plant-based recipes all packaged in a revolutionary digital cookbook app.
CONNECT WITH US
Download Vegan Delish from the iTunes App store. Keep up on the latest news from the app on our Facebook page: @ Vegan Delish or our website: http://www.vegandelish.com.