Steel-cut oats mimic the mouthfeel of vegan crumbles while being completely free of processed ingredients. They also add heartiness to the veggie and bean mixture. This is the perfect way to sneak in some veggies for the picky eaters in your house. This is gluten-free, soy-free, oil-free. From OATrageous Oatmeals by Kathy Hester; photos by Kate Lewis. Reprinted with permission of Page Street Publishing, ©2014.
Makes enough for 8 tacos
1 cup water

¼ cup steel-cut oats

¼ cup minced carrots

1 tablespoon olive oil (*or use water to make no oil added)

½ small onion, minced (about ¼ cup)

¼ cup minced green pepper

2 cloves garlic, minced

1 teaspoon chili powder

1 teaspoon dried oregano

1 teaspoon cumin

14-ounce can kidney beans, drained and rinsed

1 tablespoon chopped green chilies

1 cup minced kale (or other green)

Juice of ½ lime

2 to 4 tablespoons chopped fresh cilantro, to taste

Salt to taste
In a saucepan, bring the water, oats and carrots to a boil, then turn the heat to low. Cook for 15 to 20 minutes or until the steel-cut oats are cooked through but still chewy.
While the oats are cooking, heat the olive oil in a large saute pan over medium heat. Add the onion and sauté until translucent, then add the green pepper, garlic and spices and cook for another 2 minutes.
Once the oat mixture is cooked, add it to the saute pan and mix the oats in with the veggies. You want to keep cooking until the oats dry out some and begin to separate. Keep cooking until it starts to look like crumbles.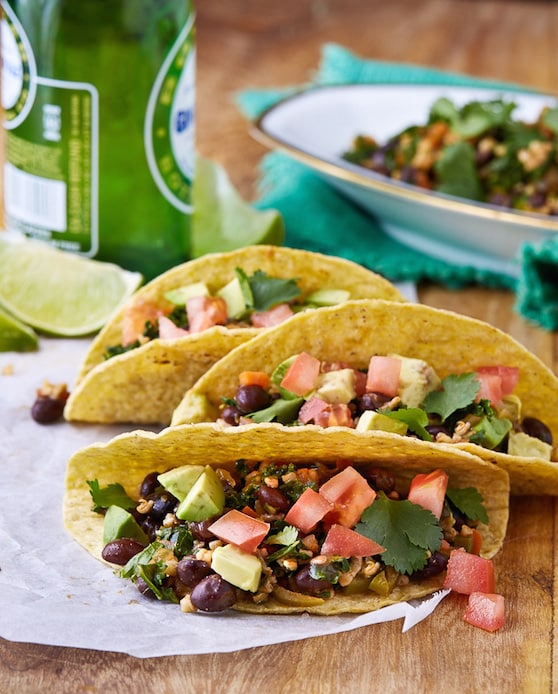 Mix in the kidney beans, green chilies and kale. Cook until the kidney beans are thoroughly heated. Right before serving, add the lime juice, cilantro and salt. Serve in hard or soft taco shells, or in burritos. This is also amazing on top of nachos.
Nutrition information:
Per serving (⅛ of recipe): Calories: 87.8; Total fat: 2.2g; protein 4.0 g, carbohydrates 14.6 g, sodium 108.8 mg, fiber 4.3 g
Variations:
Feel free to leave out the beans and replace the chili powder and cumin with basil and thyme. You can also leave out the green chilies and green pepper and replace with either sliced mushrooms or sun-dried tomatoes.
*This post contains affiliate links. If the product is purchased by linking through this review, VegKitchen receives a modest commission, which helps maintain our site and helps it to continue growing!