If you like lots of veggies on your pizza, this recipe for Vegan Veggie Pesto Pizza is for you. Piled generously with broccoli, bell pepper, and zucchini, this verdant pizza features a delectable spinach-miso pesto as the base in place of the usual tomato sauce. Adapted from Vegan Express by Nava Atlas. Photos by Rachael Braun. 
Verdant Vegan Veggie Pesto Pizza
Makes: 6 slices
Ingredients
1 ½ cups small broccoli florets

1 medium green bell pepper, cut into narrow, short strips

¾ cup zucchini, thinly sliced

1–2 medium tomatoes,

3–4 cloves garlic, sliced

1 tbsp extra-virgin olive oil

1 (12–14-inch) good-quality pizza crust

1 ½ cups mozzarella-style nondairy cheese
Spinach-miso Pesto
4–5 oz fresh baby spinach

¼ cup fresh basil leaves

¼ cup fresh parsley leaves

¼ cup untoasted walnuts or raw cashews

2 scallions, green parts only

1–2 tbsp miso, preferably mellow white, to taste
Instructions
Preheat the oven to 425°F.

Combine the ingredients for the pesto in a food processor. Process until smoothly pureed, stopping the machine and scraping down the sides as needed.

Combine the broccoli florets, bell pepper, zucchini, and garlic in a mixing bowl and drizzle in the olive oil. Stir together. Transfer the vegetables to a lightly oiled roasting pan and put in the oven. Stir after 10 minutes, and continue to roast until the vegetables are touched with brown spots here and there.

Meanwhile, spread the pesto on the pizza crust, then sprinkle evenly with the cheese. Bake for 15 minutes, or until the cheese is nicely melted. Remove from the oven, let stand for a minute, then cut into 6 wedges (it's easier to cut the pizza before piling on the veggies).

When the vegetables are done, distribute them evenly over the surface of the pizza. If the pizza came out of the oven a few minutes before the vegetables, put the whole thing back into the oven for a couple of minutes, just so that everything can be piping hot, then serve at once.
Nutrition Information:
Per serving (including Spinach-Miso Pesto): 335 calories; 45g carbs; 14g fat; 9g protein; 685mg sodium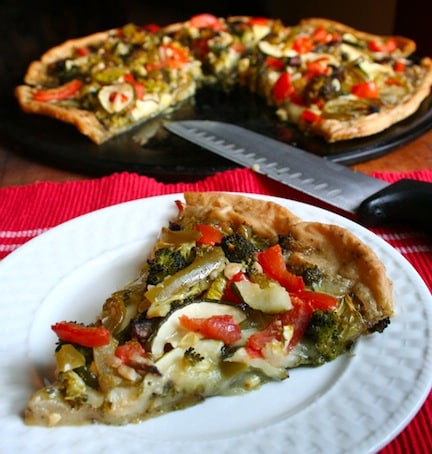 This recipe was originally published on 15 August 2013.